Sprott
Precious Metals Watch
February 11
Gundlach Sees Gold Hitting $1,400
New York (Reuters) – Jeffrey Gundlach, co-founder and chief executive officer of DoubleLine Capital, said on Thursday that gold prices are likely to reach $1,400 an ounce as investors lose faith in central banks. 
February 11
Global central banks propped up gold demand in 2015: Report
Central banks helped prop up demand for bullion, but Russian retail customers abandoned the market as the ruble collapsed, the World Gold Council's 2015 trends report revealed. 
February 10
Gold Roars to One-Year High as Turmoil Drives Safe Haven Demand
Gold climbed to the highest in a year as investors sought a haven from tumbling stock markets after Federal Reserve Chair Janet Yellen suggested the central bank may delay raising interest rates. 
February 10
Canada sells nearly half of all its gold reserves
The government of Canada sold off nearly half its gold reserves in recent weeks, continuing a pattern of moving away from the precious metal as a government asset. 
February 9
From ZIRP to NIRP: What's the Fed's next move?
Negative interest rates in the U.S. may seem like a far-fetched idea, but the Federal Reserve is telling banks to prepare, just in case.

February 8
Gold Traders Are Betting on a Bigger Comeback
Gold just reached its highest price in seven months, and investors are betting there are more gains to come by April. 
February 3
Dollar Suffers Worst Day in 7 Years as Traders Face Fed Reality
The dollar plunged by the most since the Federal Reserve announced the start of its Treasury bond-buying program seven years ago, as signs of a slowing U.S. economy helped derail bets on diverging policies between global central banks. 
February 3
The surprising new case for gold
Could low inflation — often considered a scourge on gold prices — actually be bullish for gold? 
February 2
New Indian rule backfires, boosts unofficial gold trade
Try as it might, the Indian government appears to be unable to curb the country's love for gold. 
February 2
PRECIOUS-Gold hits new three-month high as global economy concerns persist
Gold touched a new three-month high on Tuesday as concerns about the global economy and a further drop in the oil price pushed investors towards safe-haven assets. 
January 28
For Gold Miners, a Lift from the Loonie
The weak loonie is providing a powerful boost for many Canadian gold miners. 
January 27
Bundesbank Brings Home German Gold From New York, Paris: Chart
The Bundesbank transferred around 110 metric tons of gold from Paris and just under 100 tons from New York to its Frankfurt vaults last year, turning the city into the biggest storage site for Germany's reserves.  
January 26
Kazakhstan Lifts Gold Holdings in 2015 as Central Banks Buy
Kazakhstan expanded its gold reserves yet again in December to boost the country's holdings 16 percent in 2015 from a year earlier, according to figures from the International Monetary Fund. 
January 21
Russia adds 208 mt to gold reserves in 2015, up 21% on year
Russia added around 208 mt to its official gold reserves in 2015, data released by the country's central bank implied Thursday, following additions of 21.6 mt in December.  
January 11 
Global risks are chief concern for U.S. economy -Fed's Lockhart
Jan 11 Global risks including a slowdown in China and continued low oil prices are now the chief risks to what is an otherwise promising outlook for the U.S. economy, Atlanta Federal Reserve Bank President Dennis Lockhart said on Monday. 
January 11
U.S. Mint quadruples American Eagle silver coin allocation
Jan 11 The U.S. Mint said on Monday it set the first weekly allocation of 2016 for American Eagle silver coin sales at 4 million ounces, roughly four times the amount rationed in the last five months of 2015, after a surge in demand. 
January 7
China adds to gold reserves in December, buying streak to continue
China added more gold to its reserves in December, bringing its total purchases in the second half of 2015 to more than 100 tonnes, with analysts predicting the country will continue purchasing at a similar pace this year. 
January 4
Veteran Investor Rick Rule Reveals a Unique Arbitrage Opportunity
One of the hardest things for a mining executive to do may be nothing. But in a market that is not rewarding companies for pulling resources out of the ground, Sprott US Holdings Inc. CEO Rick Rule would prefer to see what he calls "optionality" rather than dilution from companies looking to justify salaries. 
December 4
Gold Mining ETFs Spike As Metal Shines
ETFs holding gold and silver miners grabbed gains Friday, as bullion bounced from oversold conditions. 
December 1
US Mint American Eagle gold coin sales surge, silver at record
The U.S. Mint's sales of American Eagle coins surged in November, with gold nearly tripling month-over-month and silver already reaching a new annual record as bullion prices fell to multi-year lows, data released on Monday showed.
November 30
UPDATE 1-China boosts gold reserves by nearly 14 tonnes in October
Nov 30 China added nearly 14 tonnes of gold to its foreign exchange reserves in October, the slowest pace of purchase since the central bank started reporting its reserves of the precious metal on a monthly basis earlier this year.
November 16
SGE Withdrawals Break Yearly Record. World Gold Council Continues To Hide Insatiable Chinese Gold Demand. 
The amount of gold withdrawn from the vaults of the Shanghai Gold Exchange (SGE), which equals Chinese wholesale gold demand, accounted for 45 tonnes in the trading week that ended on 6 November.  
November 12
Global gold demand hits more than two-year high in Q3 - WGC
Global gold demand hit its highest in more than two years in the third quarter as July's price drop boosted buying of jewellery, coins and bars, the World Gold Council said on Thursday. 
November 4
There Are Now 293 Ounces Of Paper Gold For Every Ounce Of Physical As Comex Registered Gold Hits New Low
Unlike Bitcoin, which has doubled in the past few weeks (as the predicted Chinese buying onslaught indeed materialized), it hasn't been a good week for spot gold prices which have tumbled from $1,180 to just over $1,100. 
October 29
October Was a Good Month for Gold Miners
Since the FOMC (Federal Reserve Open Market Committee) policy-setting meeting kept gold bugs on their toes, October seems to be positive for gold miners. 
October 28
India Moves Ahead of China in Gold Consumption
According to the GFMS (Gold Fields Minerals Services) report, physical gold demand witnessed a rise of almost 7% in 3Q15.  
October 27
Gold demand rises in Q3 on surge in coin, bar buying - GFMS
Surging demand for coins and bars and a rise in buying by central banks pushed physical gold demand up 7 percent in the third quarter, an industry report showed on Tuesday, though the market remained in a surplus of 51 tonnes. 
October 27
Gold Investors Are Watching This Week's FOMC Meeting
Gold entered the positive territory yesterday and scaled the high of $169.60 an ounce. Gold enthusiasts likely have their eyes set on the FOMC meeting scheduled for today and tomorrow. 
October 20
This will give gold another boost: Analyst
George Gero, RBC Capital Markets, has a play on a gold bounce. And CNBC's Bertha Coombs and the Futures Now traders watch for gold's key level. 
October 16
October Treat: Junk Bonds & Gold ETFs Pop
A new group of ETFs have bullied their way into the top 10: gold and silver miners. In fact, precious-metals-related funds now make up six of the top 10 positions for October, as can be seen from the table below.
October 15
Gold Comes Back to Life as Prices Exceed 200-Day Moving Average
Gold is starting to shed its reputation as a dead asset, and bulls can thank signs the U.S. economy is starting to sputter for the boost. 
October 14
Gold Bugs Rejoice On Key ETF Move; Miners Glow
Gold-mining ETFs surged Wednesday as gold prices hit a three-month-plus high amid receding likelihood of a rate lift-off in 2015. 
October 2
Gold Rallies After Downbeat U.S. Jobs Report
Gold is posting a solid rally in the aftermath of a big miss to the downside in today's much-anticipated U.S. jobs report.  
October 1
U.S. Mint Posts 181% Jump In Gold Coin Sales, Silver Sales Hit 29-Year Record High In Q3
Gold and silver prices remain range-bound as markets await a potential U.S. interest rate hike at some point this year, however, bullion coin sales have never been better according to the latest data released by the U.S. Mint.
Sprott's Industry Leading Line-up
of Precious Metals Products
       *Also available on corporate class
Gold
24 hour $US Dollar price per ounce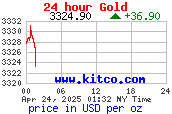 Silver
24 hour $US Dollar price per ounce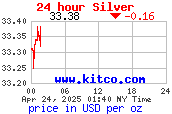 Platinum
24 hour $US Dollar price per ounce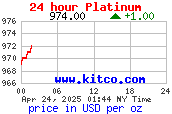 Palladium
24 hour $US Dollar price per ounce