Sprott
Precious Metals Watch
November 16
SGE Withdrawals Break Yearly Record. World Gold Council Continues To Hide Insatiable Chinese Gold Demand. 
The amount of gold withdrawn from the vaults of the Shanghai Gold Exchange (SGE), which equals Chinese wholesale gold demand, accounted for 45 tonnes in the trading week that ended on 6 November.  
November 12
Global gold demand hits more than two-year high in Q3 - WGC
Global gold demand hit its highest in more than two years in the third quarter as July's price drop boosted buying of jewellery, coins and bars, the World Gold Council said on Thursday. 
November 4
There Are Now 293 Ounces Of Paper Gold For Every Ounce Of Physical As Comex Registered Gold Hits New Low
Unlike Bitcoin, which has doubled in the past few weeks (as the predicted Chinese buying onslaught indeed materialized), it hasn't been a good week for spot gold prices which have tumbled from $1,180 to just over $1,100. 
October 29
October Was a Good Month for Gold Miners
Since the FOMC (Federal Reserve Open Market Committee) policy-setting meeting kept gold bugs on their toes, October seems to be positive for gold miners. 
October 28
India Moves Ahead of China in Gold Consumption
According to the GFMS (Gold Fields Minerals Services) report, physical gold demand witnessed a rise of almost 7% in 3Q15.  
October 27
Gold demand rises in Q3 on surge in coin, bar buying - GFMS
Surging demand for coins and bars and a rise in buying by central banks pushed physical gold demand up 7 percent in the third quarter, an industry report showed on Tuesday, though the market remained in a surplus of 51 tonnes. 
October 27
Gold Investors Are Watching This Week's FOMC Meeting
Gold entered the positive territory yesterday and scaled the high of $169.60 an ounce. Gold enthusiasts likely have their eyes set on the FOMC meeting scheduled for today and tomorrow. 
October 20
This will give gold another boost: Analyst
George Gero, RBC Capital Markets, has a play on a gold bounce. And CNBC's Bertha Coombs and the Futures Now traders watch for gold's key level. 
October 16
October Treat: Junk Bonds & Gold ETFs Pop
A new group of ETFs have bullied their way into the top 10: gold and silver miners. In fact, precious-metals-related funds now make up six of the top 10 positions for October, as can be seen from the table below.
October 15
Gold Comes Back to Life as Prices Exceed 200-Day Moving Average
Gold is starting to shed its reputation as a dead asset, and bulls can thank signs the U.S. economy is starting to sputter for the boost. 
October 14
Gold Bugs Rejoice On Key ETF Move; Miners Glow
Gold-mining ETFs surged Wednesday as gold prices hit a three-month-plus high amid receding likelihood of a rate lift-off in 2015. 
October 2
Gold Rallies After Downbeat U.S. Jobs Report
Gold is posting a solid rally in the aftermath of a big miss to the downside in today's much-anticipated U.S. jobs report.  
October 1
U.S. Mint Posts 181% Jump In Gold Coin Sales, Silver Sales Hit 29-Year Record High In Q3
Gold and silver prices remain range-bound as markets await a potential U.S. interest rate hike at some point this year, however, bullion coin sales have never been better according to the latest data released by the U.S. Mint.
September 28
Swiss Regulator Names Seven Banks in Precious Metals Probe
Switzerland's competition regulator identified seven banks that are being investigated as part of a probe into whether companies in Europe, the U.S. and Japan colluded to manipulate the prices of gold, silver and other precious metals. 
September 27
LAWRIE WILLIAMS: Latest SGE gold deliveries suggest enormous 2015 total of over 2650 tonnes!
The huge level of weekly Shanghai Gold Exchange delivery numbers is becoming something of a repetitive news item and is perhaps losing its impact, but it shouldn't.  
September 11
Why Rick Rule and Eric Sprott Own Gold and Silver -- Through Sprott's Physical Metals Trusts
Believe in owning gold and silver now? Don't own just any investment in physical bullion, say Eric Sprott and Rick Rule, who prefer the Sprott Physical Bullion Trusts. Shares in these trusts are backed by physical precious metals. 
September 11
US, European gold coin sales surge in third quarter
Gold coin sales in the United States and Europe have surged in the third quarter, with sales from the U.S. Mint reaching levels not seen since the price crash of 2013, as low prices and a series of market shocks fuel retail buying. 
August 25
Precious-Metals Trading Is Probed by EU After U.S. Inquiry
European Union antitrust regulators are probing precious-metals trading following a U.S. investigation that embroiled some of the world's biggest banks. The European Commission disclosed the probe after HSBC Holdings Plc said in a filing earlier this month that it had received a request for information from the EU in April. "The commission is currently investigating alleged anti-competitive behavior in precious metals spot trading" in Europe, Ricardo Cardoso, a spokesman for the regulator, said in an e-mail on Tuesday.
August 12
Gold prices head higher as China moves spark haven appeal
Gold futures marched higher Wednesday, continuing what has amounted to a five-day rally as China's efforts to manage its currency rates have sent equity markets sliding and boosted the appeal of haven assets. 
August 5
A big fall in gold output will come from mine closures
Consultancy Metals Focus forecasts gold output to fall as unprofitable mines are shut. 
August 3
Comex On The Edge? Paper Gold "Dilution" Hits A Record 124 For Every Ounce Of Physical
Over the few days, we got what was merely the latest confirmation that when it comes to sliding gold prices, consumers of physical gold just can't get enough.
August 3
US Sells Highest Amount of Gold Coins in Two Years
Mining Weekly reported that in July, the US Mint sold 170,000 ounces worth of American gold eagle coins. That's the highest amount in over two years. 
August 1
Gold is now 'fairly valued' – hedge fund mogul Paulson
Billionaire hedge fund manager John Paulson, one of the world's most influential gold investors, said on Friday that the metal is now at an appropriate price level, following last week's rout that dragged prices to five-year lows. 
July 17
China Gold Reserves Top Russia in First Disclosure Since '09
China increased its gold reserves 57 percent, overtaking Russia to become the country with the fifth-largest hoard in its first disclosure in six years. 
June 19
The Mysterious "Massive" Seller Who Flash Crashed Gold In 2014 Has Finally Been Revealed
Back in late 2013 and early 2014, the gold (and silver) market was stunned by a series of massive, unprecedented "stop" or "velocity logic" sales which sent the price of the precious metal crashing so furiously they halted the entire gold futures market anywhere between 10 and 20 seconds. Some examples: 
June 4
Who's Next? China Finally Starts Snapping Up Gold Miners
One (perhaps the only) bright spot in the past few year's gold market has been Chinese and Indian demand for the metal. 
June 4
Russia to Increase Its Gold Reserves – Central Bank Head
The head of Russia's Central Bank is determined to increase the country's gold reserves to its previous levels in 2012-2013, from $360.5 billion up to $500 billion. Read more: http://sputniknews.com/business/20150604/1022941140.html#ixzz3cBu5lOAb 
June 2
Is gold demand/supply balance crunch already here?
We are indebted to Nick Laird (www.sharelynx.com and www.goldchartsrus.com) for the fascinating chart reproduced below which shows the cumulative gold demand from China and India (represented by SGE withdrawals for the former and gold imports for the latter) which demonstrates in graphical form just how much gold these two Asian giants have been accumulating over the past seven years.  
June 1
China gold demand holding up well – new record ahead?
Chinese gold flows as represented by SGE withdrawals are holding up extremely well. 
May 25
Above-ground platinum stocks unlikely to reach zero
Above-ground inventories of platinum are unlikely ever to reach zero, World Platinum Investment Council CEO Paul Wilson predicted. 
May 24
China Establishes World's Largest Physical Gold Fund
While many eagerly await the day when China will finally reveal its latest official gold holdings, a number which when made public will be orders of magnitude higher than its last 2009 disclosure of just over 1,000 tons, or less even than Russia, China continues to plough ahead with agreements and arrangements to obtain even more gold in the coming years. 
May 20
PBOC Gold Purchases: Separating Facts from Speculation
As we are approaching the moment the PBOC unveils they have more physical gold in reserve than what has been disclosed since 2009, 1054 tonnes, we will again analyze everything there is to find about PBOC gold purchases.  
May 18
Platinum supply still in deficit but not as large – WPIC
The WPIC's Q1 platinum report sees platinum remaining in deficit this year, but not as much so as the recent such report from GFMS. 
May 15
Ray Dalio: "If You Don't Own Gold, You Know Neither History Nor Economics"
Bridgewater's Ray Dalio explains in under 120 seconds why everyone should allocate some of their portfolio to gold.
May 14
WGC resurrects China as world No. 1 gold consumer
The latest Gold Demand Trends analysis from the WGC sees a stable supply/demand picture. 
May 14
Germans pile into gold amid Greek eurozone default fears
Economic uncertainty in Europe and fear of a Greek default are turning people to buy gold bars and coins.
May 14
India's Q1 gold demand up 15 per cent on positive mood: WGC
The total jewellery demand for Q1 grew 22 per cent to 150.8 tonnes compared with 123.5 tonnes last year 
May 12
Why China Is Taking Control of Physical Gold Pricing
The Chinese have always been in love with gold. And this year especially China is taking several steps to rattle gold markets. 
May 12
China IMF accounts adjustment could lead to new gold reserve announcement
China's State Administration of Foreign Exchange has announced that the nation is to bring its Current Account reporting in line with International Monetary Fund standards. 
May 7
Silver's top 10s: Countries, companies and mines
GFMS's latest World Silver Survey gives analysis of silver supply and demand, but provides little indication about what may unfold in the months ahead. 
May 4
China's SGE gold flows still at high level – 51t last week
For the second week in a row, gold withdrawals from China's Shanghai Gold Exchange (SGE) have been at around 50 tonnes – a high level for the post Chinese New Year period. 
April 29
GFMS Q1 update confirms China as world No. 1 gold consumer
GFMS has published its Q1 update to its detailed Gold 2015 report with its latest views on global gold demand and price. 
April 29
India brushes off concerns over gold import spike - for now
Weak oil and commodity prices are offsetting concerns at India's central bank over the impact of a spike in gold imports on the broader economy, officials say, even as the industry forecasts another three months of strong buying. 
April 28
India's gold demand down 5.68% in March quarter
India's gold consumption declined by a marginal 5.68 per cent in the quarter ended March this year, primarily due to expectations of a cut in import duty. 
April 23
Most read: Does any nation hold the gold it says it does?
There is little or no transparency in the way central banks report national gold reserves to the IMF. 
April 20
Russia Returns to Gold With Biggest Purchases in Six Months
The nation increased foreign reserves of bullion to 39.8 million ounces, or about 1,238 metric tons, as of April 1, compared with 38.8 million ounces a month earlier, the central bank said on its website Monday.  
April 13
Gold imports hit 125 tonnes in March - TV
India's gold imports more than doubled to 125 tonnes in March from 60 tonnes in the same period a year ago, three TV channels reported on Friday. 
April 9
Platinum and palladium market future looks robust
Market turbulence is continuing into 2015 for platinum group metals, even as last year's five-month mining strike in South Africa has faded from the headlines. 
April 7
Turkish silver imports in March jump to highest on record
The figure is up 67% on the previous month's figure of 32.6 tonnes. 
April 7
SGE Q1 gold withdrawals at new record – ca. 625 tonnes
It now looks as though Q1 gold withdrawals from the Shanghai Gold Exchange (SGE) will have reached around 625 tonnes – a 10.8% increase on last year's record figure of 564 tonnes.  
March 30
China gold flows to hit Q1 record
Chinese gold flows as represented by withdrawals from the SGE will hit record levels for Q1 this year. 
March 27
US dollar influence on gold prices likely to diminish amid huge demand from emerging markets
The US dollar's inverse relationship with gold has changed dramatically over the past decades and is likely to shift further as demand moves East and the world moves to a multicurrency system, according to the World Gold Council. 
March 27
When Will China Disclose Its True Official Gold Reserves And How Much Is It?
First let's go through the latest Shanghai Gold Exchange data and then we'll continue to discuss the most recent developments regarding Chinese official gold reserves. 
March 23
China gold demand ups when price dips
Week 10 saw gold withdrawals from the Shanghai Gold Exchange at an impressive 51 tonnes bringing the total for the year to March 13 to a shade under 508 tonnes.  
March 18
South African gold mining's fall from grace
South Africa may have regained its position as the world's fifth largest gold producer in 2014 when all the figures have been tallied. 
March 12
Global platinum shortfall continues for third year running
World Platinum Investment Council report says deficit will remain in 2015. 
March 10
Silver marks record imports in 2014
Silver usually keeps its sheen even when gold prices drop. However, in the past two years, silver prices have fallen sharply compared with the yellow metal. 
March 6
Platinum prices poised for a rebound
Shrinking platinum stockpiles, growing demand from carmakers and new uses being trotted out in the energy field are stoking producers' expectations that prices are poised to rebound from a five-year low. 
March 3
Russian palladium exports to Switzerland jump
Russian exports of palladium to Switzerland in January jumped to their largest since May 2014, making for the strongest start to any year since 2010, according to Swiss trade data. 
March 2
India's Failure to Cut Import Duty on Gold Hurts Prices
India's decision to maintain an import duty on gold surprised investors, dealing a fresh blow to a metal that has been hit hard this year by a strengthening U.S. dollar and a series of policy shifts around the globe. 
February 26
China gold imports from Hong Kong rebound in January
China's gold imports from Hong Kong rose in January from the previous month, data showed on Thursday, reflecting increased demand ahead of the Lunar New Year. 
Sprott's Industry Leading Line-up
of Precious Metals Products
       *Also available on corporate class
Gold
24 hour $US Dollar price per ounce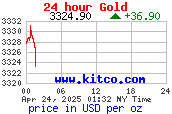 Silver
24 hour $US Dollar price per ounce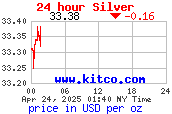 Platinum
24 hour $US Dollar price per ounce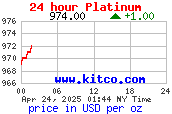 Palladium
24 hour $US Dollar price per ounce