Sprott
Precious Metals Watch
SPROTT PRECIOUS METALS COMMENTARY
It has been a difficult year for silver investors with the metal falling by 36% year-to-date. While the Federal Reserve balance sheet continues to expand, 'taper' discussions by the Federal Open Market Committee have weighed heavily on the price performance of all the precious metals this year.
» full story
December 9
Speculators boost gold shorts near 7-1/2 year high -CFTC
Hedge funds and money managers raised their bearish bets in U.S. gold futures and options close to a 7-1/2 year high, data by the Commodity Futures Trading Commission showed on Friday, a sign that short covering could boost bullion prices, analysts said. In the week up to Dec. 3, the U.S. derivatives regulator said speculators cut their bullish bets in gold, and they turned silver into a net short position for the first time since late June. In addition, they trimmed their net shorts in the copper market.
December 6
Secret Russian Palladium Stockpiles Dwindle & May Disappear In Near Future, Supporting Price
Sales of palladium stockpiles secretively held by the Russian government could end by 2014 according to top Russian precious and base metals miner Norilsk Nickel (MCX:GMKN). That supply pressure is bullish for palladium prices, which many analysts expect to rise next year thanks to a robust U.S. and China automobile market. The Russian finance ministry used to deliver as much as 2 million ounces of palladium onto the market annually, according to a Norilsk Nickel presentation at a recent precious metals conference. 
December 6
Rick Rule on CNBC - Why are capital markets for junior miners so gloomy? 
December 6
Norilsk sees palladium shortage as early as next year
Strong demand from the auto sector and an unpredictable supply from above-ground stocks suggest a physical shortage could take place in the palladium market as early as next year, an executive at the Russia's Norilsk Nickel said on Thursday. Anton Berlin, Norilsk's head of strategic marketing, also said a possible ban on metal shipments by Indonesia government could significantly reduce an oversupply of nickel, but the metal's price may not receive a boost until huge stockpiles are sold. London Metal Exchange nickel stocks are record high above 250,000 tonnes. 
December 5
Bull market or bear market – where does gold stand now?
Is gold still in a bull market or a bear market? Opinions differ but in reality the answer to both questions could well be yes. It all depends where you start from! Over 12 years gold has risen from $250 to around $1,230 at the time of writing – definitely a bull market then? Over the past two and a bit years gold has fallen from around $1,900 to $1,220. That looks as though it may be a bear market then? Well yes – or is this just a major correction in a secular bull market? To an extent it depends on whether you are a gold bull or a gold bear as to which viewpoint you take. 
December 5
The Complete And Unabridged History Of Gold Manipulation
On November 1st, 1961, an agreement was reached between the central banks of the United States and seven European countries to cooperate in achieving a shared, and very clearly stated, aim. The agreement became known as the London Gold Pool, and it had a very explicit purpose: to keep the price of gold suppressed "under control" and pegged regulated at $35/oz. through interventions in the London gold market whenever the price got to be a little... frisky. The construct was a simple one. The eight central banks would all chip in an amount of gold to the initial "kitty." Then they would sell enough of the pooled gold to cap any price rises and then replace that which they had been forced to sell on any subsequent weakness. 
December 5
China 2013 gold supply shortfall seen at 700 tonnes
SHANGHAI: China's gold supply shortfall is expected to reach 700-800 tonnes this year due to strong physical demand, an official with the World Gold Council (WGC) said on Thursday. "In addition to domestic production of over 400 tonnes, the total consumption (in China) is seen to exceed 1,000 tonnes this year," Zheng Lianghao, managing director of the WGC's Far East division told a conference in Shanghai.  
December 5
500 kg of gold smuggled into India every day
The hike in import duty on gold has led to a spurt in smuggling of gold into the country from neighbouring states like Bangladesh, Myanmar and Sri Lanka. The latest provisional data showing a massive shrinkage in the current account deficit (CAD) for July through September has only raised more eyebrows among the sleuths monitoring the activity with limited resources. 
December 3
Gold price falls below the cost of digging it out of the ground
For the second time in 2013 the gold price has dropped below the cost of getting it out of the ground. From the updated GFMS 2013 Gold Survey we can see that the average cost of production is around $1250:All-in costs, a proprietary cost metric designed to reflect the full marginal cost of mine production, and which includes ongoing ('stay in business') capital costs, indirect costs and corporate overheads, is estimated to have risen to $1,250/oz in the first half of 2013. This has been particularly affected by a considerable amount of company write-downs following the decline in spot gold price during the period.Also note this was calculated at the end of Q1 when the price of gold was a couple of hundred dollars higher than it is now - meaning that those company write-downs mentioned above would have put more pressure on their cost of production. And with gold falling to a new five-month low of $1217 it means that gold miners are once again looking at losing money on each ounce they dig out of the ground. 
December 3
Silver imports surge 40% in Oct, hit 3-month high
Silver imports rose to a three-month peak in October and are on track to hit a record this year, data from Thomson Reuters GFMS showed, as buyers opt for the precious metal instead of expensive gold to meet high seasonal demand. More shipments by the world's top buyer may help underpin global silver prices that have slumped 37% so far this year - their biggest annual drop in at least three decades. 
November 30
Gold Output in Australia Expands in Third Quarter on Ore Grades
Gold output in Australia, the world's second-biggest producer, expanded for a second quarter in the period ended September because of higher ore grades, according to mining consultant Surbiton Associates Pty. Production was 69.5 metric tons compared with 67 tons in the previous three months, Melbourne-based Surbiton said in a statement. Output was 62 tons in the same period a year earlier, it said. Gold climbed 7.6 percent in the third quarter, the first such gain in a year, after a slump into a bear market in April spurred sales of coins, jewelry and bars. Bullion tumbled 26 percent this year amid speculation that the U.S. Federal Reserve will scale back monthly bond buying that helped prices cap a 12-year bull run in 2012. "The higher production was due to the treatment of higher ore grades and this, in turn, reduced cash costs," said Sandra Close, a director at Surbiton. "This is precisely what we expected, given the decline in gold prices in April and the lack of a significant recovery since then." 
November 29
State Dept. minutes confirm that whoever has the most gold makes the rules
Secretary Kissinger asks the meeting: "Why is it against our interest to have gold in the system?"He is answered by his assistant undersecretary of state for economic and business affairs, Thomas O. Enders.The minutes, found by Jansen in the State Department archives in Volume 31 of "Foreign Relations of the United States, 1973-76," record Kissinger's exchange with Enders this way: Mr. Enders: It's against our interest to have gold in the system because for it to remain there it would result in it being evaluated periodically. Although we have still some substantial gold holdings -- about $11 billion - - a larger part of the official gold in the world is concentrated in Western Europe. This gives them the dominant position in world reserves and the dominant means of creating reserves. We've been trying to get away from that into a system in which we can control ... Secretary Kissinger: But that's a balance-of-payments problem. Mr. Enders: Yes, but it's a question of who has the most leverage internationally. If they have the reserve-creating instrument, by having the largest amount of gold and the ability to change its price periodically, they have a position relative to ours of considerable power. For a long time we had a position relative to theirs of considerable power because we could change gold almost at will. This is no longer possible -- no longer acceptable. Therefore, we have gone to Special Drawing Rights, which is also equitable and could take account of some of the less- developed-country interests and which spreads the power away from Europe. And it's more rational in ... Secretary Kissinger: "More rational" being defined as being more in our interests or what? Mr. Enders: More rational in the sense of more responsive to worldwide needs -- but also more in our interest  
November 28
China's Platinum imports rise 61% y/y to 248.7 Koz in October
China's Platinum imports rose by 61% year-on-year to 248.7 kilo ounce in October this year but fell by 27% as compare to previous month. According to Barclays, platinum imports have remained above the 200koz mark since March and even though imports into Hong Kong has eased modestly combined imports over the first three months of the year are up 9% y/y while imports into China alone are up by 15% y/y for the year to October. 
November 27
China Gold Imports From Hong Kong Rise on Stockpiling
Gold shipments to China from Hong Kong rose in October to the second-highest on record as jewelers and retailers bought the metal to build up inventories ahead of a peak-demand season at the end of the year. Net imports, after deducting flows from China into Hong Kong, were 129.9 metric tons in October, from 109.4 tons in September, according to calculations by Bloomberg based on data from the Hong Kong Census and Statistics Department. Purchases reached an all-time high of 130 tons in March, with the amount in the first 10 months of 2013 more than doubling to 955.9 tons from a year earlier, the data show. 
November 26
Margin Debt Soars To New Record; Investor Net Worth Hits Record Low
The correlation between stock prices and margin debt continues to rise (to new records of exuberant "Fed's got our backs" hope) as NYSE member margin balances surge to new record highs. Relative to the NYSE Composite, this is the most "leveraged' investors have been since the absolute peak in Feb 2000. What is more worrisome, or perhaps not, is the ongoing collapse in investor net worth - defined as total free credit in margin accounts less total margin debt - which has hit what appears to be all-time lows (i.e. there's less left than ever before) which as we noted previously raised a "red flag" with Deutsche Bank. Relative to the 'economy' margin debt has only been higher at the very peak in 2000 and 2007 and was never sustained at this level for more than 2 months.  
November 26
Best gold issues may start to melt up rather than down - Rule
The normally robust crowd of retail and institutional investors was so sparse Monday at the Metals & Minerals Conference in San Francisco, long-time conference speaker, Sprott Asset Management President Rick Rule, joked that he saw more people in the men's room in the 1996 conference than encompassed the entire audience of attendees this year. 
November 26
Gold Fix Drawing Scrutiny Amid Knowledge Tied to Eruption
Every business day in London, five banks meet to set the price of gold in a ritual that dates back to 1919. Now, dealers and economists say knowledge gleaned on those calls could give some traders an unfair advantage when buying and selling the precious metal. The U.K. Financial Conduct Authority is scrutinizing how prices are set in the $20 trillion gold market, according to a person with knowledge of the review who asked not to be identified because the matter isn't public. The London fix, the benchmark rate used by mining companies, jewelers and central banks to buy, sell and value the metal, is published twice daily after a telephone call involving Barclays Plc (BARC), Deutsche Bank AG (DBK), Bank of Nova Scotia, HSBC Holdings Plc (HSBA) and Societe Generale SA. (GLE) 
November 26
The Vietnamese central bank eyes up buying gold on this price dip to increase currency reserves – but DON'T call gold money
The State Bank of Vietnam (SBV) is going to buy bullion gold to increase the foreign currency reserves as it foresees the downward trend in the gold price in the next six months or one year.So a largeish national central bank can openly say it is buying gold in order to "increase its foreign currency reserves" and yet we're still expected to swallow the Western nonsense that gold is not money - it seems the East takes absolutely no notice of this 'barbarous relic' rhetoric. 
November 25
Janet Yellen's 2014 Nightmare; "Cornering" the Treasury Market Talk about creating moral hazard.  
The Fed has cornered almost 40% of all Treasuries over 5 years in maturity. I've just discovered the killer aspect line from Quantitative Easing. The Fed's 4 years of QE, QE1, QE2, and QE3 has accumulated  36% of all Treasury securities between  5 years  and 10 years in maturity plus 40% of those government bonds over 10 years in maturity as well as  25% of all the mortgage backed securities not owned by Fannie Mae and Freddie Mac . Just how do you suppose Chairman Yellen will devise an exit strategy to this concentrated ownership that makes up some $3 trillion of the central bank's $4 trillion balance sheet?
November 25
Hitch a Ride on This Supply Crunch
Can you name a commodity that's currently in a supply deficit-in other words, production and scrap material can't keep up with demand? How about two?If you find that difficult to answer, it's because there aren't very many.When you do find one, you might be on to a good investment-after all, if demand persists for that commodity, there's only one way for the price to go. 
November 21
Zimbabwe to go ahead with platinum exports ban
JOHANNESBURG - Zimbabwe, the world's number three platinum producer, is determined to ban exports of raw platinum and to force firms to refine locally, the new mines minister told AFP Thursday. "We are determined to ensure that a refinery is put up in Zimbabwe," minister Walter Chidakwa said, speaking during a visit to Johannesburg. "Once you put up a refinery, surely we must put a law that says we do not want our platinum to be exported as raw," he added. "We want our minerals value-added." Cash-strapped Zimbabwe is increasingly looking to the mining sector to help solve its liquidity shortage, which economists say has worsened since the July elections won by veteran leader Robert Mugabe.
November 20
Gold pours into China to meet record demand, bypasses Hong Kong
Nov 20 (Reuters) - China, set to pass India this year as the world's top gold consumer, has imported nearly a fifth more bullion than data from its traditional conduit Hong Kong shows as it brings in the metal via other routes. Gold shipped from Hong Kong to the mainland, used as a proxy for Chinese demand as bullion imports are a state secret, nearly tripled to 855 tonnes in the year to September. But a surge in China's gold purchases as prices slumped by a quarter this year has also seen at least 133 tonnes shipped directly, according to Reuters calculations based on data from Global Trade Information Services (GTIS). That figure could be even higher as it does not include central bank purchases. 
November 20
Gold Benchmarks Said to Be Reviewed in U.K. Rates Probe
The U.K. Financial Conduct Authority is reviewing gold benchmarks as part of its wider probe of how global rates are set, a person with knowledge of the matter said. The FCA review is preliminary and hasn't risen to the level of a formal investigation, said the person, who asked not to be identified because the matter isn't public. The person declined to say which gold benchmarks were under scrutiny.
November 15
Silver coin supplies buckle on fever-pitch retail buys
SAN FRANCISCO (MarketWatch) — Silver prices have dropped more than 30% year to date and demand for the physical metal has reached a fever pitch: United States Mint sales of the American Eagle Silver Bullion Coins have already hit a record this year. But as supplies of the coin tighten, analysts and bullion dealers said there are still many options for those interested in buying silver. Many predicted all along that sales of those coins would reach a record this year — and they expect the metal's popularity to continue to grow.
November 14
Asian Central Banker's Shocking Confession About The West
November 14
India Gold Premium Hits Record 21.6%
With India's 10% gold import duty on top of other capital controls, the price one has to pay for gold in India has reached a record spread of 21.6% vs. what one has to pay in countries where there are no such controls or import duties.
November 14
WGC: China Already Tops Record For Full-Year Gold Demand
Gold demand in China remained robust in the third quarter, with the country already topping its previous full-year record for gold buying, the World Gold Council reported Thursday. The country was the world's top consumer in the July-September period and is on pace to replace India as the leading buyer for the full year. Indian demand was also up for the year through September, but was hurt in the third quarter by government efforts to restrict imports in an effort to battle a large current-account deficit.
Andrew Huszar: Confessions of a Quantitative Easer I can only say: I'm sorry, America.
As a former Federal Reserve official, I was responsible for executing the centerpiece program of the Fed's first plunge into the bond-buying experiment known as quantitative easing. The central bank continues to spin QE as a tool for helping Main Street. But I've come to recognize the program for what it really is: the greatest backdoor Wall Street bailout of all time. Five years ago this month, on Black Friday, the Fed launched an unprecedented shopping spree. By that point in the financial crisis, Congress had already passed legislation, the Troubled Asset Relief Program, to halt the U.S. banking system's free fall. Beyond Wall Street, though, the economic pain was still soaring. In the last three months of 2008 alone, almost two million Americans would lose their jobs. Even when acknowledging QE's shortcomings, Chairman Bernanke argues that some action by the Fed is better than none (a position that his likely successor, Fed Vice Chairwoman Janet Yellen, also embraces). The implication is that the Fed is dutifully compensating for the rest of Washington's dysfunction. But the Fed is at the center of that dysfunction. Case in point: It has allowed QE to become Wall Street's new "too big to fail" policy.  
Source: Wall Street Journal
November 13
Plan to raid bank creditors could shatter Europe's calm
BRUSSELS, Nov 13 (Reuters) - Market euphoria and soaring demand for European bank debt could be brought back down to earth if the European Union pushes ahead with the early introduction of rules allowing Cyprus-style raids on bank creditors and big depositors Following demands from Germany, the European Union law to raid the bondholders and savers of failing banks could take effect as soon as January 2015, three years earlier than planned and in time to hit banks exposed by European Central Bank tests next year.
November 13
U.S. Mint's Silver-Coin Sales Reach Annual Record
Sales of American Eagle silver coins by the U.S. Mint since the start of the year surpassed the annual record as the futures market rallied from the lowest in 34 months. Sales reached almost 40.2 million ounces, the mint said yesterday in an e-mail. Authorized purchasers bought the full weekly allocation of 500,000 coins, boosting the total this year above the previous all-time high of almost 39.9 million ounces in 2011, it said.
November 12
Platinum set for biggest deficit since 1999 -Johnson Matthey
LONDON, Nov 12 (Reuters) - Strong investment and industrial demand will push the platinum market in 2013 into its biggest deficit for 14 years, refiner Johnson Matthey said on Tuesday. The platinum market is expected to show a shortfall of 605,000 ounces this year from 340,000 ounces last year, it said in its Platinum 2013 Interim Review.
November 9
Weekly COMEX Gold Inventories: Registered Gold Hits A New Low At Under 20 Total Tonnes
Last week was a fairly quiet week at the COMEX gold warehouses, with registered gold inventories hitting a new low. This week saw a bit more action in the warehouses, with a net gain in gold inventories for the week, but registered gold stocks hit a new all-time low at a little under 639,000 ounces.
November 9
Mugabe Threatens to Halt Raw Platinum Exports to South Africa
Zimbabwean President Robert Mugabe is threatening to halt exports of raw platinum to South Africa unless three producers set up a refining plant in the country. "Let us close our doors immediately and say no raw platinum will go to South Africa," the state-controlled Herald newspaper cited Mugabe as saying to members of his ruling party at an address in the Zimbabwean capital of Harare.
November 8
Indian gold imports slide, but exports jump
Early signs are coming in that India could slip from its position as the world's largest consumer of gold. A senior official of the Metals and Minerals Trading Corporation of India (MMTC) has noted that gold imports are likely to decline by 41% to 500 tonnes this financial year, on account of the curbs imposed by the government.
November 6
Platinum Giants Ready to Stare Down Union Over Pay Demand
Rising costs and falling prices may prompt South Africa's largest platinum mines to stare down a union threat to halt 70 percent of global production over pay demands, pushing the industry toward a prolonged strike.
November 5
India's Demand to Buy Silver Doubles on Gold Ban, Price Drop
DEMAND to buy silver amongst Indian households has pushed the country's imports of the precious metal to twice last year's level and may set a record in 2013, according to industry experts. Between January and September, silver imports to India totaled more than 4,000 tonnes, already beating full-year 2012 says the Thomson Reuters GFMS consultancy.
November 5
A Closer Look At Bank Bail-Ins And The Black Hole Of Our System
The bank bail-in rumble is growing louder. After the events in Cyprus, a small country and potentially meaningless in the eyes of most people, it seems that bail-in idea has spread like a virus across the Western world.
November 5
Turkey's Gold Imports In 2013 May Surpass Record Over 269.5 Metric Tonnes
Turkey's gold imports jumped more than threefold in October to 15.98 metric tons, from 4.8 tons in September, according to the Istanbul Gold Exchange's website. That's the highest since July, the data shows. Turkey has already imported 251.4 metric tonnes in 2013, year to date, meaning that it will come very close to or surpass the record import year in 2005 when 269.5 metric tonnes of gold were imported). Year to date imports are more than double the amount of gold imports in 2012 and more than triple those in 2011.
November 4
Fed's Bullard: $1 trillion a year QE pace 'torrid'
The Federal Reserve's current $85-billion-a-month in bond purchases is a "torrid pace," St. Louis Fed President James Bullard told CNBC on Monday. But he added in a "Squawk Box" interview, "It's a very reasonable thing to do to substitute for the fact that you can't lower interest rates any further." "Eighty-five [billion dollars] is a torrid pace, I will give you that. And a trillion dollars a year is a torrid pace," acknowledged Bullard, a Fed voting member this year. "I'd rather get out it if we can, but I'd like to meet our goals."
November 4
Gold holds steady as U.S. Mint's brisk coin sales surpass 2012 totals
"There are some people who are still stocking up on physical gold" Gold gained slightly Monday as the dollar weakened and a Federal Reserve official suggested that the central bank is in no hurry to start tapering its massive stimulus program. By Monday evening, bullion was trading near $1,317, while silver also finished the day up, near $21.70. However, investors are looking ahead to the October nonfarm-payrolls report from the Labor Department, due Friday, since the Fed is basing the continuation of its bond-buying program on improvements in the jobs market.
November 4
South Africa Union Starts Pay Strike at Northam Platinum
A strike called by South Africa's National Union of Mineworkers at Northam Platinum Ltd. (NHM) over wages continued into a second day as the company said it has proposed a meeting between the sides tomorrow. "There has been no invitation from the company, but we'll be ready to see them" for talks, Ecliff Tantsi, the union's negotiator at Northam, said by phone today. The company's management resolved, for safety purposes, not to allow production-related employees underground yesterday, Northam said in an e-mailed statement. 
October 31
Gold Imports From Hong Kong were 109.4 metric tonnes in September
Gold shipments to China from Hong Kong fell for a second month after the premium to take immediate delivery declined, indicating waning physical demand in the nation poised to become the largest consumer.Net imports, after deducting flows from China into Hong Kong, were 109.4 metric tons in September, from 110.2 tons a month earlier, according to Bloomberg calculations based on data e-mailed from the Hong Kong Census and Statistics Department. Still, the amount has more than doubled to 826 tons in the first nine months of the year, the data show.
October 31
Japanese Pension Funds Show Appetite For Gold: World Gold Council
Japanese pension funds have shown strong interest in buying gold, prompted in part by "Abenomic" easy money policies, according to the gold trade group the World Gold Council. "It is an area of growth for very natural reasons, especially in a period like this," said council investment researcher Juan Carlos Artigas, at a council event in New York on Wednesday. "We definitely expect a continuation of this trend in Japan."
October 29
Gold Retreats; Silver Eagle Bullion Sales Top 39M to Near Record
Gold fell below the pivotal $1,350 an ounce level on Tuesday, marking a second day of losses, albeit modest ones, as investors stayed their buying ahead of the highly anticipated FOMC monetary policy statement. 
October 29
Fed Balance Sheet Not Seen Returning to Normal Until at Least 2019
The Federal Reserve's balance sheet, which is fast approaching $4 trillion in total assets, won't return to normal until sometime between mid-2019 and mid-2021, according to new projections prepared by central bank researchers. 
October 29
Strange gofo cry heralds trouble for gold
Source: FT.COM It would be much better for the financial world if the metal were just bumping along, says John Dizard. John Brimelow, a gold analyst who has been deconstructing the Indian premiums for many years, says: "There was a collapse of Indian premiums in early August that was due to the collapse of the rupee and the rise in duty to the current level. The current 20 per cent premium has not been seen since gold import was made legal in 1990."
A third strange cry in the forest is the "negative gofo", or gold forward lease rates that effectively pay a higher gold price over the next three months than in the future. This "backwardation" is a common enough phenomenon for other commodities in short physical supply, but, given the much greater weight of above-ground supplies in the gold market, is supposed to be a nonexistent or fleeting occurrence for the metal. Yet the negative gofo, at least for 400 oz good delivery London bullion bars, has persisted for weeks.As one of my gold refiner friends puts it: "The negative gofo is just a shortage of kilo bars. It is, technically, a backwardation, but I call it the convenience yield of having gold immediately available for physical delivery. Look at the huge premiums in the Shanghai exchange and in India. You think maybe the market will normalise and the premium will disappear soon. So you pay up for immediate delivery."The 400 oz bars, though, are the only acceptable form of backing for gold ETFs, not to mention the London market. There is a shrinking supply, which have been gradually flown from London to Switzerland, where they are further refined, cast into kilos, and sent on to China, India, the Middle East and elsewhere.Say, what if there is a rise in the world gold price that leads to an increase in demand for gold ETFs and exchange traded futures? Could the gold flow back from those kilo bars to recasting as good delivery 400 oz bars?Not easy, my refiner says: "Much of that has been converted to jewellery. It would be a lengthy process. Those are pretty sticky hands."He continues: "This could turn into a very violent wake-up for (screen-traded gold). People talk about 'fiat currencies', but we also have fiat gold. Volatility is too cheap right now."
October 29
Chinese Gold Consumption and Production Increasing
A recent study released this week reported a big surprise. The buying of luxury goods this year is expected to top last year's sales, with growth in the Americas overtaking that of China, a worldwide study revealed yesterday. In a reversal of the trend in recent years, spending on luxuries in the Americas is expected to grow four per cent this year, as opposed to 2.5 per cent for China. Ironically, one of the factors driving sales growth in the Americas is tourist spending from the increasing number of Chinese visiting cities like Los Angeles and Las Vegas. Regardless of how you move the data around, the fact remains that the Chinese are driving high end luxury good sales at home and abroad. This supports the recent news that China is surpassing India as the largest purchaser of gold. While industrial demand increases but the demand for private consumption is exceeding expectations. Gold consumption in China, the world's largest user after India, jumped 54 percent in the first half of 2013, putting the country on track to become the top bullion consumer at a time when demand is contracting elsewhere.
October 28
Gold: Play The Coming Countertrend Rally?
In our view, the main driver for gold's "surprising weakness" has been liquidation and capitulation out of gold as an investment vehicle. It is true that sharply declining real bond yields, EMU tensions and a rising equity risk premium all combined to help gold from early 2009 until mid-2011. At that point, gold had become over-owned, given that there were no signs of inflation, and further nonconventional monetary actions failed to benefit the yellow metal. From August 2011 until early 2013, the dollar dominated gold movements. Since then, gold has "underperformed" what would have been predicted based on the dollar, real bond yields and EMU bank stocks.
October 27
Turkey, Kazakhstan raised gold reserves in September: IMF
Turkey and Kazakhstan raised their gold holdings in September, while Russia's bullion reserves eased, according to preliminary data from the International Monetary Fund. Investors are closely monitoring any possible shift in central bank attitudes toward gold after bullion prices rose to a three-month high above $1,430 an ounce on August 28. Spot gold edged up 0.3 percent to $1,350 on Friday.
October 26
In Fed and Out, Many Now Think Inflation Helps
WASHINGTON — Inflation is widely reviled as a kind of tax on modern life, but as Federal Reserve policy makers prepare to meet this week, there is growing concern inside and outside the Fed that inflation is not rising fast enough. Some economists say more inflation is just what the American economy needs to escape from a half-decade of sluggish growth and high unemployment.
October 25
European emissions rules seen boosting platinum demand
LONDON, Oct 25 (Reuters) - Demand for platinum may pick up next year when new European auto emission rules are likely to reverse a trend toward replacing it with cheaper palladium in diesel autocatalysts, a Johnson Matthew senior researcher said. The auto industry is the largest single source of demand for platinum, but that market has come under pressure since the start of the financial crisis, which put consumers off buying new cars. In addition, carmakers have been working for years towards substituting platinum in autocatalysts with cheaper metals, chiefly palladium, particularly after platinum hit record highs in 2008 of more than $2,000 per ounce.
October 24
Consumer Sentiment in U.S. Falls to Eight-Month Low: Economy
Consumer confidence sank last week to the lowest level in eight months as Americans grew more concerned the budget standoff in Washington hurt the world's largest economy. The Bloomberg Consumer Comfort Index declined to minus 36.1 in the period ended Oct. 20, the lowest since February, from minus 34.1. The report also showed more households were pessimistic about the economy than at any time in the past year even as lawmakers approved a deal that ended the partial shutdown of federal agencies.
October 24
Silver Scrap Supply "Falls 30%" from 2011 Peak
Refiner says scrap silver supplies retreat further from 2011 peak as prices fall... SILVER SCRAP supplies from North America and Europe have fallen up to 30% from the peak of 2011, a leading refiner told an industry conference Wednesday. Speaking at the Silver Industrial Conference in Washington, Grant Angwin of Johnson Matthey – which produces London Good Delivery silver bars at its Salt Lake City plant in the US, and at Brampton in Canada – said that flows of existing above-ground silver, back to market, have fallen 20-30% over the last two years.
October 24
Platinum Shortages Extending as Car Sales Quicken: Commodities
Platinum and palladium will be the best performing precious metals next year as record global car sales will keep them in short supply for a third year, according to the most-accurate forecasters. The metals, used in catalytic converters, will be in a shortage for the longest stretch since 2005 for platinum and 2000 for palladium, Barclays Plc and Johnson Matthey Plc data show. Platinum will gain 13 percent to average $1,635 an ounce by the fourth quarter of 2014, according to the mean of eight estimates by the most-accurate analysts tracked by Bloomberg in the past two years. Palladium will gain 10 percent to average $823 an ounce, the most for a quarter since 2001.
October 24
Central Banks Drop Tightening Talk as Easy Money Goes On
The era of easy money is shaping up to keep going into 2014. The Bank of Canada's dropping of language about the need for future interest-rate increases and today's decisions by central banks in Norway and Sweden to leave their rates on hold unite them with counterparts in reinforcing rather than retracting loose monetary policy. The Federal Reserve delayed a pullback in asset purchases, while emerging markets from Hungary to Chile cut borrowing costs in the past two months.
October 22
Gold Premiums in India Climb to Record as Curbs Widen Shortage
Gold premiums in India, the world's largest user, climbed to a record as jewelers rushed to secure supplies to meet soaring demand during festivals and weddings amid government curbs on imports. The fees paid by jewelers to banks and other importers climbed to as much as $120 an ounce over the London price this week compared with a discount of $60 a month earlier, said Bachhraj Bamalwa, a director at the All India Gems & Jewellery Trade Federation. Premiums may surge to $150 to $200 if the shortage persists, he said. The raw material scarcity is worsening as imports slumped after the government linked shipments to re-exports in July and increased tax on overseas purchases for a third time this year to curtail demand. Purchases of gold and silver tumbled to $800 million last month from $4.6 billion a year earlier, the Commerce Ministry said Oct. 9.
October 22
TABLE-Swiss net raw platinum imports drop to 4-month low
LONDON, Oct 22 (Reuters) - Switzerland's net imports of raw platinum fell last month to their lowest since May, data from its customs bureau showed, as exports to China hit a three-month high at 1.903 tonnes. Switzerland remained a net importer of the autocatalyst metal for a fourth month, with shipments from South Africa, the world's biggest platinum producer, hitting their highest since June at 2.937 tonnes. The country became a net exporter of raw palladium for the first time in three months, meanwhile, as imports dwindled to a three-month low. Russia exported no raw palladium to Switzerland for a third month, although it shipped another 202 kilograms of semi-finished palladium, a similar level to that shipped in every month this since February.
October 22
Not much of a festival season for Indians as gold runs dry
(Reuters) - In India's biggest bullion market, Mumbai's Zaveri Bazaar, gold dealers are busy -- not filling orders for customers, but busy avoiding phone calls because they don't have any gold to sell.
October 21
Zimbabwe needs $5.3bn for massive platinum production increase
nvestment totalling over $5.3 billion is required in Zimbabwe if the country is to match Russia as the world's second largest platinum producer after South Africa. A report from the country's Chamber of Mines, seen by Bloomberg, outlines the spending needed to increase production to over 500,000 oz/y. Zimbabwe currently produces around 365,000 oz, versus Russia's 800,000 oz and South Africa's 4.1 million ounces last year. Some $2.8 billion of investment is needed in mines, up to $2 billion in processing plants and between $200 and $500 million to ensure adequate power supply, the report said.
October 18
UK gold exports to Switzerland surge as investors sell ETFs
LONDON, Oct 18 (Reuters) - A surge in gold exports from the United Kingdom to Switzerland this year may largely be the result of metal sold out of exchange-traded funds being shipped for re-refining before making its way to Asia, according to Australian bank Macquarie. 
October 17
The US Treasury Daily Statement for October 17, 2013 shows debt at $
17.027544 trillion
October 16
'A financial buyer's market': Private equity firms continue to circle mining sector
During the past couple of years, private equity firms have quietly grown into key players in the mining industry. And with mining valuations in the gutter and equity financing all but dried up, their role could soon get bigger.In a presentation in Toronto on Wednesday, private equity insiders noted that the firms are raising huge dollars for mining investments. They argued that it is a potential source of financing for many distressed companies. 
October 16
Chinese gold output to August up 8% year on year
Some 220.773 tonnes of gold were mined in China in the first eight months of 2013; in August, the country produced 37.978 tonnes of the yellow metal.Output from the world's largest gold producer, China has advanced sharply, up 8.18% year on year to 270.167 tonnes from January to August 2013, according to data released by the China Gold Association. In August 2013, the country produced 37.978 tonnes of gold.Bullion consumption too has jumped, rising 54% in the first six months of 2013, from a year ago period.
Last year, China's gold consumption rose 9.35% to 832.18 metric tonnes and the country is slated to overtake India to become the biggest gold consumer this year. 
October 15
The International Monetary Fund Lays The Groundwork For Global Wealth Confiscation
The International Monetary Fund (IMF) quietly dropped a bomb in its October Fiscal Monitor Report. Titled "Taxing Times," the report paints a dire picture for advanced economies with high debts that fail to aggressively "mobilize domestic revenue." It goes on to build a case for drastic measures and recommends a series of escalating income and consumption tax increases culminating in the direct confiscation of assets. 
October 15
Indian Gold Premiums Surge $30 To Record On Physical Demand, Supply Crunch
Gold premiums in India, the world's biggest buyer of gold along with China, jumped sharply last week as the festive season began, driving up demand, and supply remained tight on a lack of imports according to Reuters.Premiums to London prices jumped to $30 to $40 an ounce from last week's $5 to $7, the All-India Gems and Jewellery Trade Federation (GJF) said."There is no official gold available. People are not willing to sell their old jewellery either, at these prices," said Sudheesh Nambiath, an analyst with metals consultancy Thomson Reuters GFMS.
 
October 14
India's Rajan: 'We Can Pay The World In Gold'
The Indian economy has been struggling to grow thanks a tumbling currency and surging food and energy prices. Besides slowing growth, many have been watching two data points keenly. The first is the nation's current account deficit, currently at -5.07% of GDP. The other is its external debt which stands at 22% of GDP. 
October 11
European central bank gold sales lowest since 1999 accord
European central banks sold 5.1 metric tons of gold in the fourth year of an accord that originated in 1999, the lowest on record, according to data from the World Gold Council. Germany sold 5 tons and an unidentified bank disposed 0.1 ton in the year through Sept. 26, the cpuncil, a London-based producer-funded group, said in a report on its website. That's the lowest annual total since European central banks agreed to limit sales in September 1999. Germany's Bundesbank sells a small amount each year to mint coins.
October 9
U.S., Switzerland Export Largest Ever Amounts Of Gold To Hong Kong And Investors Should Take Note
Chinese gold import data have just been released for August, and it shows that imports are still very strong. But what investors should really take note of is that imports into Hong Kong were close to 300 tonnes in August - which would put them on pace to suck up all of global mine supply.
October 9
Monsoon, weddings to light up gold demand
After a depressing third quarter, the World Gold Council (WGC) is betting highly on India's gold demand in the fourth quarter of the current calendar year, following recommencement of import after two months of disruption. WGC forecasts India's gold demand to remain robust in the fourth quarter at around 300 tonnes, a rise of around 15 per cent from 260.3 tonnes in the same quarter of the previous year.  
October 9
Indians may import record volumes of silver
(Reuters) - Indian silver imports are on pace to hit a record high this year as the wedding and festival season drives up buying of the precious metal instead of the traditional gold, made scarcer and dearer by official measures aimed at cutting the trade gap. Higher silver demand in the world's biggest buyer may help support prices, which have fallen almost 30 percent this year on the international market and are on track for their biggest annual drop in almost three decades.
October 8
China's gold imports from Hong Kong remain above 100 tonnes in August
(Reuters) - China's net gold purchases from Hong Kong fell 5 percent in August from the previous month, but were still above 100 tonnes for a fourth straight month, as strong demand for jewellery and bars persisted in the world's second-biggest bullion consumer. Net gold flows into China - excluding imports by Hong Kong from China - hit 110.505 tonnes in August, compared with 116.385 tonnes in July, data from the Hong Kong Census and Statistics Department showed. Total imports from Hong Kong rose to 131.374 tonnes from 129.232 tonnes a month ago.
October 8
Biggest US Foreign Creditors Show Concern on Default Risk
China and Japan, which together hold more than $2.4 trillion in U.S. Treasuries, raised pressure on the U.S. to resolve a political impasse on its debt ceiling that threatens to destabilize global financial markets. Japan must consider the impact of any default on its bond holdings, even as the U.S. will probably avoid a fiscal crisis, Japanese Finance Minister Taro Aso said today in Tokyo. Chinese Deputy Finance Minister Zhu Guangyao said yesterday that the U.S. should prevent a default, the People's Daily reported.
October 7
Why Uncle Sam is hoarding gold
Grab any Wall Street trader in a bar, or any portfolio manager in his office, and he's likely to tell you gold is finished.It's silly, nothing more than a shiny metal, a substance with little use and little real value, a "barbarous relic," and the stuff of nothing more than superstition. Only a fool would own any gold in his portfolio.Right?After all, its value has plunged by $500 an ounce in the past year, and $100 just in the past month. Gold hasn't even rallied during the budget crisis: So much for its "safe haven" status.There is just one nagging problem with this story line. One group of people disagrees. And I am not talking about wacko gold bugs in Arizona ("the ex-husband state") with tinfoil on their heads.I am talking about the people running the United States Treasury.They remain firm believers in gold. Big-time.This week I asked them if they would consider selling some of the country's gold reserves to pay the bills if the budget crisis escalates later this month. Their response? Not a chance. http://www.marketwatch.com/story/why-uncle-sam-is-hoarding-gold-2013-10-04?d ist=beforebell  
October 7
Norilsk Nickel Sees Platinum, Palladium Deficit Through 2016 Oct. 4
(Bloomberg) -- Palladium deficit will widen andplatinum shortage will narrow in 2014-2016, Norilsk Nickel saysin presentation on its website today.* Palladium shortage seen at 900,000oz in 2014, 950,000oz in2015 and 1.22m oz in 2016, from 940,000oz this yr* Platinum shortage will be 220,000oz in 2014, 200,000oz in2015 and 100,000oz in 2016, from 460,000oz this yr* Sees sales from Russian palladium stockpiles at 100,000ozthis yr vs. 250,000oz in 2012; no sales in 2014 **bloomberg
October 3
Russia's Gold output rises sharply in Jan-July: Producers' Union
MOSCOW (Scrap Register): Russia gold output advanced sharply by 12.2% year-on-year to 122.041metric tons in the first seven months of this year, as per the latest figures released by the Union of Russian Gold Producers.
October 3
Indian, US silver price arbitrage,trade sees upswing after gold curb
Indian silver prices broadly track the international market, but there are sharp variations depending on industrial demand, festive purchases and the mood of investors in the Mumbai and New York futures market as well as the spot market.
October 3
SA situation the biggest risk to platinum prices — Natixis
THE direction of the platinum price — and to some extent the palladium price — will be determined by developments in South Africa over the next two years, Natixis has said in a Metals Review.
October 1
India's October gold imports seen picking up sharply
(Reuters) - India's only gold imports in August and September were for exporters' use, reducing volumes to a fraction of what the world's biggest bullion buyer used to bring in before the government took steps to rein in purchases.
September 30
Banca d'Italia says gold reserves key to cenbank independence
ROME, Sept 30 (Reuters) - Keeping gold reserves is a key support to central banks' independence, an official from Banca d'Italia told a bullion industry conference on Monday, dampening talk that it might sell some of its holdings. 
September 30
China to ease gold trade restrictions - central bank
(Reuters) - China's central bank is planning to increase the number of firms allowed to import and export gold and will also ease restrictions on individual buyers of the precious metal, according to a draft policy document issued on Monday.
September 30
Gold Bulls Raise Wagers Most in Month on Stimulus: Commodities
Hedge funds' combined holdings in gold futures rose the most this month as continued U.S. monetary stimulus spurred investors to sell short contracts and sent prices toward the first quarterly advance in a year. The net-long position in bullion jumped 12 percent to 78,654 futures and options in the week ended Sept. 24, the most since Aug. 27, U.S. Commodity Futures Trading Commission data show. Long wagers gained 1.8 percent and short bets fell 17 percent, the biggest drop in four weeks. Combined net-long holdings across 18 U.S.-traded commodities climbed 1.7 percent, the first gain in September.
September 29
Chinese Gold Demand On Track To Hit 1,000T: WGC
September 27
India's silver imports glittering like gold, shoot up by 311% in Q1 FY14
The silver demand in India has surged substantially, figures indicate. According to latest import data released by India Customs, the total imports of silver by the country during the first quarter of the current financial year amounted to $1.78 billion, 311% higher than the imports of $433.8 million during the corresponding quarter last year. 
September 26
Fed's Kocherlakota wants to boost, not taper, QE3
WASHINGTON (MarketWatch) - The Federal Reserve should take actions to strengthen its support for the economy instead of pulling back, or tapering, said Minneapolis Fed President Narayana Kocherlakota on Thursday. Low inflation shows that Fed policymakers have "a lot of room to provide much needed stimulus to the labor market," Kocherlakota said, in a speech to the Rotary Club of Houghton, Mich. Kocherkakota called for the Fed to set a goal to return employment to its maximal level as rapidly as it can, while keeping inflation close to, although temporarily above, its 2% target. Monetary policy is not impotent, he added. Kocherlakota is not a voting member of the Fed's policy-making committee this year. Over the past few years, he has transformed from a leading hawk, concerned about higher inflation, into one of the strongest voices in favor of asset purchases and an easier policy stance. Not even concerns about asset bubbles should deter possibly adding more stimulus, he said.
September 26
The Fed's Favourite Measure Of Inflation Plunges Further
Core personal consumption expenditures, an inflation indicator reported in the U.S. GDP release, stood at only 0.6% in the second quarter, according to thethird and final Q2 GDP readingpublished by the U.S. Bureau of Economic Analysis this morning.Economists were expecting the report to confirm the BEA's second reading of Q2 core PCE published a month ago, when the agency said it stood at 0.8%.
September 25
U.S. Running Out of Cash More Quickly
Treasury Now Sees Crunch by Oct. 17; No Deal to Fund Government in Sight WASHINGTON-The government is closer to running out of money to pay its bills than previously thought, the Treasury Department warned Wednesday, clarifying the fiscal deadlines confronting Congress amid continued disarray on Capitol Hill.Treasury Secretary Jacob Lew said the government would be left with just $30 billion cash on hand "no later" than Oct. 17, and the Congressional Budget Office predicted these funds would be used up between Oct. 22 and Oct. 31 if legislation isn't enacted to raise the ceiling on government borrowing.That little cash could make it difficult, if not impossible, for the government to pay the roughly $55 billion in Social Security, Medicare and military payments due Nov. 1. Source: Wall Street Journal
September 25
CFTC Closes Investigation Concerning the Silver Markets 
Washington, DC - The Commodity Futures Trading Commission (CFTC or Commission) Division of Enforcement has closed the investigation that was publicly confirmed in September 2008 concerning silver markets. The Division of Enforcement is not recommending charges to the Commission in that investigation. For law enforcement and confidentiality reasons, the CFTC only rarely comments publicly on whether it has opened or closed any particular investigation.
Nonetheless, given that this particular investigation was confirmed in September 2008, the CFTC deemed it appropriate to inform the public that the investigation is no longer ongoing. Based upon the law and evidence as they exist at this time, there is not a viable basis to bring an enforcement action with respect to any firm or its employees related to our investigation of silver markets. 
September 25
Record Platinum Shortage Lifts Impala Bonds
South Africa Credit Sept. 25 (Bloomberg) -- Impala Platinum Holdings Ltd.'splan to cut output amid a record shortage of the meal and therand's drop this year are boosting the bonds of the world'ssecond-biggest producer and curbing its need to raise funds.Yields on the Johannesburg-based company's $200 million ofbonds changeable into stock at an equivalent of $24.13 per sharefell 152 basis points this month to 4.51 percent yesterday,while rates on Aquarius Platinum Ltd.'s convertible dollar debtdue December 2015 climbed 60 basis points over the same period.Impala's shares climbed 47 percent since reaching an almosteight-year low on June 25. Source: Bloomberg
September 24
Platinum ETF holdings hit record highs on supply woes, demand hopes
NEW YORK, Sept 24 (Reuters) - Fears that an expected strike in South Africa's platinum mines could cut supply of the metal at a time that demand could rise due to a potential recovery in the European diesel-car market sent metal holdings in the world's top platinum exchange-traded funds to an all-time high, Reuters data showed.
September 24
Turkey raises gold reserves by 23 tonnes in August - IMF
Turkey's central bank raised its gold holdings by 23.344 tonnes in August to 487.351 tonnes, preliminary data from the International Monetary Fund showed on Wednesday.
September 24
Chinese platinum demand in August remains strong: Barclays
August trade data from China suggests that low platinum prices prompted stronger demand from the country's jewelry sector, analysts with UK banking gain Barclays said Monday. The jewelry sector in Asia is a major end-user of platinum. "Platinum continues to outshine its peers this year as palatable prices provide support to platinum jewelry demand," Barclays precious metals Suki Cooper said in a report.
September 24
Jim Rickards: We're Witnessing One of the Greatest Failed Experiments in Economic History
September 24
Sprott's Charles Oliver Sees the Shine Returning to Metals
Has the gold price hit bottom? Charles Oliver, senior portfolio manager with Sprott Asset Management, believes that the fundamentals are in place for gold to vault from its downturn—possibly topping $2,000/oz in the next year. In this interview with The Gold Report, Oliver talks about which small-cap miners he's been adding to his portfolio before the market recognizes the illogical discounts. 
September 23
Russia Sept. 1 Gold Reserves Up On Month at 32.6M Troy Ounces
MOSCOW--Russia's central bank continued to buy gold from domestic producers for an 11th consecutive month in August. Russia's gold reserves on Sept. 1 stood at 32.6 million Troy ounces, 1.2% more than on Aug. 1, the Central Bank of Russia reported Friday.The value of Russia's gold reserves increased during August by 6.7% to $45.472 billion, due to a rise in the world gold price over the month. Source: Wall Street Journal 
September 19
Government calls high-level meeting to break gold import impasse
The government has called a meeting of top officials from the finance and trade ministries in New Delhi on Friday to break a two-month impasse on gold imports that has crimped supply and pushed up prices in the world's biggest gold consumer. Gold imports into India have virtually come to a halt since July 22 when the Reserve Bank of India introduced the so-called 80/20 rule that says 20 per cent of all imports had to be re-exported.
September 18
The Platinum Series: Platinum as an Investment
Global demand for platinum as an investment has increased 30x since 2003.
September 18
Gold Rallies Like it's 2009
Gold is acting like it's 2009.Futures surged 4.5% to a peak of $1,367.80 an ounce in response to the Fed's decision to keep the pace of its $85 billion monthly bond-buying program on track.Gold's surge marked the biggest intraday gain in percentage terms since March 18, 2009, when the central bank was still busily implementing QE1. Back then gold prices jumped 7.8% as traders rushed into the gold market amid worries that the stimulus spending would spur inflation
September 18
Who Leaked The FOMC Statement To Gold Traders?
Beginning 3 minutes before the release of the FOMC Statement, gold spot and futures prices began to rise notably. We noted this accordingly. Bonds did not. Stocks did not. FX did not. Around 4300 contracts changed hands in the Dec Futures - massively more than average volume - before the statement came out and drove prices further up. In those 3 minutes Gold prices jumped $11... so the question is - lucky guess... or which big bullion bank got the nod?
September 18
Govt hikes import duty on gold jewellery to 15%
The finance ministry on Tuesday increased the import duty on gold jewellery to 15 per cent from the earlier rate of 10 per cent in order to provide a level playing field for domestic manufacturers."Jewellery making is a labour intensive industry... There is an apprehension that Indian jewellery makers would not be able to compete with cheaper imports, particularly when majority of the imported jewellery is machine-made as compared to handmade jewellery in India," an official release explained the decision.
September 17
South Africa mining bill sparks controversy
South Africa is open to amending a controversial mining bill that has alarmed the industry at a time when mining companies are already battling on several fronts, government members have told the Financial Times.
September 15
BIS veteran says global credit excess worse than pre-Lehman
Extreme forms of credit excess across the world have reached or surpassed levels seen shortly before the Lehman crisis five years ago, the Bank for International Settlements has warned. "This looks like to me like 2007 all over again, but even worse," said William White, the BIS's former chief economist, famous for flagging the wild behaviour in the debt markets before the global storm hit in 2008. "All the previous imbalances are still there."
September 15
Gold Advances as Dollar Tumbles
Gold gained as the dollar dropped to the lowest level in a month after Lawrence Summers withdrew from consideration as the next Federal Reserve chairman before the central bank meets this week to decide on stimulus. Silver rallied from its worst week since June.
September 13
Canadian household debt-to-income ratio hits record high
The ratio of household debt to income in Canada hit a record high in the second quarter, although the pace of growth slowed from the same period in 2012, Statistics Canada said on Friday. The federal government and the Bank of Canada have expressed concern that Canadians are taking on too much debt - in particular cheap mortgages - at a time when interest rates are at near record lows. Officials fret that when rates go up eventually, some consumers could find themselves in trouble.
September 13
Morgan Whistleblowers Confess Bank Manipulates Gold & Silver
In a stunning development, two JP Morgan whistleblowers have confessed that the bank manipulates the gold and silver markets. This is truly a shocking admission by the courageous JP Morgan whistleblowers. In a blockbuster King World News interview, London metals trader Andrew Maguire told KWN that the two JP Morgan employees came directly to him with hard evidence that the bank was actively manipulating the gold and silver markets. 
September 12
Gold demand to fall before prices resume drop in 2014 - GFMS
Gold demand will fall in the second half as bar buying slips from a record and central banks add less to reserves, while prices may climb toward $1,500 an ounce by early next year before dropping, Thomson Reuters GFMS said.
September 10
Is Platinum the New Gold?
The Goldrums of June are giving way to a new dawn for platinum group metals, says David Franklin, a market strategist at Sprott Asset Management. While white metal miners face a variety of challenges, there is an increasing demand for platinum and palladium from vehicle manufacturers in the U.S. and China. And supplies of the hard-to-find metal are vanishing day by day.
September 10
2,967,513 Ounces of Silver Produced by US Mines in June
Mineweb reported that mines in the United States put out 2,967,513 troy ounces of silver in June 2013, not much more than the 2,913,857 ounces produced in June 2012, according to the US Geological Survey. 
September 10
Gold imports fall 95% in August, ease CAD woes
India's gold imports crashed 95% in August to just 2.5 tonne from month before, easing pressure on policymakers as they struggle to contain the depreciation of the Indian rupee to the US dollar while addressing an elevated current account deficit (CAD). Bullion industry executives said gold purchases from abroad tumbled last month as lack of clarity on recent central bank guidelines on imports, coupled with an absence of festivals, curbed demand from jewellers in the world's top consumer.
September 9
Hedge Fund Gold Bets Climb to Highest Since January: Commodities
Hedge funds' combined holdings in gold futures increased to the most bullish since January on mounting concern that conflict in the Middle East will boost crude-oil prices, slowing economic growth and stoking inflation.The net-long position rose 3.6 percent to 101,396 futures and options in the week ended Sept. 3, U.S. Commodity Futures Trading Commission data show.
September 8
One gold strike ends, another looms in South Africa
A South African gold miners' strike has ended after workers at Harmony Gold accepted a final wage offer, the company said Sunday, as elsewhere workers voted to down tools. Tens of thousands of National Union of Mineworkers (NUM) members went on strike over pay on Tuesday night, but most had already returned to work after agreeing wage deals of between 7.5 and 8.0 percent.
September 6
One Option Gaining Support Is The Fed Will Reduce Bond Purchases By $10 Billion
In his latest piece, Hilsenrath writes that consensus is building around the idea that the Fed will lower its bond buying program by $10 billion to $85 billion a month. "One option that has gained support among some Fed officials in recent weeks: Reduce their monthly bond purchases by a small amount, say $10 billion to $75 billion, and signal as loudly as possible the next step will depend on more evidence the job market is continuing to improve and inflation is moving back toward 2% from its current low levels."
September 5
Gold Imports to China From Hong Kong Climb on Physical Demand
Gold shipments to China from Hong Kong increased in July as importers took advantage of local prices that were an average 2.1 percent higher than global markets and as mainland investors bought jewelry and coins. Net imports, after deducting flows from China into Hong Kong, were 113 metric tons, from 101 tons a month earlier, according to calculations by Bloomberg.
September 5
South Africa's gold talks sway platinum price
South Africa's platinum producers may have been the unintended beneficiaries of deadlocked wage talks and a strike in the country's gold mines, but they equally risk losing ground as negotiations show signs of making headway.If the bullion strike ends sooner than expected, the platinum celebration may be short-lived. The price of the white metal used for making emissions-capping converters in cars rallied strongly from mid-July onwards, in part because markets anticipated supply disruptions in the event the gold strikes spread to platinum.
September 4
The History of Platinum Infographic
While gold and platinum are almost equally as rare, the amount of platinum mined through history is only a fraction.
September 4
Marc Faber: Three reasons a plunge is coming
Reason one: The U.S. will follow emerging markets down. It hasn't been an easy summer for emerging markets. In the period of a month and a half, the iShares MSCI Emerging Markets ETF (which tracks emerging markets' large- and mid-cap stocks) lost nearly 20 percent of its value and has hardly bounced back from the lows. That has made the U.S. market an outperformer, but Faber believes it cannot last. In fact, he said, U.S. equities could be hurt by their relative costliness. "When emerging markets go down and the S&P goes up, the asset allocators say, 'Do I want to buy the S&P near a high, or do I venture back into emerging economies that are down 50 percent from their highs, like India or Brazil and so forth?' So you understand that the pool of money can flow back into emerging markets," Faber said.
September 4
India's Gold Bullion Smuggling "Doubles" in 2013
Gold Bullion smuggling to India - the world's No.1 consumer country - has doubled from last year thanks to the government's anti-import rules, according to estimates from industry professionals.Seizures have meantime trebled en route from neighboring Nepal, official figures show.The consensus amongst Indian jewelers and other gold bullion players is for 60 tonnes of illegal imports since April 2013, reports the Business Standard. That compares to 30-32 tonnes during the April-August period of 2012.
September 4
U.S. Silver-Coin Sales Top 2012 as Investors Buy at Record Pace
Sales of American Eagle silver coins by the U.S. Mint this year surpassed the total for all of 2012 as investors snap up precious metals at a record pace and spark a rebound in prices. About 33.75 million ounces of the silver coins were sold so far in 2013, compared with 33.74 million in 12 months last year, according to data on the mint's website. In January, sales reached an all-time high of 7.498 million, and averaged 3.65 million a month since then as demand heads closer to the annual record of 39.868 million reached in 2011.
September 4
Monsoon rains to bring an unwelcome consequence - increased gold demand
MUMBAI: A heavy monsoon this year will bring a bounty to India's rural population and a much needed boost to a struggling economy, but more cash in the hands of farmers brings an unwelcome consequence for India's government - more demand for gold. "Last year I bought 20 grams. This year, I am planning to buy 30 grams," said Nilesh Jagtap, a 36-year-old farmer in the western state of Maharashtra looking forward to a bumper sugar cane crop. "This year, the monsoon was good and farmer incomes are set to rise. I am expecting higher sales during upcoming festivals than last year," said Mangesh Devi, a jeweller in Maharashtra whose customers are mainly sugar cane and vegetable growers.
September 2
Fixing a leaky fixing: Short-term market reactions to the London PM gold price fixing
This article investigates the impact of the London PM gold price fixing on two exchange-traded gold instruments: the GC gold futures contract and the GLD exchange-traded fund. We find significantly elevated levels of trade volume and price volatility immediately following the fixing's start, well before the conclusion of the fixing and the publication of its results. Similarly, we find statistically significant return advantages in the 4 minutes following the start of the fixing for informed traders.
September 2
No question of going to IMF: Rajan
India has no plan to pledge gold with the International Monetary Fund (IMF) to secure a loan, Raghuram Rajan, chief economic adviser in the finance ministry, told Business Standard. "There is no question of that. We have enough reserves." Rajan, who will bid farewell at North Block this week to take over as the Reserve Bank of India (RBI) governor on Wednesday, said India had enough dollar reserves to deal with the situation. The speculation that India would pledge gold to secure a loan from the multilateral institution to prop the rupee's value and finance the current account deficit (CAD) gathered steam last week when reporters asked IMF Communications Department Director Gerry Rice the same question in Washington. Rice said he did not want to comment on the issue.
August 30
Maple Leaf coin sales push Royal Canadian Mint's revenue past $1 billion milestone
Gold and silver bullion products are breaking all records. We knew that demand for physical gold and silver coins was tremendous this year, but this is ridiculous: The Royal Canadian Mint has announced that its second-quarter revenue topped $1 billion, the first time in its history it has reached that milestone in a single quarter."This unprecedented result was due to the soaring demand for the Mint's world-renowned gold and silver Maple Leaf bullion coins and sustained popularity of our expertly handcrafted numismatic products," said mint president and CEO, Ian E. Bennett. The volume of gold Maple Leaf coin sales increased 144% to 403,000 ounces during the same period in 2012, while sales of silver Maple Leaf coins increased to 6.4 million ounces from 4.0 million ounces, or about 60% year over year.
August 30
Speculators raise gold longs to January highs - CFTC data
Bullish bets on gold futures and options placed by hedge funds and other money managers hit their highest levels since January as a looming U.S.-led strike on Syria pushed investors into safe-haven assets, data released on Friday showed.
August 30
South Africa gold miners call strike
Gold miners in South Africa have called a strike over their wage demands, to start on Tuesday, mine-owners say. The National Union of Mineworkers (NUM) has demanded rises of up to 60%. Earlier this week, workers rejected an offer of increases of about 6% - the same as the current annual rate of inflation.
August 30
Gold market in for a wonderful Fall – Embry
"I suspect we are in for a wonderfull Fall," John Embry, Sprott Asset Management's chief investment strategist, told Mineweb's Gold Weekly Podcast, primarily because the yellow metal is currently very under-priced and the Indian market has been taking note. "At this point I am probably as bullish as I've been in living memory actually," Embry said, "adding "I thought this summer might be a little slow because it's a quiet market and you can play around in the paper market, but I think that's going to change quite significantly in the fall and I would not be surprised if, by early next year, we weren't challenging all-time high."
August 30
Canadian Maple Leaf Sales Beat All Records
According to the information just released by the Royal Canadian Mint, sales of Gold & Silver Maples are beating all records. Not only are Canadian Maple sales surpassing its own previous records, Gold Maple Leaf sales actually out performed U.S. Gold Eagles during the second quarter of 2013. The Royal Canadian Mint just published its Q2 2013 Fiscal Report showing that it sold 403,000 oz of Gold Maples in the 13 week period ending on June 29th, 2013 compared to 165,000 during the same period last year. Furthermore, Silver Maple Leaf sales increased to 6.4 million Q2 2013 compared to 4 million in Q2 2012. Here we can see that Silver Maple sales have increased 60% y.o.y (year over year) while Gold Maples are up a staggering 144%. As mentioned above, what is even more surprising is that Gold Maples have surpassed Gold Eagles during this time period.The U.S. Mint sold 336,500 oz in Gold Eagles during the second quarter of 2013, whereas the Royal Canadian Mint recorded 403,000 in sales. Gold Maple sales were 20% higher than Gold Eagles during Q2 2013.Canadian Maple Leaf sales year to date are on track to beat both 2012 and 2011 records. In the first 6 months of the year, Gold Maple sales were 664,000 oz compared to 302,000 oz in 1H 2012 and 502,100, 1H 2011. Silver Maples increased to 12.1 million up from 8 million, 1H 2012 and 11.4 million in 1H 2011.
August 30
Exclusive: India might buy gold from citizens to ease rupee crisis
(Reuters) - India is considering a radical plan to direct commercial banks to buy gold from ordinary citizens and divert it to precious metal refiners in an attempt to curb imports and take some heat off the plunging currency. A pilot project will be launched soon, a source familiar with the Reserve Bank of India (RBI) plans told Reuters. India has the world's third-largest current account deficit, which is approaching nearly $90 billion, driven in a large part by appetite for gold imports in the world's biggest consumer of the metal. With 31,000 tonnes of commercially available gold in the country - worth $1.4 trillion at current prices - diverting even a fraction of that to refiners would sate domestic demand for the metal. India imported 860 tonnes of gold in 2012."We will start a pilot project among some banks where we will allow them to buy back gold from individual households," the source, an official familiar with the central bank's gold policymaking, said. "This will start soon, we have discussed (it) with banks." Any talk of using the country's gold to help meet India's international obligations revives memories of a 1991 balance of payments crisis - when India flew 67 tonnes of gold to Europe as collateral for a loan to avoid a sovereign debt default.
August 29
Chart of the Week: India gold price at all-time high
With the Indian rupee continuing to plumb new lows against the US dollar, it is clear that the Reserve Bank of India (RBI) is losing its war on gold. Our Chart of the Week shows the gold price in rupee hitting a new high yesterday. The gold price has exploded in India since the low hit on June 28th, increasing a whopping 30% in the span of only 2 months! The culprit is likely the rupee collapse, which has been equally as stunning, falling by 15% against the dollar over the same time period. Further contributing to the increase in the gold price has been the escalating tension in the Middle East that has driven demand for safe haven assets. As we have discussed in previous articles, gold is synonymous with savings and security for many of India's 1.24 billion people and recent events clearly show why. With capital leaving the country, investors fleeing the stock market and dumping Indian bonds, the only asset that has protected capital has been gold. In fact, holders of gold have prospered in an environment where there are few safe assets. The RBI has attempted to make gold ownership difficult and expensive for Indian buyers by restricting imports and increasing taxes, yet the chart below is evidence they have failed in their campaign.
August 29
Marc Faber: Gold Will Hit New Record High Even Though Markets Manipulated By Fed
HardAssetsInvestor: What are your views on the stock market?
Marc Faber: Following the huge increase in stock prices we had since March 2009, when the S&P was at 666, a 20 percent correction would not surprise me at all. I don't look at the 20 percent correction as a huge decline in stock prices. In Asia, we've had corrections in the order of 20 percent in many markets. We had a huge decline in bond prices in the U.S. In July 2012, yields on the 10-year bond were at 1.43 percent; we're now close to 2.9 percent. Yields have doubled. The longs have been hit quite hard. I don't regard a 20 percent correction in stocks as a huge bear market.
August 29
South African gold producers gear up for strikes from Sunday
(Reuters) - South African gold producers are preparing for bruising strikes that could start as early as Sunday, with some companies planning for stoppages of up to three months in a high-stakes fight between capital and labour in Africa's biggest economy. The National Union of Mineworkers (NUM) will give gold producers on Friday 48-hours' notice of its members' intention to strike over deadlocked wage talks, a source with direct knowledge of the matter said on Wednesday.
August 29
Emerging market rout is too big for the Fed to ignore
The US Federal Reserve has told Asia, Latin America, Africa and Eastern Europe to drop dead. Emerging markets are now big enough to drag down the global economy. As Indonesia, India, Ukraine, Brazil, Turkey, Venezuela, South Africa, Russia, Thailand and Kazakhstan try to shore up their currencies, the effect is ricocheting back into the advanced world in higher borrowing costs. Even China felt compelled to sell $20bn of US Treasuries in July. "They are running down reserves by selling US and European bonds, leading to a self-reinforcing feedback loop," said Simon Derrick from BNY Mellon. We are told that emerging markets are more resilient than in past crises because they have $9 trillion of reserves. But any use of that treasure to defend the exchange rate entails monetary tightening, and therefore inflicts a contractionary shock on countries already in trouble. Yet all we heard from Jackson Hole this time were dismissive comments that the emerging market rout is not the Fed's problem. "Other countries simply have to take that as a reality and adjust to us," said Dennis Lockhart, the Atlanta Fed chief. Terrence Checki from the New York Fed said "there is no master stroke that will insulate countries from financial spillovers".
August 28
Russia, Turkey and France among 15 central banks buy gold in July
France, Russia and Turkey were among 15 central banks who added gold to their foreign exchange reserves in July, IMF data showed today.Russia expanded their gold reserves for a 10th straight month in July. Russian holdings, the seventh-largest by country, gained another 6.3 metric tons to 1,002.8 tons.Kazakhstan's reserves also rose for a 10th straight month to 1.1 tons to about 132 tonnes. Azerbaijan added 2.009 tonnes to bring its holdings to 10.023 tonnes in July.Turkey lifted its gold holdings by 22.5 tonnes, the biggest increase seen among 15 central banks. Turkey now has the world's 11th-largest gold reserves as its holdings rose to 464 tonnes in July from 441.5 tonnes in June. The country's central bank last year allowed commercial banks to hold a portion of their lira reserves in gold. France bought 1,000 troy ounces of gold. The Bank of France has made a few such purchases in recent months. Analysts are unsure as to why the French central bank bought the gold but it may have been due to a Bank of France gold coin offering. Mozambique, Guatemala, Kyrgyz Republic, Kazakhstan and Azerbaijan were some of the other countries who diversified into bullion.
August 28
Gold pay offer 'an insult' - NUM
South Africa's unions on Tuesday rejected a final pay increase offer from the strategically important gold mining sector, raising the spectre of widened strikes in the country.Seven gold mining firms, including giants AngloGold Ashanti and Gold Fields, offered a maximum of 6.5 percent pay raise.But the powerful National Union of Mineworkers (NUM) immediately spurned the offer."We reject it with the contempt it deserves," said NUM spokesperson Lesiba Seshoka. "We think that it is a serious insult to the working poor."He declined to say what would happen next, after union members earlier threatened strikes if their 60-percent pay demands were not met.They will now likely join tens of thousands of employees in the auto, construction and aviation sectors who have downed tools over wages.
August 28
Indian Rupee Collapses By Most In Over 20 Years
UPDATE 2: It would appear Abe got a late-afternoon phone-call to sell some JPY and buy some Indian 10Y bonds... (since Traders have not seen the RBI intervene directly - or thru local banks) From a weak open, the Indian Rupee has now plunged a stunning 3.88% today. This is the largest single-day drop in the Rupee's value since March 1993. The Indian people have lost 30% of their global purchasing power since March 2013 (though those who swapped their paper wealth to gold have seen their purchasing power rise 6% in Rupee terms). With Gold in Rupees having broken to a new all-time high, it would seem the government has little choice but to lease its gold (no matter how vehemntly they deny the fact).
August 27
The crisis is over. The challenges for central bankers are only beginning.
And there are growing signs that the unwinding of the banks' trillions of dollars in interventions could be every bit as dangerous and volatile as the conditions that led them to take the actions in the first place. The mere hint that the Fed will slow the rate at which it injects new money into the system by buying bonds has driven a torrential sell-off of all sorts of assets this summer, driving U.S. interest rates up a full percentage point and prompting even bigger financial convulsions in emerging nations... "The biggest bubble of them all," said Vincent Reinhart, chief economist at Morgan Stanley, "has been the bubble in central banking.". 
August 27
US Treasury to reach debt limit by mid-October
Treasury Secretary Jack Lew pressed Congress on Monday to allow the government to borrow more money, saying that it could default on its obligations if lawmakers do not act by mid-October."Congress should act as soon as possible to protect America's good credit by extending normal borrowing authority well before any risk of default becomes imminent," Lew said in a letter to congressional leaders.The borrowing limit lift does not lead to increase in spending; rather, it allows the Treasury to pay expenditures Congress has previously approved, he said."If investors should become unwilling to loan the United States money, the United States could face an immediate cash shortfall," Lew said.In the summer of 2011, a fight over the government's debt limit turned into a crisis that weighed heavily on markets. 
August 23
Market Nuggets: Barclays Reiterates View Russian Palladium Stockpile Sales To Be 'Limited'
Barclays still looks for "limited" Russian stockpile shipments of palladium this year. Swiss trade data show combined Russian shipments into Switzerland were around 6,400 ounces in July, consistent with last year's run rate, Barclays says. Much of Russia's supply is thought to move through Switzerland, therefore the Swiss data is monitored by analysts, particularly amid market chatter in recent years that Russian state stockpiles (kept a secret by the government) are nearing depletion. All Russian shipments so far in 2013 amount to around 477,960 ounces, Barclays says. "This is more than treble full-year shipments for 2012, but is below full year shipments for the previous three years (2009-2011)," Barclays says. "We maintain our view that shipments from Russian state stocks are likely to be limited this year and next..there would need to be a sizable swing in Russian palladium shipments to alter the substantial deficit we forecast for the palladium market in 2013."
August 22
China Gold-Mine Deals at Record After Price Plunge: Commodities
Acquisitions by China's gold mining companies reached a record this year as the metal's steepest quarterly drop in more than nine decades slashes mine values and sidelines Western rivals laden with debt.Takeovers and asset purchases by producers based in China and Hong Kong rose to a record $2.24 billion this year, beating last year's record $1.96 billion, according to data compiled by Bloomberg. Zijin Mining Group Co., the world's seventh-largest gold company by market value, and Zhaojin Mining Industry Co. are among companies looking to strike after the share prices of targets fell an average 53 percent since bullion peaked in 2011. "The gold declines are good for key Chinese producers to buy overseas assets," Chen He, head of overseas resources development at Zhaojin Mining, China's fourth-largest producer, with a $2.3 billion market value, said in an interview. "This year our main task is to closely watch potential targets as prices in 2014 are forecast to be lower."
August 22
US Mint Silver/Gold Eagle Sales Ratio Explodes to Staggering 500/1
Ever since the big take-down in the price of the precious metals in April of this year, an interesting trend has taken place in the Gold & Silver Eagle market. While demand for both coins remained strong in the first four months of the year, investors are now overwhelming purchasing more Silver Eagles - banking on much higher gains in silver than gold.The gold to silver sales ratio was 19.5/1 in April, fell to 80/1 in July and so far in August it is a staggering 489/1! Over the last month, investors are overwhelming purchasing nearly 500 times as many Silver Eagles as Gold Eagles from the US Mint! Furthermore, sales really dropped off a cliff so far this month as the U.S. Mint only reported that 5,000 oz of Gold Eagles were sold. Possibly, the U.S. mint has not updated their gold eagle sales figures this past week, but as we can see the trend is much lower. However, Silver Eagle sales are stronger than ever. Here we can see that after the second take down in the price of gold and silver in June, investors purchased 4,046,500 Silver Eagles in July almost surpassing April's total of 4,087,000.
August 21
India mulls leasing of IMF-bought gold
The Indian government is deliberating whether or not to lease the 200 tonnes of gold it bought from the International Monetary Fund in the international market to earn dollars. The Reserve Bank of India (RBI) purchased the gold from the IMF for an estimated price of around $6.70 billion in 2009, and under the IMF's limited gold sales programme. "The deal was misinterpreted by many at that time, that it could further inflate the gold price, when the price was already at a ruling high. India's purchase of gold was a reserve management strategy,'' a banking official told Mineweb. He added that globally, central banks were showing an increased interest in diversifying their holdings, to protect against a slumping dollar. That is exactly what the Indian government is contemplating at the moment, with the Indian rupee sliding to a new low.
August 21
World's Largest Silver Producing Company Reports Big Decline in Production
The world's largest silver producer saw its production decline substantially in the first half of 2013. Many assume this decline came from Fresnillo, which is known as the largest primary silver miner in the world. However, it was recorded by KGHM Polska Miedz, the largest by-product silver producer on the planet whose annual silver production was 41 million oz in 2012. Silver production at KGHM Polska Miedz declined a whopping 17% from 653 tonnes in 1H 2012, to only 544 tonnes 1H 2013. Regardless, to see the world's largest silver miner's production decline 109 tonnes in just 6 months is a big deal. If this trend continues, KGHM Polska Miedz's total silver production may fall from 41 million oz in 2012 to only 34-35 million oz in 2013. KGHM Polska Miedz is a large copper miner located in Poland.
August 20
Gold imports set to resume after four-week halt as export rule clarified
Indian traders said they will start importing gold again over the next week or so after the RBI clarified a new rule that brought the flow of the precious metal into the world's top gold consumer to a standstill at the end of July. The confusion centred on a rule that required importers to re-export at least 20 percent of all imports, known as the 80/20 rule.Last week, the Reserve Bank issued detailed guidelines on how the rule would work, but the complexity of the rule had prevented banks from importing immediately. Banks are the main importing agencies for gold into India."I've spoken to many banks and I believe imports may start within this week. (Last week's) circular has clarified many things for importers," said Bachhraj Bamalwa, director of the All India Gems and Jewellery Trade Federation."Once the imports start, premiums will come down," said Bamalwa, who expects premiums charged on London prices to fall to $10 an ounce from $40 on Monday.
August 20
UK gold exports surge tenfold this year
The UK's gold exports have surged nearly tenfold this year as investor selling drives the bullion out of London vaults into the hands of Asian consumers. UK gold exports to Switzerland, the hub of the gold refining industry, leapt to 798 tonnes in the first six months of the year, up from just 83 tonnes in the first half of 2012, according to data from Eurostat, the European Union's statistics office. The exports – worth €29bn and equivalent to nearly 30 per cent of global annual mine production – underscore the scale of the shift in gold ownership taking place as western investors lose their enthusiasm for the metal. Matthew Turner, precious metals analyst at Macquarie, said the rise in gold exports had closely tracked outflows of the metal from exchange-traded funds, a popular investment product which helped to popularise gold when they were launched a decade ago. "If investors don't want the gold it has to go somewhere else," said Mr Turner of Macquarie. "The Chinese are simply willing to pay more for it." The London Bullion Market Association said that the daily cleared trading volume on the London market by its members hit a 12-year high of 900 tonnes – worth $39bn – in June on the back of "strong physical demand particularly from China and India". At the same time Swiss gold refiners, such as Metalor, Pamp, Valcambi and Argor-Heraeus, have enjoyed a boom, melting down large 400oz bars from London vaults and reprocessing them into smaller products that are preferred by Asian buyers. "The Swiss are running three or four shifts to keep the refineries going non-stop. They're throwing bodies at it," said one senior gold trader.
Source: Financial Times
August 19
It's Official: 2012 Deficit Was $1.087T; $1T+ All 4 Yrs of Obama's 1st Term
The Congressional Budget Office last week released updated historical budget data for the federal government, reporting a deficit of $1.087 trillion in fiscal 2012.2012 marked the fourth straight year-and the only four years in the history of the nation--when the federal government's deficit topped $1 trillion. In fiscal 2011, the deficit was $1.2956 trillion, according to the CBO; in fiscal 2010, it was $1.2935 trillion; and, in fiscal 2009, it was $1.412.7 trillion.
August 19
Gold Has Best Week of the Year, Dow Suffers Its Worst
As the chart below shows, precious metals posted a very strong week. The price of gold gained more than 4 percent while silver surged 14 percent. It was gold's best week of the year and silver's best week since 2008. In comparison, the Dow Jones Industrial Average (NYSEARCA:DIA) about 2 percent to log its worst week of 2013.
August 19
Mining After Marikana: South Africa Marks First Anniversary Of Deadly Labor Dispute, But Little Has Changed For Workers
A full year has passed since a mineworkers' strike in South Africa erupted into bloody violence, leaving 34 people dead and sending shock waves across the country, and throughout the world. At least 60 people have since died in an ongoing series of labor disputes and clashes -- But the incident on Aug. 16, 2012 was by far the bloodiest and most divisive, when security workers clashed with miners at the Marikana mine, owned by Lonmin PLC (LON: LMI), the world's third-largest platinum supplier. The demonstrators had gone on strike to demand higher wages and better living conditions. Marikana marked the most violent security crackdown in South Africa since the country broke free of apartheid rule in 1991. The strikers themselves were armed with little more than spears and clubs, but the police justified their use of firearms by claiming self-defense -- two security workers had been killed by strikers earlier in the week.
August 16
Gold Smuggling to Climb in India on Tax Increase, Festivals
The third increase in import taxes on gold this year by India, the world's biggest user, is set to boost smuggling ahead of the festival and wedding seasons as official imports halt on central bank curbs, a trade group said.Gold premiums in India have jumped to a record after banks and traders suspended imports since the Reserve Bank of India made it mandatory on July 22 for shippers to set aside 20 percent of shipments for re-export as jewelry and the increase in tariff to 10 percent from 8 percent will further crimp supplies, said Haresh Soni, New Delhi-based chairman of the All India Gems & Jewellery Trade Federation. "Smuggling of gold will increase and the organized industry will be in disarray," said Soni, whose federation represents about 300,000 jewelers and bullion dealers. "Goods will be kept unofficially and the situation will be uncontrollable. Jewelry prices will rise."
August 16
Mining at 'breaking point' as investors flee - Gold Fields
The mining industry is at a "breaking point" as calls from governments and workers for a greater cut of profits hasten an investor exodus, Gold Fields Ltd. said."Governments in particular are seeing mining as a means of putting more into their central coffers," Chief Executive Officer Nick Holland said today in a speech in Johannesburg. "A lot of it has come about because of the metal boom that we've seen." The "equity model is at breaking point," he said in an accompanying slide show.Australia, Namibia and Zimbabwe are among nations that have sought to expand their share of profits from natural resources in the past three years by raising mining taxes or favoring state control of projects. In South Africa, where Gold Fields is based, labor unions, companies and the government are vying for a larger share of revenues even as commodity prices slide.The infighting will encourage investors to flee, causing the industry to shrink and hurting all parties, Holland said. Protecting investor rights will help countries make the most of their resources, he said. One mining job supports 27 other people, either dependents or other workers, Holland said. Each 1 percentage point increase in mining growth adds 2.6 percentage points to countries' gross domestic product due to the industry boosting other parts of the economy, he said.
August 16
Gold discoveries falling behind mined production
The amount of new gold discovered has not kept up with the current pace of mine output, as the easy-to-reach gold deposits are being depleted, said a mining consultancy group on Tuesday.From 1997-2011, there have been 99 discoveries of gold deposits containing at least 2 million ounces of the metal, totaling 743 million ounces of gold in reserves, resources and past production as of the end of 2011, said the Metals Economics Group in a research report."Assuming a 75% resource-conversion rate and a 90% recovery rate during production, these 99 discoveries could potentially replace only 56% of the estimated gold mined during the same period, if they are economical to mine," they said in their report,"Strategies for Gold Reserves Replacement: The Costs of Finding and Acquiring Gold."The challenge for producers is "not that there is no gold left, but that all the 'easy' gold has been found," they said.
August 15
Demand for physical gold jumps 53% in second quarter
Global consumers aggressively ramped up purchases of physical gold in the April-June period, led by opportunistic buyers in emerging markets at a time when the precious metal suffered a record quarterly loss, the World Gold Council (WGC) said on Thursday. Consumers around the world bought 53 percent more bullion in the second quarter from the year ago period, bringing total purchases of gold jewelry, bar and coins to 1,083.2 metric tons, according to WGC's quarterly report on demand trends. Of this, India accounted for the biggest share at 310 metric tons, which is a 71 percent rise from the same period a year earlier, followed by China at 275.7 metric tons, marking an 87 percent increase.
August 15
China publicized Western gold market rigging just hours after April smash
On April 16, just hours after the smashing of the gold price by the dumping of so much gold and gold futures that it could have been instigated only by Western central banks, the Chinese government news agency China Network Television appears to have published a long commentary reasserting China's awareness of the constant efforts of Western central banks to rig the gold market by leasing gold. Diplomatic cables from the U.S. embassy in Beijing to the State Department in Washington, published by Wikileaks in 2011, extensively quoted Chinese government press reports from 2008 and 2010 about Western central bank efforts to suppress the price of gold to support the U.S. dollar.
August 15
INTERVIEW: Gold, Silver Product Demand Is 'Very Strong:' Royal Canadian Mint
(Kitco News) - Demand for the Royal Canadian Mint's gold and silver bullion products remains "very strong," said an official from the mint on Wednesday. "Year-to-date, after the second quarter, we've had record volume for silver Maple Leafs, the greatest we've had in the over 25 years that we've produced them. We've seen near-record volume, only second to 2000, year-to-date, for our gold Maple Leafs," said Chris Carkner, managing director, sales, for bullion, refinery and exchange-traded products at the Royal Canadian Mint. When the mint released its annual report in May, it also made a special mention of sales volumes for the first four months of 2013, calling demand "aggressive" at the time. The mint will release its second-quarter data at the end of the month. Volatility in the precious metals markets helped demand, he added. "When prices drop in the market, then people see it as a buying opportunity," Carkner told Kitco News on the sidelines of the American Numismatic Association's World's Fair of Money.
August 15
India's gold consumption at 310 tonnes in Q2, highest in 10 yrs: Report
NEW DELHI: India's consumption of gold rose to 310 tonnes in the second quarter ended June, highest in the last 10 years, despite government curbs to restrict imports to rein in burgeoning current account deficit, a WGC report said on Thursday.Much of the demand was met by stocks that had been built up to healthy levels following the April price drop. Imports more than doubled to 338 tonnes in April-June of this calendar year, it said. Gold consumption stood at 181.1 tonnes in the same quarter last year."Consumers in India showed continued strong appetite for gold, with recent government measures to curb demand having had little impact on the quarter's figures. Consumer demand was 310 tonnes, up 71 per cent on last year," the World Gold Council (WGC) said in its latest report.
August 15
Fed's Bullard: Inflation low for now, but could be excessive in the future
The low U.S. inflation rate is a worrisome sign for the country's economy, and there is not much evidence it is heading higher, a senior U.S. Federal Reserve official said on Wednesday, adding that price pressures would be under scrutiny as policymakers weigh tapering monthly bond purchases. "Inflation has been running very low. I have been concerned about low inflation," James Bullard, president of the St. Louis Fed, told a Rotary Club luncheon in Paducah, Kentucky. "There has not been much indication, so far, that it has been ticking back up toward target." The Fed's policy-setting "committee has set a target. They've set it at 2 percent," Bullard said. "Once you've set it, you had better have some credibility that you are going to hit it."
August 14
Silver outperforming gold as precious metals prices rise
Weakness in the dollar, together with what appears to be a boost to Chinese industrial growth on the latest data, with a reduction in talk of Fed tapering has led to a mini-surge in the gold price, while silver has done even better living up to its tendency to outperform gold on the up. For those who follow it, the gold:silver ratio has come back from around 65-66 to closer to 61 and if the silver price rise continues there could be scope for the ratio to fall further still.
August 14
US Bullion Sales
U.S. Mint bullion products hit the sales boards for the first time this week. Sales advanced 3,000 ounces in gold coins and 747,500 ounces in silver coins.In American Silver Eagles, the day's pick-up pushed their year-to-date sales over 31 million. Until Tuesday, the quickest that had ever happened was in record year 2011 when the coins topped the level on September 23, 2011.
August 14
Gold Shorts Cover At Fastest Pace In 13 Years
Gold shorts covered an enormous 23,518 futures contracts last week - the equivalent of 2,351,800 ounces of gold. With JPMorgan appearing to be calling everyone (here and here) to get their hands on gold to deliver, it seems our concerns over a short-squeeze are starting to solidify. The last time shorts collapsed at this fast a rate was in the 1999/2000 period which saw a considerable 33% squeeze ramp in gold prices over the space of 3 weeks in the fall of 1999. Notably, the gold short position still remains huge compared to historical values - having fallen back only to the previous all-time record high levels (i.e. plenty of room for moar squeeze). In addition to this surge in covering, Gold ETFs saw their first inflows in 2 months.
August 13
India's gold guzzling still high, spurs neighbours to act
Indians bought more gold in July than June despite a series of moves by the central bank to strangle supplies, and their insatiable appetite has forced neighbouring countries to take steps to curb their own imports. India's gold imports hit $2.9 billion in July, up from $2.45 billion in June, official data showed on Monday, confirming Finance Minister P. Chidambaram's fears that despite hikes in import duties and steps by the Reserve Bank of India (RBI) to stem supply, demand is on the rise again. There are signs now that Indians may be bringing in gold through neighbouring countries, pushing their imports sharply higher as well and prompting action by their governments.Pakistan has slapped a one-month ban on gold bought to make jewellery for export after its imports jumped 386 percent in the first half and topped $514 million in July alone - more than double what it bought in the first six months of 2012."The difference in import duties seems to have provided the incentive for increased duty-free imports in Pakistan and smuggling to India," a statement on the finance ministry's website said.
August 13
Trying to Make Sense of the Gold Market
(Bloomberg interview) -Mihir Dannge, gold in backwardation, heavy demand for physical, been 8 weeks haven't seen delivery on his physical gold.
August 13
Import duty on gold, silver, platinum hiked to 10%
The Government raised the import duty on gold, silver and platinum to 10 per cent on Tuesday.The Government expects to earn Rs 4,830 crore from the duty hike in the remaining period of fiscal.The import duty on gold and platinum was earlier 8 per cent and on silver, 6 per cent.To contain sliding value of rupee and widening current account deficit (CAD), Chidambaram had yesterday said he would announce steps to compress demand of gold, silver, oil and non-essential items.
August 13
China's first half gold consumption soars 54%
As a follow-up to our article on Chinese gold imports pointing out that although imports through Hong Kong slipped back marginally in June, the figure remained the fourth highest on record, the China Gold Association has just reported today that the country's actual gold consumption has risen fully 54% in the first half year on year and totalled 706.38 tonnes, as against 460 tonnes a year earlier. In 2012, full year consumption was 832.18 tonnes, so the country is well on line to exceed this figure by a substantial margin having thus already achieved around 85% of last year's consumption levels in the first half alone.
August 9
Platinum Jumps Most in 13 Months on Signs of Quickening Growth
Platinum gained the most in more than 13 months after exports rebounded in Germany and China, while a labor dispute threatened to disrupt mine output in South Africa, the world's biggest supplier. German exports increased 0.6 percent in June from May, the Federal Statistics Office said today. Chinese shipments overseas climbed 5.1 percent in July from a year earlier, topping forecasts, according to the government. Northam Platinum Ltd. (NHM), which operates the world's deepest platinum mine in South Africa, today warned that strike action as a result of deadlocked wage talks will impact operations. "There are signs of improving demand and that coupled with supply concerns makes platinum very attractive," Michael Gayed, the chief investment strategist who helps oversee $270 million at New York-based Pension Partners LLC, said in a telephone interview. "We are seeing the bullish sentiment return."
August 8
Silver: The Latest India Data Appears Incorrect
So, the Times of India is claiming that silver imports are up to 857t for April through July of 2013 as compared to 239t in the same period in 2012. They further claim that July imports of 274.9t are the second highest of any month in the past 5 years. Mineweb posted an article with the same data, showing July imports of 274.92t.Thomson Reuters GFMS reported India silver imports in 2011 of 4,087t, or an average of 340t per month. So, the average month of 2011 exceeded what the Times of India is reporting as a record July level of silver imports.It seems this latest data is flawed. It will take some time for additional numbers to be released to confirm or deny the situation with silver imports in India.In the meantime, rural incomes in India, which represent 60% gold purchases, seem poised to have another good year. Rural communities reportedly have a lack of banking facilities, and prefer investment into gold.
August 8
India bans e-gold, e-silver trade; Investors hurry on to turn into physical form
MUMBAI (Scrap Register): The world's biggest bullion consumer, India has banned its e-series trade including e-gold, e-silver through National Spot Exchange (NSEL) on Tuesday, even as investors are hurrying to convert their paper gold and silver to physical form.
August 7
Watch Rick Rule discuss precious metals stocks on BNN
August 7
China's Gold Imports From Hong Kong Decline as Demand Slows
China's net gold imports from Hong Kong fell 4.8 percent in June as a slump in prices damped demand and the government curbed the use of bullion in financing deals. Mainland buyers purchased 101 metric tons, after deducting flows from China into Hong Kong, compared with 106 tons a month earlier, according to calculations by Bloomberg based on data from the Hong Kong statistics department yesterday. Inbound shipments including scrap were 113 tons, from 127 tons in May.
August 6
Fed Should Reverse Commodity Policy, CFTC's Chilton Says
The Federal Reserve should reverse a decade-old ruling that lets banks trade physical commodities, Commodity Futures Trading Commission member Bart Chilton said. "I don't want a bank owning an electric service, or cotton, corn or feedlots," Chilton, a Democrat, said in remarks prepared for delivery today at a conference of U.S. cotton growers in Lake Tahoe, California. "I don't want banks owning warehouses, whether they have aluminum, gold, silver or anything else in them." The Fed "can and should reverse" the policy, he said. Banks including Citigroup Inc. (C), JPMorgan Chase & Co. (JPM) and Morgan Stanley (MS), all based in New York, have been permitted to expand into commodities markets under a 2003 Fed decision and subsequent ones. The central bank said last month that it's reviewing the policy amid Senate scrutiny of whether such involvement allows Wall Street firms to control prices.
August 6
Going gets tough for gold ETFs
Fund managers are finding it increasingly difficult to find physical supply of gold The Reserve Bank of India's (RBI) restrictions on import of gold has also hit gold exchange traded products (ETF). Fund managers are finding it increasingly difficult to find physical supply of gold needed to deploy inflows into such schemes.Also, the surging premiums in domestic gold prices (compared to international prices) coupled with the weak rupee is adding to the woes of fund houses operating gold ETFs.Last week, India's largest fund house Reliance Mutual Fund announced suspension of its gold savings scheme, which at its peak had a corpus of more than Rs 3,000 crore. Industry sources say more asset management companies are mulling similar moves. "Most sources to deploy funds into gold funds been virtually been cut off. Earlier, we could buy from banks or authorized agencies but now they can only sell to jewellers. State trading houses import only for exporters. Only option left is jewellers--but that's very difficult," said an official with a fund house.
August 6
Palladium Shortages Spur Bullish Hedge-Fund Wagers: Commodities
At a time when gold and silver are tumbling the most in three decades, hedge funds are holding a near-record bullish bet on palladium as forecasters from Morgan Stanley to Credit Suisse Group AG predict years of shortages. Demand will exceed output by 1.33 million ounces in 2013, more than North America produces in a year, Morgan Stanley says. Credit Suisse anticipates deficits through at least 2016, and researcher CPM Group says mines won't catch up for a decade. Prices will average $800 an ounce in the first quarter, 9.2 percent more than now, and $850 in 2015, the median of as many as 12 analyst estimates compiled by Bloomberg show.
August 6
July gold import estimate lower at 40 tonnes
Large chunk of 40 odd tons of gold that entered India was in first three weeks of the month Gold imports in July are estimated to be significantly lower at around 40 tonnes, compared with a spurt in imports seen in April and May. Imports in July 2012 were 65 tonnes, said a bullion analyst.As gold imports were contributing significantly to the country's current account deficit, there were all-round efforts by the government and the Reserve Bank of India (RBI) to curb it, which led to a sharp fall in imports in June and July.
August 6
July silver imports highest in 5 years
AHMEDABAD: Silver imports recorded a staggering 258.65% growth at 857 metric tonnes (MT) in the first four months (April-July) of 2013-14 as compared to 239 MT by July 2012.The imports of 274.922 MT in July are the highest in last five years in the first four months of a financial year. In fact, silver imports in July 2013 are the second highest in any month in the last five years. On the other hand, gold has seen a steep decline in imports in June (only 8.908 MT) compared to 37.618 MT in May, the second lowest in last five years. Overall, in the first four months, gold imports have grown by 104.27% at 78 MT. Experts say traders are importing more silver because of trade restrictions on gold by the Government of India since June 3. The decrease in silver prices over the last three months is also driving imports. "Due to restrictions on gold, these figures were expected and traders are waiting for gold prices to fall further before they start buying," said Kishore Javeri of Javeri and Company.
August 1
ANZ Opens 50-Ton Gold Vault in Singapore as Demand Expands
Australia & New Zealand Banking Group Ltd. started a second bullion vault in Asia to cater forgrowing physical demand that the Melbourne-based company sees driving prices as much as 13 percent higher over two years. The leased facility, which can hold 50 metric tons, opened in Singapore this month, adding to storage in Hong Kong, Perth and Zurich, according to Eddie Listorti, co-head of fixed income, currencies and commodities.
July 31
US Bullion Coin Sales in July
July is normally a seasonally slow time of year for United States Mint bullion sales. Demand for gold coins tapered for sure but it soared to unprecedented levels for silver coins. While U.S. Mint figures for July are not likely to change, the bureau has not officially closed the month out. 
July 31
Gold imports virtually on halt
The reserve bank of India is likely to clarify on gold import policy announced last week in a day or two as it has created lots of confusion in the market and among importers of yellow metals. The confusion has created acute shortage of gold in physical market. Due to confusions creted by the RBI's import policy announced on 22 july, imports of yellow metals have come virtually on halt. 
July 30
Fresh wave of violence strikes South African mines: eight dead
Seven illegal miners have died and 12 are seriously injured as a result of a clash between competing groups in a mine in Johannesburg's East Rand, South Africa. 
July 30
Bank of England refuses comment on huge discrepancy in custodial gold reports
The Bank of England refuses to explain what appears to be a huge discrepancy in its accounting of the gold it holds in custody, a difference of as much as 1,200 tonnes between the total reported in the bank's annual report in February and the total reported in a "virtual tour" of the bank posted this month at the bank's Internet site. 
July 29
Rick Rule - What To Expect From Gold, Silver & Mining Shares
July 29
Gold Premiums in India Double as Supplies Decline on Curbs
Gold premiums in India, the world's largest user last year, doubled in the past week as jewelers rushed to secure supplies after a surge in imports this month spurred the central bank to impose fresh curbs on purchases. 
July 29
What has the Bank of England done with 1,300 tonnes of gold?
While perusing the BofE's new website application, which allows you to take a virtual tour of the Kingdom's gold vaults, Macleod learned that in June the bank was holding 400,000, 400-ounce gold bars.As a veteran precious metals adviser, Macleod noticed a discrepancy between this figure and the Bank's year-end accounting from February which reported 505,000 bars in storage."Roughly a 100,000 bars seems to have disappeared from the 28th of February when the annual report was dated and some time in June," Macleod told Keiser. "So where has this gold gone?"
July 29
Silver Vault for 200 Tons Starts in Singapore as Wealthy Buy
A silver vault that can hold 200 metric tons opens in Singapore this week to cater for increasing demand for physical precious metals among Asia's wealthy even as the commodity leads declines this year. The new facility is 30 percent booked at the opening, said Joshua Rotbart, precious-metals general manager at owner Malca-Amit Global Ltd. 
July 28
Eric Sprott Sprott - We Are Seeing Unprecedented Events In Gold & Silver
July 28
Cyprus, lenders set Bank of Cyprus bail-in at 47.5 pct, sources say
Cyprus and its international lenders have agreed to convert 47.5 percent of deposits exceeding 100,000 euros in Bank of Cyprus to equity to recapitalize it, banking sources said on Sunday.Under a programme agreed between Cyprus and lenders in March, large depositors in Bank of Cyprus were earmarked to pay for the recapitalisation of the bank.  
July 27
India's seizure of smuggled gold soars 365% in first quarter
Seizure of smuggled gold in India soared 365% in the first quarter of the year, a report said on Saturday, following curbs on imports of the precious metal to plug a yawning trade gap.India, the world's largest buyer of gold, has twice hiked import taxes on bullion this year to discourage gold-buying and introduced other restrictions on purchases to rein in a record current account deficit, the broadest measure of trade.In the April to June quarter of this financial year seizure of smuggled gold rose 365% over the same period last year, the Business Standard newspaper quoted a government revenue department official as saying.
July 26
China to become world's biggest gold consumer: World Gold Council
Step aside India: China is set to become the world's top gold consumer, the World Gold Council (WGC) predicts – echoing the China Gold Association's similar announcement in June.The Council revealed on Thursday that the country's demand for gold is expected to reach 1,000 tonnes this year, Reuters reports. This compares with India's average yearly imports of 963 tonnes.Marcus Grubb, managing director for investment for the WGC says this number could be even higher."We're going to have a record year for Chinese gold demand," Grubb told Bloomberg in a video interview. "In a year when growth is slowing in the Chinese economy. It's quite interesting."The People's Republic deregulated the gold market 10 years after India; Grubb believes the Asian giant has been playing "catch-up.""They're going to buy more gold whatever happens to the economy," he said.
July 26
Russia, Kazakhstan Boost Gold Reserves as Turkey Cuts, IMF Says
Russia and Kazakhstan expanded their gold reserves for a ninth straight month in June as purchases slowed amid a price slump. Russian holdings, the seventh-largest by country, climbed 0.3 metric tons to 996.4 tons, the smallest gain since reserves started to increase in October, International Monetary Fund data show. Kazakhstan's hoard grew 1.4 tons to 130.9 tons, the smallest expansion since March, data on the website showed. Turkey's holdings fell for the first time in a year.Gold slumped 11 percent in June, the biggest monthly loss since September 2011. Prices dropped 23 percent in the second quarter, the worst such performance since at least 1920, as gold entered a bear market in April after investors sold metal from exchange-traded funds at a record pace. Prices are down 20 percent this year amid speculation the U.S. Federal Reserve may taper its bond-buying program that helped bullion cap a 12-year bull run in 2012.
July 26
South African platinum fund tempts mine investors
South Africa's platinum sector, already under pressure from rising costs, labour unrest and falling metal prices, is now facing a rival for investment flows -- a major new physical platinum fund with unprecedented levels of demand.The New Gold Platinum exchange-traded fund (NewPlat) has pulled in more than half a million ounces of metal since its launch three months ago, worth 7.6 billion rand ($780 million) at today's prices.The fund's holdings currently total more than 543,000 ounces, a level it took the world's largest platinum-backed ETF, New York-based ETFS Physical Platinum -- which holds 611,847 ounces of metal -- more than two years to achieve.A great deal of investment in NewPlat, analysts say, has come from funds in South Africa choosing to seek exposure to platinum prices directly through the physical metal, effectively delivering a vote of no-confidence in South Africa's beleaguered mining companies.
July 25
China unveils stimulus measures as emerging markets run out of steam
China unveiled new stimulus measures Wednesday to boost its economy as it is becoming increasingly clear emerging market economies are running out of steam.All economic data are best viewed as a peculiarly boring genre of science fiction, but Chinese data are even more fictional than most. Add a secretive government, a controlled press and the sheer size of the country, and it's harder to figure out what's really happening in China than it is in any other major economy.Yet the signs are now unmistakable: China is in big trouble. The new measures will involve a series of targeted reforms, including eliminating taxes on small businesses, reducing costs for exporters and paying for new infrastructure projects.While they're not on the same scale as the massive 2008 stimulus program, economists say the measures show Chinese leaders are warming to the idea of using additional stimulus to help prop up the country's slowing economy, which has been a cause of concern among market watchers.Wednesday's announcement followed a survey that showed China's manufacturing sector contracted in July, pushing activity down to an 11-month low.
July 25
Another 144 Tonnes Added To The SLV Trust Is Bullish For Silver
As gold has continued to flow out of the GLD trust in recent days, silver has now been added to the SLV trust for the fourth straight week. This raises interesting questions about the source of demand for precious metals in the U.S. and the answers have bullish implications. As shown below, another 144 tonnes of silver was added to the SLV trust on Wednesday, the largest addition since January and the latest in a series of increases since the silver price dipped below $19 an ounce last month. This brings the net additions to the trust in 2013 to 343 tonnes, or more than 3 percent, despite a decline of more than 30 percent in the price of silver.
July 25
Asians stick with their gold funds even as others flee
SINGAPORE/HONG KONG, July 25 (Reuters) - Asian investors are keeping faith in gold funds, taking in their stride a stunning plunge in the price of the metal over the past few months, as paper gold looks to be finding a stronger foothold in the region.In sharp contrast to Western markets, where investors made a beeline to exit gold fund investments, a net $33.5 million was pumped into Asian gold and precious metals miners' funds in the three months to June, according to data from fund tracker Lipper and Reuters calculations.Similar funds in the West saw net outflows of about $18 billion, or about 11 percent of their end-March assets under management, in the same period, according to the Lipper data.The conflicting responses to the 20 percent fall in gold prices this year show a growing appetite for gold funds in Asia and provide hope for a fledgling funds industry that has struggled to attract investors.
July 23
RBI tightens gold import norms
Realigning norms on gold imports, the RBI on Monday mandated that banks and bullion trading houses must retain 20% of every lot of imports of the metal at customs warehouses. The RBI added that fresh gold can be imported only when 75% of the stock lying in these warehouses is used for export purposes. "Such imports shall be linked to financing of exporters by the nominated agencies. Further, they shall make available gold in any form for domestic use only to entities engaged in jewellery business/bullion dealers supplying gold to jewellers," the central bank said in a notification. Separately, the RBI has asked exporters to repatriate their proceeds within nine months from the date of export until September as against the earlier 12 months.
July 23
Wall Street reshapes commodities business to fend off regulation
Scrutiny of their activities in electricity markets, metals warehousing and oil trading is reaching fever pitch ahead of a Federal Reserve decision in September that may decide how deeply banks can delve into the world of gasoline tankers, piles of copper and power plants. Mounting regulatory and political pressure has already forced Morgan Stanley, Goldman Sachs Group Inc, and JPMorgan Chase & Co, the three Wall Street banks known for their commodities trading prowess in the past decade, to openly consider exiting key businesses. Among the maneuvers that have not been reported previously: JPMorgan reshuffled the board of its Henry Bath metals warehousing company last year in an attempt to qualify it as a "merchant banking" investment, sources say. "The banks have essentially been told by the Federal Reserve they're allowed a certain number of sins," Hintz said. "Just not as many as there used to be.".
July 23
Bernanke Seen Tapering QE to $65 Billion in September in Survey
Federal Reserve Chairman Ben S. Bernanke in September will trim the Fed's monthly bond buying to $65 billion from the current pace of $85 billion, according to a growing number of economists surveyed by Bloomberg News.Half of economists held that view in the July 18-22 survey, up from 44 percent in last month's poll. Even as expectations of a September taper rose, 10-year Treasury yields continued to fall last week from an almost two-year high after Bernanke said reducing bond-buying wouldn't constitute policy-tightening.
July 22
Gold Is Regaining Its Glow
Briese has now turned bullish again, based mainly on a single indicator that has driven all of his forecasts. The title of his newsletter includes the words "commodity insiders" for a reason, although the "inside" information referred to is available to all. As with virtually all of the commodities he analyzes, his outlook for gold keys off the Commodity Futures Trading Commission's weekly Commitments of Traders report, which tracks long and short positions in futures and options on all exchange-traded commodities.Briese's focus is on the movement in net positions by the professionals in the field who deal in actual gold, traders otherwise known as "commercials" or "hedgers"—not to be confused with "hedge funds," many of which do trade commodities but are classified as speculators by the CFTC. The bona fide hedgers, which include gold-mining companies, use futures and options contracts to hedge their position in the underlying physical commodity.The Bottom Line Gold's rapid decline appears to have halted at $1,200 an ounce. Both fundamental factors and "insider" trading data point to a rebound to $1,550.Since gold dealers and miners generally hold the metal, they mainly hedge through futures and options by taking short positions. Briese's focus, then, is on the degree to which they are net short. In January 2011, their net short position was quite low, implying that they chose to leave a large part of their holdings unhedged, presumably in the hope of profiting from a rise in price. So Briese turned bullish. By August, however, their net short position had soared, implying that they aimed to protect their underlying holdings against a price decline.As for right now: "The commercials are the least net short than they have been in more than 11 years," he observes, "which means they have not been this bullish since gold prices were under $300."Choosing to follow these insiders, then, Briese has also turned bullish, setting a relatively modest price target from here of $1,550.
Source: Barron's
July 22
JPM Eligible Gold Plummets By 66% In One Day To Just Over 1 Tonne, Total Gold At Fresh All Time Low
For over a month, JPMorgan managed to mysteriously avoid matching up the gold held in its (world's largest) vault with the Comex delivery notice update. However, as of today, that particular can will be kicked no more. Starting yesterday, JPM reported that just under 12,000 ounces of Eligible gold (the same Registered gold that two days earlier saw its warrants detached and convert to eligible) were withdrawn from its warehouse 100 feet below CMP 1. But it was today's move that was the kicker, as a whopping 90,311 ounces of eligible gold were withdrawn, accounting for a massive 66% of the firm's entire inventory of non-Registered gold, and leaving a token 46K ounces, or a little over 1 tonne in JPM's possession.
July 22
US Mint releases 5th American Eagle platinum coin
The US Mint has launched the fifth platinum coin in its American Eagle series, which commemorates the core concepts of American democracy. Six coins are planned for the series, with the reverse design of the 2013 coin emblematic of the theme "To Promote the General Welfare," the fifth principle. The only platinum coins issued by the US Mint at the moment, they are struck from .9995 fine platinum to proof quality. Costing $1,800, just 15,000 of the coins are to be struck and there is a five-coin limit for each household. The design also includes an American Eagle privy mark from an original "coin punch" identified at the United States Mint at Philadelphia.
July 22
Platinum and Palladium, The Other White Metals
All eyes are fixed on gold prices. But as the WSJ pointed out earlier this week, precious metals with industrial uses – platinum and palladium — have been rising amid tightening supply outlooks and rising investment appeal. And palladium has fared the best of the precious metal lot. At $748/oz, palladium's spot price has risen 6% since the start of 2013, while platinum and gold prices have fallen. And at $73, the ETFS Physical Palladium Shares (PALL) have climbed 18% since June 28, compared to 8% gains by both the ETFS Physical Platinum Shares (PPLT) and the SPDR Gold Trust (GLD).
July 22
Fed rethinks move allowing banks to trade physical commodities
(Reuters) - The U.S. Federal Reserve is "reviewing" a landmark 2003 decision that first allowed regulated banks to trade in physical commodity markets, it said on Friday, a move that may send new shockwaves through Wall Street. While it is well known that the Fed is considering whether or not to allow banks including Morgan Stanley and JPMorgan to continue owning trading assets like oil storage tanks or metals warehouses, Friday's one-sentence statement suggests that it is also reconsidering the full scope of banks' activities in physical markets, which help generate billions in profits. "The Federal Reserve regularly monitors the commodity activities of supervised firms and is reviewing the 2003 determination that certain commodity activities are complementary to financial activities and thus permissible for bank holding companies," the Federal Reserve said in an emailed statement. A spokesperson declined to elaborate or provide any details on the scale or timing of the review. It is the Fed's first public statement on the issue since it first came to light in a Reuters report in 2012.
July 18
SECOND DUTCH BANK TO FOLLOW ABN AMRO, CLOSE GOLD ACCOUNTS!
Bottom of the barrel Rabobank has just followed in the footsteps of ABN Amro which effectively defaulted by halting deliveries of gold bullion in April, as the Dutch bank will close customers' gold accounts effective September 1st!With the GOFO now negative for a record 8th consecutive day, it appears the wave of bullion bank defaults warned of by William Kay may be just getting started.As Beurs reports (via google translate), Rabobank has given no explanations for the move, simply stated that customers can no longer acquire precious metals after September 1st, and will have up to 1 year to transfer open accounts to another institution.
July 18
Realty, gold soak up nearly two-thirds of household savings
Indians are in love with fancy houses and precious metals. In the last five years, there has been a sharp rise in the share of national savings diverted to physical assets -- land, buildings and precious metals -- and away from financial assets such as bank deposits, bonds, mutual funds, equities and insurance & pension funds.This has led to a corresponding fall in the flow of capital to productive sectors, affecting the capex cycle and gross domestic product growth (GDP).According to data by the Central Statistical Organisation (CSO), savings in physical assets is at a nine- year high and accounted for nearly half (46.4%) of India's gross domestic savings in FY12. In FY08, at the peak of the India's economic boom when GDP grew by 9.3%, the corresponding ratio was 29.3%, a 12-year low.The skew towards physical assets is even worse for households including individuals who account for a bulk of the total savings. In the last 10 years, household accounted for 72.6% of India's gross domestic savings on average.Investments in real estate and precious metals soaked up nearly two-third (64.2%) of the personal savings in FY12, the highest since 1975 when physical assets accounted for nearly three-fourth of all household savings. In other words, financial instruments now attract just a third of household savings against 52% in FY08.
July 18
The Fed's Message: One More Time (excerpt)
When Fed Chairman Ben Bernanke outlined the FOMC's plan for phasing out QE at his press conference on June 19, the S&P 500 dropped 1.4% that day and 2.5% the following day. When he repeated the plan yesterday during his congressional testimony, the market rose slightly, remaining near its recent record high. Bernanke said that the FOMC will start tapering QE "later this year" if the economy continues to improve and inflation moves back toward 2%: "And if the subsequent data continued to confirm this pattern of ongoing economic improvement and normalizing inflation, we expected to continue to reduce the pace of purchases in measured steps through the first half of next year, ending them around midyear. At that point, if the economy had evolved along the lines we anticipated, the recovery would have gained further momentum, unemployment would be in the vicinity of 7 percent, and inflation would be moving toward our 2 percent objective. Such outcomes would be fully consistent with the goals of the asset purchase program that we established in September." However, that's not a "preset course." In any event, he reiterated that the Fed's forward guidance pledges to keep the federal funds rate near zero "at least as long as" the unemployment rate remains above 6.5%. If inflation remains persistently below 2%, then the federal funds rate will remain near zero even if the jobless rate is down to 6.5%. The market's reaction to Bernanke's "Can you hear me now?" testimony suggests that the answer is "Yes, now we can!" The Fed may or may not taper QE depending on the performance of the economy. In any event, highly accommodative monetary policy will persist for the foreseeable future. For now, the Fed will continue to buy $40 billion per month in agency MBS and $45 billion per month in Treasuries.
July 17
Sharp fall in gold imports in June
Impact of hike in import duty and stopping of consignment imports of the metal. The news of gold imports into India falling significantly in June coincides with the slack season for gold demand. Although the demand fall has been welcome, the fact remains that June and July normally constitute the lean season for gold buying and the drop has not perturbed traders. Gold imports fell 81 per cent in June to 31.5 tonnes from 162 tonnes in May and 141 tonnes in April. Government measures to restrict import of gold are in place as it raised import duty and even stopped consignment imports of the yellow metal.
July 17
Hong Kong fund manager identifies refinery recasting central bank gold
Interviewed by the German financial journalist Lars Schall, who is certainly getting around today, Hong Kong fund manager William Kaye elaborates on his interview last week --http://www.gata.org/node/12773-- and identifies the Hong Kong gold refiner that is recasting Western gold, including Western central bank gold, for the Asian market.Kaye remarks that this movement and recasting of gold should hardly be a sensation because it is completely consistent with everything known about the current gold market.
July 17
Bank of England's Carney, rate-setters all back status quo
Bank of England Governor Mark Carney has voted against pumping more money into the British economy and joined other bank officials in indicating that it may use other means to stimulate the economy in August. The voting results came as figures released Wednesday showed more positive signs for the British economy. Jobless claims fell by the fastest rate in three years and the overall unemployment has dropped to 7.8 per cent.
July 16
Why Is JPM Hoarding Silver?
"A quick note on JPMorgan's unusual taking of delivery of silver in the current July contract I first mentioned on Saturday. In the two delivery days since that review, JPMorgan has taken (stopped) an additional 369 contracts, 350 of which were for the bank's house or proprietary trading account. Of the 2220 total contracts delivered so far in the July COMEX contract, JPM has taken 2006 contracts, including 1829 contracts for the bank's own house account. Over the past two days, customers of JPMorgan have delivered close to 200 silver contracts as well, raising the question if JPMorgan is double dealing. Another point is that the 1829 contracts (9.145 million oz) that JPM has taken in its own name is above the level of 1500 contracts that COMEX rules dictate can't be exceeded in any one delivery month by any single trader. Hey – have you ever heard of a rule or regulation that JPMorgan couldn't evade? Me, neither."There are still about 1,200 July contracts that remain to be settled so we'll see where those go...but what the heck is going on here? Of the 2,220 July13 contracts that have been settled so far this month, JPM has claimed over 90% of them. Further, 90% of those have gone directly into JPM's own house account!So we've got JPM soaking up as much Comex silver as they can without disturbing the price downtrend AND we've also got JPM appearing each day at The Fix, buying up as much silver as possible there, too. Connecting these dots leads me to this conclusion:PM is getting out of the silver manipulation game. Perhaps they've been warned by the CFTC. Perhaps they simply see the writing on the wall. Again, it's impossible to say. What we do know is:During this 9-month decline, they've trimmed their naked Comex short position from roughly 35,000 contracts down to approximately 15,000 contracts.The startling, surprising and historic rise in the "other commercial" gross long position from 40,000 to over 60,000 contracts has likely prohibited them from reducing their naked short position to zero.
July 16
Gold Deliveries From Shanghai Bourse Jump on Physical Demand
Physical gold delivered to buyers by China's largest bullion bourse in the first half of this year almost matched the entire amount taken from its vaults in 2012, and was more than double the country's annual production.The Shanghai Gold Exchange supplied 1,098 metric tons in the six months through June, compared with 1,139 tons for the whole of last year, according to data from the bourse today. Output in China, the world's largest gold producer, reached a record 403 tons last year, according to the China Gold Association.The surge in deliveries underscores buying interest in China, which may pass India as the largest bullion consumer as early as this year after the government in New Delhi raised import taxes while regulators in Beijing made investing in the metal easier. Miners, smelters and refineries are required to sell gold via the Shanghai bourse, the only state-sanctioned marketplace for spot bullion in China."The number shows demand for bullion as an underlying asset in China that investors here remained big buyers of the physical commodity this year," said Fu Peng, a commodity strategist in Beijing at Galaxy Futures Co, a brokerage controlled by the country's sovereign wealth fund.
July 16
Gold producers offer 4% pay rise
Johannesburg, South Africa --- 16 July 2013 - The Chamber of Mines of South Africa has offered a 4% pay rise to gold industry employees ‒ which is far less than the 60 to 100% demanded by trade unions in the run-up to the wage talks which started last week. Revealing this here, Solidarity, which represents just over 2% of workers in the sector, also said no agreement had been reached on the "house rules" for the talks, which have been billed as the most difficult since apartheid ended in 1994, reports Fin24.The Chamber of Mines, representing firms employing 120,000 of the gold sector's 140,000 workers, has warned that the typical two-month talks could be dragged out by a vicious union turf war that has cut production and caused numerous wildcat walk-outs."They (mining firms) are pleading poverty," said Solidarity general secretary Gideon du Plessis. "The chamber would have to raise its offer dramatically to create the atmosphere for a settlement," he added.Gold producers argue that at the current spot price, 60% of the country's gold mines are either marginal or unprofitable. They have shed 14,000 jobs over the past two years and could cut more if their wage bills increase dramatically."It is going to require us to work together to find the balance between what the companies can afford and what employees need," said Chamber of Mines chief negotiator, Elize Strydom.Analysts see a settlement coming in at close to 10%, well above the inflation rate, currently at about 6%.
July 15
Paper Vs. Physical Gold: Picturing The COMEX/SGE Divide
Chinese gold demand, from both individuals and central banks, garnered increasing attention as the gold price rose consistently in the last twelve years. When the gold price declined, many in the West declared the end of gold, but China (along with many other Asian nations) defiantly continued to buy gold and increase their imports.
July 15
SA gold sector is dying - data
As the gold sector prepares to deliver its counter offer on wage increases to the unions on Monday, a report from a leading analyst shows just how dire the financial situation is for producers. Seven gold companies represented by the Chamber of Mines at centralised wage talks with four unions, including newcomer the Association of Mineworkers and Construction Union (Amcu), will unveil their counter offer on Monday. Amcu and the National Union of Mineworkers have tabled wage increase demands for entry-level workers of between 100% and 60% of prevailing salaries. By next year, about half of global production will need a break-even gold price of $2,400/oz, using a 10% year-on-year mining inflation assumption, he said. Gold companies could start using the new cost metrics from January next year. Companies such as AngloGold Ashanti, Gold Fields and Harmony are estimated to have had all-in costs of $1,580, $1,426 and $1,762 per ounce, respectively, in the first quarter of this year.
July 15
Hedge Funds Bought Gold in Biggest Rally Since 2011: Commodities
Hedge funds raised bets on higher gold prices for a second week as comments from Federal Reserve Chairman Ben S. Bernanke damped expectations for an imminent tapering of stimulus. Futures rose the most since 2011. Speculators increased their net-long position by 4.1 percent to 35,691 futures and options, U.S. Commodity Futures Trading Commission data for July 9 show. Net holdings expanded even as speculators increased short bets to a record. Net-bullish wagers across 18 U.S.-traded commodities retreated 3.4 percent as investors became the most bearish ever on corn. They were more bullish on silver and palladium.
July 15
Biggest Fib Of The Year: China GDP Grows 7.5% In Q2
Monday morning, Beijing's National Bureau of Statistics announced that gross domestic product in the second calendar quarter increased 7.5% from the same period last year, hitting median estimates squarely on the nose. The announcement confirms China's growth is slowing but does not fully capture the recent falloff. What is the real growth figure? Seeking Alpha thinks it is around 6.7%, but even that figure is high. Among other factors, the severe contraction of aggregate financing in June, the marked fall in exports in May and June, and the evident shrinkage of the manufacturing sector throughout the quarter all point to an economy growing in the low single digits. Moreover, it is unlikely that NBS, in releasing the Q2 number, had made proper adjustments to account for two phenomena. First, Beijing's official statistics have not been adequately adjusted for inflation, as Standard Chartered 's Stephen Green has pointed out. Second, fake trade invoicing substantially inflated GDP numbers. Rampant falsification has resulted in the simply unbelievable report of 14.7% export growth in April, the first month of the just-ended quarter. Although some say export growth was about 6% then, it seems like it was actually closer to 3%.The most intriguing Q2 indications, however, are the comments of China's finance minister, Lou Jiwei. Mr. Lou, speaking in Washington on Thursday, said growth in the first half of 2013 was probably less than 7.7%, "but not too far from it." Then he spoke these words: "Our expected GDP growth rate this year is 7%." To get to 7% for the entire year after growing 7.7% in Q1 and being "not too far" from 7.7% in Q2, Lou was indirectly telling everyone that China would be expanding at an average of 6.4% in the third and fourth quarters.
July 11
Gold Nears $1,300 After Fed's Bernanke Backs Sustained Stimulus
Gold climbed to the highest in more than two weeks in New York after Federal Reserve Chairman Ben S. Bernanke backed sustaining economic stimulus. Platinum reached a three-week high and silver gained. Bullion fell 23 percent last quarter as Bernanke said after the Fed's June 18-19 meeting that the central bank may reduce its $85 billion of monthly asset purchases this year. Minutes of that meeting released yesterday showed many officials wanted to see more signs of improving employment before backing a cut in bond buying. Bernanke said yesterday the economy needs "highly accommodative monetary policy for the foreseeable future."
July 11
Fed leaders knew they were blowing it at their last meeting, and other tidbits from the FOMC minutes
Some of the committee members really don't want to be talking about exit strategy right now. The selloff happened in part because markets interpreted any talk of ending the Fed's QE policies as signaling that the end might be imminent. It's clear that some officials at the central bank were worried about exactly that.Fed officials really are all over the place. See if you can count all the different permutations of the different views of the different (unnamed) officials.
July 10
Norilsk Nickel Points to Palladium Deficit, US Silver Price Down
Norilsk has gone on record saying that palladium producers better get their butts in gear. Global palladium producers need to increase output by 2020 to cover a rising deficit, according to a company executive, quoted in the Moscow Times. Production of palladium is behind consumption by 30 tons, or by 1 million troy ounces. "This lag will increase during the years to come and could (reach) 60 tons by 2020, if new projects do not appear," Anton Berlin, the head of the marketing department of Norilsk's sales arm Normetimpex, was quoted as saying. "However, metal producers understand this and, most likely, will review their strategy to increase production," he told the MT. "He declined to say whether Norilsk, which accounts for 41 percent of global palladium output, would increase its production.
July 10
Supply tightens; gold borrowing rates hit 2009 highs
The rates for lending out physical gold - mostly offered by bullion banks and central banks to institutional investors and manufacturers - have been near historically low levels over the past four years due to plentiful supplies.The cost of borrowing gold surged on Tuesday to the highest level since January 2009, reflecting dwindling supplies from bullion banks after heavy liquidation and resilient demand for physical gold products.The rates for lending out physical gold - mostly offered by bullion banks and central banks to institutional investors and manufacturers - have been near historically low levels over the past four years due to plentiful supplies.But that came to an abrupt end when supplies started tightening as institutional and speculative investors have unwound those long positions since the mid-April historic sell-off that has seen spot prices plunge 26 percent so far this year.The implied one-month gold lease rate rose to 0.3 percent on Tuesday, their highest since January 2009 when investors scrambled for physical metal, seen as a safe haven investment, after Lehman Brothers collapsed.That is up sharply from the 0.1 percent early last week. Rates have increased steadily from a negative 0.2 percent since September last year, but the gains have accelerated since April.Even so, they are far off record highs of close to 10 percent seen in 1999 after European central banks agreed to curb gold sales and are still near historically low levels. Christian said the negative GOFO was largely a result of illiquid trade orders in the inactive delivery month of the Comex July contracts, as most participants are currently trading the August futures.
July 9
Golden Slumbers - Kenneth Rogoff
In fact, the case for or against gold has not changed all that much since 2010, when I last wrote about it. In October of that year, the price of gold – the consummate faith-based speculative asset – was on the way up, having just hit $1,300. But the real case for holding it, then as now, was never a speculative one. Rather, gold is a hedge. If you are a high-net-worth investor, or a sovereign wealth fund, it makes perfect sense to hold a small percentage of your assets in gold as a hedge against extreme events. So the recent collapse of gold prices has not really changed the case for investing in it one way or the other. Yes, prices could easily fall below $1,000; but, then again, they might rise. Meanwhile, policymakers should be cautious in interpreting the plunge in gold prices as a vote of confidence in their performance.
July 9
German exports fall at steepest rate since December 2009
German exports had their biggest fall since late 2009 in May while imports rose far more than expected, in a sign that Europe's largest economy is struggling to sell its goods abroad though domestic demand is strong.Seasonally-adjusted exports tumbled 2.4 percent, data from the Federal Statistics Office showed, falling further than the consensus forecast in a Reuter's poll for a 0.4 percent drop and undershooting even the lowest estimate for a 1.2 percent fall. Shipments abroad, traditionally the backbone of the German economy, are suffering this year as the euro zone crisis eats away at demand in Europe, Germany's largest export market, while a slowdown in China reduces appetite in the country many German firms had looked to as an alternative…German exports overall down 4.8% from a year ago,German exports to eurozone down 9.6% from a year ago,German exports to EU down 7.1% from a year ago. German exports outside the EU down 1.6% from a year ago.
July 9
Gold in Japan ETF Expands 10% as Price Drop Entices Buyers (1)
Japan's biggest bullion-backed exchange-traded fund expanded 10 percent this year by volume, bucking a global trend as lower prices and the yen's weakness spurred buying as a hedge against inflation. Bullion held by the ETF exceeded 6 metric tons on July 5, nearing a record reached in October, said Osamu Hoshi, general manager at Mitsubishi UFJ Trust and Banking Corp., which introduced the nation's first gold-backed ETF three years ago. The value of assets held by the fund declined 5 percent this year to July 5 as gold futures in yen slid 13 percent, he said.
July 9
A Historic Inversion: Gold GOFO Rates Turn Negative For The First Time Since Lehman
Today, something happened that has not happened since the Lehman collapse: the 1 Month Gold Forward Offered (GOFO) rate turned negative, from 0.015% to -0.065%, for the first time in nearly 5 years, or technically since just after the Lehman bankruptcy precipitated AIG bailout in November 2011. And if one looks at the 3 Month GOFO, which also turned shockingly negative overnight from 0.05% to -0.03%, one has to go back all the way to the 1999 Washington Agreement on gold, to find the last time that particular GOFO rate was negative. GOFO stands for Gold Forward Offered Rate. These are rates at which contributors are prepared to lend gold on a swap against US dollars. Quotes are made for 1-, 2-, 3-, 6- and 12-month periods. And while both Antal Fekete and Sandeep Jaitly, traditionally two of the most vocal pundits in the arena of gold backwardation and temporal and collateral gold market arbritrage, are likely come up with their own interpretations of what may be causing this historic inversion, the reality is that one can't know for sure until after the fact. It may be one of many things: An ETF-induced repricing of paper and physical gold Ongoing deliverable concerns and/or shortages involving one (JPM) or more Comex gold members. Liquidations in the paper gold market A shortage of physical gold for a non-bullion bank market participant A major fund unwinding a futures pair trade involving at least one gold leasing leg An ongoing bullion bank failure with or without an associated allocated gold bank "run."
July 8
Is India About To Set The Silver Market On Fire?
According to industry estimates, silver imports during the January-March quarter stood at 760t. Imports shot up to 720t in April alone, and in May, they further swelled by 920t.Another way of looking at India's silver imports in April and May - they nearly equaled combined annual production from Canada and the U.S.In May 2013, India's gold imports were valued at $7.2 billion vs. silver imports of only $665 million. Silver is just 1/63 the cost of gold. Very little redirection of gold investment into silver is required to have a major impact.Silver mining is a significant industry in India, and a rising price helps that industry, whereas rising gold imports and prices simply increase the trade deficit. In 2012, India was the 13th largest silver producing country with 12.7 million ounces (360t). So in the month of May, India's production and imports totaled about 950t, or nearly half of the world mine output.

July 8
South African platinum fund holdings race to 500,000 oz
* NewPlat ETF sees 500,000 oz of inflows in first 10 weeks
* Fund now holds quarter of all platinum ETF reserves
* Investors seek exposure to platinum price, shun miners
Holdings of Absa Capital's platinum-backed exchange-traded fund have risen above half a million ounces just 10 weeks after its launch, accounting for a quarter of all global platinum ETF reserves, the fund said on Friday.Absa said as of the end of Thursday, its NewPlat ETF held 503,613 ounces of platinum, up 3.3 percent from the previous day. Its inflows since last Friday now total nearly 76,000 ounces, worth around 1 billion rand ($99.96 million).
July 8
Market Nugget: HSBC Looks For Chinese Gold Imports To Remain 'Elevated'
HSBC looks for China's gold imports to remain "elevated" in the near term. The bank cites data from the Hong Kong Census and Statistics Department showing China's gold imports from Hong Kong increased to 127 metric tons in May from 76 in the same month last year and up slightly from 126 this April. "Physical buyers in China have reacted positively to lower gold prices for the bulk of this year," HSBC says. "Most notably, gold's price break below USD1,600/oz during Lunar New Year in mid-February…resonated well with gold buyers in China as imports from Hong Kong hit the record high of 224t in the following month of March. We think gold imports may remain at elevated levels in the near term with prices currently trading closer to USD1,200/oz. An indicator of good demand from China is bullion's premium on the Shanghai Gold Exchange, which more recently stood at USD34/oz, significantly higher than the USD10-25/oz range seen in May."
July 8
UPDATE 2-Amplats' South African mines hit by wildcat strike
ANGLO AMERICAN PLATINUM has been hit by a wildcat strike at its Thembelani mine in SA, SABC Radio reported this morning. According to the report, some 6 000 workers downed tools in solidarity with 22 suspended shop stewards.
July 5
The miners best placed to weather a silver downturn - Dundee
During their meetings with investors, Dundee observed that physically-backed silver ETFs "have remained largely intact. "We note that silver-backed ETFs have distinguished themselves from gold-backed ETFs, which are down 22.3% from their high reached in December of 2012.""In summary, we believe it is too early to call a bottom in sentiment from investment demand, but there are early signs of stabilization. With an initial bottom in speculative net long positions reached a few weeks ago, and silver ETFs holding strong - we could be witnessing a bottom in investment demand and, in turn, a bottom in silver prices," the analysts observed. "However, we will reserve judgment on this issue until we see a prolonged period of stable or growing positions in both futures and silver ETF holdings," they concluded.
July 5
Gold at a huge premium as imports dry up; survival of small jewellers at stake
KOLKATA: India's gold imports in June are estimated to have fallen drastically to 35-40 tonne, less than a quarter of what the purchases in May were because of state restrictions, triggering a sharp rise in premiums in the local market and raising a question mark on the survival of small jewellers. The acquisition cost of the yellow metal has shot up as bullion dealers are now charging a premium of up to Rs 350 per 10 grams over and above the metal's international price, up from only Rs 40 two weeks ago.
July 5
Gold Sales Tumble at Perth Mint After Rout Deters Buyers
Gold sales from Australia's Perth Mint, which refines nearly all of the bullion mined in the country, declined for a second month in June as prices extended a bear-market slump, deterring buyers. Sales of gold bars and coins totaled 49,460 ounces in June, compared with 92,781 ounces in May and 116,755 ounces in April, according to data from the mint. Sales were 52,704 ounces in March, before the rout, the data show. Buyers increased purchases in April "but in May and June have realized that prices are still coming down and it's not doing as well," Ron Currie, sales and marketing director at the mint, said in a phone interview from Perth. "They're waiting to see how the market goes." There are signs interest has slowed. The U.S. Mint sold 57,000 ounces of American Eagle gold coins in June from 70,000 ounces in May and 209,500 ounces in April, according to data on its website. In India, the largest user last year, imports may drop 52 percent in the third quarter after government curbs, according to the All India Gems & Jewellery Trade Federation.
July 5
Physical Demand for Gold is Gearing Up At An Alarming Rate
When folks sell their electronic-traded-fund (ETF) gold and other electronic bullion, where does it go?Does the bullion zap away into the nether regions of the internet? Does it move from one clandestine warehouse to another? Maybe it heads to a government coffer?You may be surprised where one gold research firm thinks the "sold" metal may be heading. Plus, as the layers of the onion fall off, you'll likely be swayed into my line of thinking: now's an important time to get physical in the gold market.In a roundabout way this gets us back to our riddle above. When folks sell their electronically traded fund (ETF) gold and other electronic bullion, where does it go?Indeed, it doesn't just disappear into cyber-space, nor does it look to be headed from one secret vault to another. Instead, we're seeing the flow of bullion headed towards two distinct places: savvy central banks are picking up the metal and, more and more, we're seeing the metal flow to buyers in the east.According to the World Gold Council "It is quite likely that gold previously held in the ETFs will find its way to Asian consumers taking a long-term view on gold." "Long-term" is the key word here. This is an unprecedented wave of long-term, physical metal demand from central banks and individual alike.
July 2
Gold Mining Stocks 'Too Cheap': Rick Rule - CNBC
July 2
American Silver Eagle Bullion Sales on Pace for Record Year
The United States Mint's gold and silver bullion coin sales continue to show strength amidst the weakness in precious metals market prices. With half the year completed, sales of the American Silver Eagles are on pace for a record year, and sales of American Gold Eagles are nearly double the total for the comparable year ago period. Year to date sales for the popular silver bullion coins have now reached 25,043,500. This amount is up by 44.0% from the mid year total for last year. More significantly, the year to date sales are up by 12.3% compared to the mid year sales total for 2011, when annual sales had achieved the current record high of 39,868,500. During June 2013, Gold Eagle bullion sales reached 57,000 ounces. The one ounce coins accounted for most of the total in ounces, although the one-tenth ounce size coins were the top seller. The monthly sales figure is down compared to the prior month when sales reached 70,000 ounces. It is also down slightly compared to the year ago period when sales were 60,000 ounces. Year to date sales for Gold Eagles have now reached 629,000 ounces. This figure is up sharply compared to the mid year sales total of 343,500 ounces from last year.
July 2
CFTC Data Shows Decline In Net Length For Gold, PGMs In Wake Of FOMC
The latest report from the Commodity Futures Trading Commission shows that large speculators chopped their net length in gold and the platinum group metals in the aftermath of the June 19 meeting of the Federal Open Market Committee that left traders factoring in the start of a tapering of quantitative easing in the U.S. Net long positions in gold now stand at multi-year lows. Large speculative accounts collectively remain roughly balanced in silver but increased their net short, or bearish, position in copper. "Gold specs unloaded more long positions and built up even larger short positions in the aftermath of the FOMC decision where the U.S. central bank signaled tapering of its QE program," said TD Securities.
July 2
Oppenheimer: "Time To Cover All Shorts In Gold And Gold Miners" Because "Gold Stocks Are So Bad, They're Good"
Fast forward to today, when the technician pulls a U-Turn, and says that "at this time, we believe gold and gold miners represent good risk/reward. Indeed, the recent extreme weakness is judged to be the reciprocal or correlative of the extreme strength witnessed in the summer of 2011. The "despair" relating to gold now is as palpable as "euphoria" then." And always one with a witty turn of the phrase, Worth summarizes his shift in sentiment as follows: "The bottom line, by our work, is this: at this time it is right to cover all shorts in gold and gold miners… and we would look for opportunities on the long side.... The charts of the individual equities are atrocious. And that is the circumstance that compels today's report. The stocks are judged to be "so bad, that they're good"."
July 2
Gold Rises Most in Nine Weeks as Physical Demand Climbs
Gold prices advanced the most in nine weeks as demand for coins, bars and jewelry rebounded following the record quarterly plunge. Platinum posted the biggest gain in a year. In the second quarter, spot gold tumbled 23 percent, the most since at least 1920 after Federal Reserve Chairman Ben S. Bernanke said that the U.S. central bank may scale back debt purchase this this year. The premium for the metal in China rose to $36 an ounce, the highest since April, according to Tim Gardiner, a managing director at TD Securities Inc. in New York.
June 28
Gold rush 2013 style has Dubai scrambling
There is not enough space on airlines flying in to Dubai to meet the rapidly rising demand for physical gold in the emirate since the price plunged to record lows this week.The price drop led to a rush of buyers for Dubai gold from the Middle East, South East Asia, the Balkans, Turkey and parts of Europe according to Tarek El Mdaka, the managing director of Kaloti Gold in Dubai. Mr El Mdaka added that gold is in such short supply in Dubai that he is able to charge a US$3 premium per ounce. "In the last week or so that has gone up from $1.25, $1.50 to $1.75. But now it is $3. We are really squeezed."
June 27
India's RBI Restricts Lending Against Gold, Gold linked ETFs, Mutual Funds By Rural Banks To Curb Heavy Imports
The Reserve Bank of India's, or RBI, offensive against gold continued Tuesday when it imposed restrictions on the country's regional rural banks, or RRBs, for lending money against gold, in an attempt to discourage demand for the precious metal and reduce its imports.The rule also applies to advances against units of gold ETFs and mutual funds, the central bank said. The bank also restricted the loan amount to within the limit approved by a rural bank's board, for loans against gold ornaments, gold jewelry and gold coins weighing up to 50 grams.
June 27
Lacker Says Growth Sluggish With Fed Far From Cutting Assets
Federal Reserve Bank of RichmondPresident Jeffrey Lacker said he expects the U.S. expansion toremain "sluggish" for "a couple more years" and that thecentral bank isn't close to reducing its bond holdings."This asset-purchase tapering is just slowing the rate atwhich we're increasing the balance sheet," Lacker, who doesn'tvote on the Federal Open Market Committee this year, said todayin a Bloomberg Television interview with Peter Cook. "We're not anywhere near decreasing the balance sheet yet."
June 27
BEA Revises 1st Quarter 2013 GDP Growth Downward To 1.78% Annual Rate
In their third estimate of the US GDP for the first quarter of 2013, the Bureau of Economic Analysis (BEA) reported that the economy was growing at a 1.78% annualized rate, a full 0.6% lower than the 2.38% growth rate previously published. A significant revision to consumer spending on services was large enough to account for the entire downward adjustment in the headline number. That was accompanied by materially weaker exports and fixed investments. All of those revisions were enough to lower the BEA's bottom line "real final sales of domestic product" by over a half percent. At best this new release reports an economy with lackluster growth, created at great expense by a combination of unprecedented fiscal and monetary stimulus that have obviously progressed well past the point of diminishing returns. To be fair, many other national governments would be thrilled to be reporting a 1.78% annualized growth rate. But that observation in itself (without mentioning the plunging export numbers) also reflect global economic headwinds that do not bode well for sustaining even lackluster numbers over the balance of the year.And we continue to note the one truly serious domestic issue within the data:-- Real per capita disposable incomes took yet another hit.
June 27
U.S. Bond Funds Have Record $61.7 Billion in Redemptions (2)
U.S.-listed bond mutual funds and exchange-traded funds saw record monthly redemptions of $61.7 billion through June 24 amid signs the country's central bank may scale back its unprecedented stimulus. The redemptions surpassed the previous monthly record of $41.8 billion, set in October 2008, according to an e-mailed statement by TrimTabs Investment Research in Sausalito, California. Investors withdrew $52.8 billion from bond mutual funds and $8.9 billion from ETFs during the period, said Richard Stern, a spokesman for TrimTabs.
June 27
U.K. Disposable Income Drops as Double-Dip Avoided: Economy
Britons' disposable income plunged the most in more than a quarter of a century in the first quarter, indicating continued pressure on the economy even as data showed the U.K. avoided a double-dip recession in 2012. Real household disposable incomes fell 1.7 percent from the previous three months, the most since 1987, the Office for National Statistics said in London today. It also revised higher 2012 data to show that the U.K. avoided two consecutive quarters of contraction, the technical definition of a recession. Separately, gross domestic product rose 0.3 percent in the first quarter of this year, matching a previous estimate. The economy is showing signs of strength after resuming growth in the first quarter, though consumers are under pressure as inflation outpaces pay growth and government spending cuts bite. Bank of England Governor Mervyn King, who is retiring and will be replaced by Mark Carney on July 1, says a recovery "is in sight," though is "too weak to be satisfactory."
June 27
China importing 2000 tons of Gold by 2016 'not inconceivable': Standard Chartered
The recent downturn in gold prices have caused a steep uptick in physical demand of gold from China and India which account for more than half of global gold demand. China may be importing 2000 tons of gold by the time it is 2016 which would roughly be equal to 80% of the total global gold mine supply, said Standard Chartered in a report cited by Bloomberg News, noting that such a feat is not something 'inconceivable'."Although it is the world's largest producer of gold, 40 percent of its production uses imported gold in concentrates," Standard Chartered noted.Meanwhile gold output by China may jump 10% to 440 tons this year, China's mining association said last week.This development is in sharp contrast to India: the nation mined miniscule amounts of gold in 2013 YTD and has,unlike China placed curbs on gold imports. China has approved of a set of domestic ETPs in gold this month even as India has raised import duties on gold to 8%.
June 27
Gold premiums jump as physical demand outstrips supply
(Reuters) - Gold premiums doubled in India on Wednesday as suppliers struggled to meet surging demand after a ban on consignment imports, but futures prices fell to their lowest in more than a month as international gold prices fell due to a strong dollar. "We are unable to supply, though there is demand ... we give deliveries after 2-3 days," said Harshad Ajmera, proprietor of wholesaler JJ Gold House in Kolkata.
June 27
World GDP
FOUR years after the worst of the financial crisis and the world appears to be faltering again. According to The Economist's calculations, world GDP grew by just 2.1% during the first quarter of 2013 compared with a year earlier. Just 12 months ago, output was growing at a reasonable clip of 3.1%. The European Union, the world's second-largest economy, which welcomes its 28th member on July 1st, is back in recession. Meanwhile there are concerns about stumbling blocks as China seeks to rebalance toward a more consumption-oriented economy and more moderate growth rates. Long the mainstay of the world's fortunes, China alone has been responsible for nearly half of all world economic growth since the end of 2009 when the world began growing again. Other big emerging markets, Turkey, Brazil and India, are struggling to quell social unrest over frustration with governments' inability to deliver growth and make appropriate reforms.
June 25
CPM Group: Platinum Supply, Demand Expected To Rise In 2013
(Kitco News) - Platinum demand is expected to rise in 2013, supported by stronger growth in fabrication demand and improved investor sentiment toward the metal, said CPM Group on Monday.Supplies are also expected to rebound after problems in South Africa dented output last year. Demand will still outstrip supply in 2013, but the supply deficit is forecast to shrink to 86,000 ounces from 294,000 ounces last year, the New York-based consultancy said in its annual Platinum Yearbook.Higher demand should also support prices, although CPM Group did not give a price forecast. In 2012, platinum prices averaged $1,554.30 an ounce, down 9.8% from 2011's record annual price of $1,722.39."If investment demand improves more than expected, the market balance could narrow further and prices could increase more rapidly," CPM said.
June 25
Absa plans palladium ETP
Absa Bank Ltd., whose platinum exchange-traded product swelled to the second-biggest within two months after being listed for trading, expects demand from South African investors to make it the top ranking fund and is planning a similar product for palladium.The Johannesburg-based lender, a unit of Barclays Plc, is working to bring a palladium ETP to the market "as soon as possible," according to Vladimir Nedeljkovic, head of investments at Absa's corporate and investment banking division. NewPlat, Absa's platinum ETP listed on the Johannesburg Stock Exchange on April 26, accounts for 21% of global platinum-backed ETP holdings, data compiled by Bloomberg show.
June 25
China Gold Output Seen Rising to Record by Mining Group
Gold output in China, the world's largest producer, is poised to rise almost 10 percent this year to a record even as bullion prices slump, the nation's mining association said.Output may rise to as much as 440 metric tons, said Wang Jiahua, executive vice chairman at the China Mining Association. The country, which overtook South Africa as the largest producer in 2007, had output of 403 tons in 2012, according to data from the Beijing-based group, an affiliate of the Ministry of Land and Resources.
June 25
Owners Of The iShares Silver Trust Are A Persistent Bunch
According to data at the company's website, the iShares Silver Trust (SLV) added just over 90 tonnes of silver on Friday and then saw more than double that amount exit the trust on Monday. At around $20 an ounce, this was the equivalent of almost $60 million in silver being added to the trust two days ago as prices posted a modest rebound. Then, yesterday, holdings at the ETF fell by more than $100 million as all of Friday's gains were given back (and then some), as the silver price dropped to a fresh multi-year low. Granted, the $6 billion in net assets for SLV are much smaller than the $32 billion GLD ETF, but that's still $6 billion dollars in investor money that has refused to give up on silver as an investment even though that $6 billion in silver was worth about $15 billion in April of 2011.
June 25
Russia, Kazakhstan Join Turkey in Raising Gold Holdings in May
Russia and Kazakhstan expanded their gold reserves for an eighth straight month in May, buying the metal to diversify assets even as investors lost faith in bullion amid the outlook for reduced stimulus. Russian holdings, the seventh-largest by country, climbed 6.2 metric tons to 996.2 tons, taking gains this year to 4 percent after expanding by 8.5 percent in 2012, International Monetary Fund data show. Kazakhstan's hoard grew 4 tons to 129.5 tons, taking the increase to 12 percent this year after a 41 percent expansion in 2012, data on the website showed. Turkey's holdings rose 18.2 tons to 445.3 tons in May, increasing for an 11th month as it accepted gold in its reserve requirements from commercial banks. Azerbaijan and Kyrgyz Republic were among nations that bought bullion in May, while Brunei and Nepal added gold in April, according to the IMF data, which update as countries report.
June 24
MARC FABER: The Way Things Are Going, Bernanke Will Have To Give Us 96 More Rounds Of Fed Stimulus
On Wednesday, Federal Reserve Chairman Ben Bernanke told us that the U.S. economy could be strong enough for the Fed to begin tapering, or scaling back, it's stimulative quantitative easing (QE) program later this year. However, the bears aren't convinced. After Bernanke's comments, Peter Schiff said the economy was so weak that the Fed's next big announcement would actually be to increase QE. Uber bear Marc Faber, embracing hyperbole, suggested that QE would basically be a part of everyday life for the rest of our lives. "As I said already three years ago, we are going to go with the Fed to QE99," said Faber on Bloomberg Television with Trish Regan and Tom Keene on Friday. We are currently on the third round of QE, aka QE3.
June 24
Bond Auctions Fail From Russia to Korea as Brazil Protests Rage
Developing nations around the world are scaling back or canceling billions of dollars of bond sales as borrowing costs climb the most since 2008, just as spending needs increase amid slowing economic growth.Romania's Finance Ministry rejected all bids at a seven-year bond sale yesterday because of market volatility, while South Korea raised less than 10 percent of the amount planned in an auction of inflation-linked bonds. Russia scrapped a sale of 15-year ruble-denominated bonds June 19, the second time it canceled an auction this month, and Colombia pared an offering of 20-year peso debt by 40 percent. A cash shortage led to failures last week of China Ministry of Finance debt sales.
June 24
Jim Rogers: I Bought More Gold Today; Bull Market Far From Over
HardAssetsInvestor:A lot of investment banks have recently called an end to the commodities supercycle that began more than a decade ago. Do you think they're wrong? Jim Rogers: I'm delighted to hear that. Bull markets climb a wall of worry. I'm not quite sure where the supply is coming from that would cause the bull market to end. Maybe they know something I don't. But when you look back at the stock bull market from 1982 to 2000, stocks collapsed in 1987, '89, '90, '94, '97, '98. And every time, people said the bull market is over. But it wasn't. This bull market in commodities will definitely come to an end someday. But someday is not here yet.
June 24
EU split on future bank bailout
EU finance ministers have failed to agree on how to rescue troubled banks in any future crisis.After almost 20 hours of talks on Saturday, ministers are still split on whether savers should bear any of the cost of a bailout.The impasse will now be debated at a meeting of EU heads of government on Wednesday."I have no doubt we will reach a deal," French Finance Minister Pierre Moscovici said.Talks in Luxembourg on Saturday were centred on new rules determining the order in which investors and creditors would have to pay for bank bailouts. Countries were divided on whether the Cyprus rescue should be a template for future bailouts, or whether losses be limited to banks' creditors.
June 24
Gold sales increase as prices fall
The scenario in the jewellery market in Oman once again shows that gold is still an attractive investment mode. "Consumers are still buying gold in record amounts, and this is particularly evident in physical investment, such as bars and coins, and also jewellery", says Jose K F, Regional Manager, Joy Alukkas. According to him, sales registered 30 to 35 per cent jump after the Fed comments on bond- purchase scale-back hit the markets. On closing yesterday, one gram gold cost RO 16.07. Jose expects the upswing in gold jewellery demand to continue as investors find it a safe haven deposit.
June 24
Bondholders would lose more than $1 trillion if yields spike - BIS
(Reuters) - Bondholders in the United States alone would lose more than $1 trillion if yields leap, showing how urgent it is for governments to put their finances in order, the Bank for International Settlements said on Sunday. The Basel-based BIS lambasted firms and households as well as the public sector for not making good use of the time bought by ultra-loose monetary policy, which it said had ended up creating new financial strains and delaying rather than encouraging necessary economic adjustments. The BIS said in its annual report that a rise in bond yields of 3 percentage points across the maturity spectrum would inflict losses on U.S. bond investors - excluding the Federal Reserve - of more than $1 trillion, or 8 percent of U.S. gross domestic product.The potential loss of value in government debt as a share of GDP is at a record high for most advanced economies, ranging from about 15 percent to 35 percent in France, Italy, Japan and Britain. "As foreign and domestic banks would be among those experiencing the losses, interest rate increases pose risks to the stability of the financial system if not executed with great care," the BIS said.
June 24
Zijin Eyes Assets Including Barrick Australia Mines on Gold Drop
Zijin Mining Group Co., China'sbiggest gold miner by market value, is considering a bid for theAustralian assets of Barrick Gold Corp., said Lan Fusheng, vicechairman in charge of overseas investment."The recent slump in gold prices made it an excellentopportunity for Zijin to go out and invest overseas," Lan saidtoday in a interview at a conference in Zhaoyuan, China. "Weare looking at a number of projects now, including the threeAustralian projects that Barrick has put up for sale."
June 21
China's gold consumption poised to surpass India's this year
China is poised to pass India as the largest bullion consumer as early as this year after New Delhi raised import taxes and Beijing made investing easier, the China Gold Association said.China approved its first two domestic exchange-traded products backed by the metal this month while India raised levies to curb demand that is feeding a current-account gap. The two countries account for more than half of global demand."We saw some frenzied buying following gold's rout in April and our preliminary estimate confirms that consumption reached about 137 tonnes, more than double a typical month," Zhang Yongtao, the association's vice-chairman, said yesterday in Zhaoyuan, Shandong province. "Chinese demand for gold will remain robust because people are getting wealthier and investment choices are limited."
June 21
Four Charts to Track Timing for QE3 Tapering
Here are four graphs that we can use to track if the incoming data is "broadly consistent" with the FOMC projections.
June 21
CME Hikes Gold Margins By 25%
How very unexpected. And how, judging by today's massive selloff, it is almost as if someone knew in advance this would happen. Can JPMorgan just restock its vault with whatever gold it needs to meet its massive delivery demands (at three year low prices) so some normalcy can return to the market?
June 20
Curbs on gold import to encourage grey market : GJF
Reports of gold smuggling at different airports in India rose by 2,200 per cent last year, he claimed and added that the gold consumption has gone up despite increase in the import duty from one per cent to eight per cent in January last year. In May, the Reserve Bank of India (RBI) had restricted the import of gold on consignment basis by banks, only to meet the genuine needs of the exporters of gold jewellery. And the central bank, this month, has decided to extend it to all nominated agencies or premier or star trading houses, which have been permitted by the government to import gold.
June 20
Special Got Gold Report - Large Trader Positioning in Silver Futures
As of June 11, commercial hedgers held a combined net short position so small, that when viewed as a percentage of all COMEX contracts open, it is the lowest in at least 20 years. In other words the people who hedge silver for a living are in no mood to put on net hedges or bets that silver will fall considerably lower in price with $21 handle silver.
June 20
Bernanke Says Fed on Course to End Asset Buying in 2014
Federal Reserve Chairman Ben S. Bernanke said the central bank may start dialing down its unprecedented bond-buying program this year and end it entirely in mid-2014 if the economy finally achieves the sustainable growth the Fed has sought since the recession ended in 2009. The Federal Open Market Committee today left the monthly pace of bond purchases unchanged at $85 billion, while saying that "downside risks to the outlook for the economy and the labor market" have diminished. Policy makers raised their growth forecasts for next year to a range of 3 percent to 3.5 percent and reduced their outlook for unemployment to as low as 6.5 percent. "If the incoming data are broadly consistent with this forecast, the committee currently anticipates that it would be appropriate to moderate the pace of purchases later this year," Bernanke said in a press conference in Washington. If later reports meet the Fed's expectations, "we will continue to reduce the pace of purchases in measured steps through the first half of next year, ending purchases around mid-year."
June 19
Banks Poised For Gold & Silver Turn As Central Planners Panic
With the Fed decision taking place, and continued volatility in gold and silver, today John Embry complained about kitco's "gobbledygook" reporting, and he stated that central panners are panicking, which is why Bernanke is leaving the Fed. Embry also spoke with KWN about physical gold demand, what the Chinese are up to, and what to expect from the price of silver going forward. Below is what Embry had to say in this powerful interview.
June 19
Silver: an important weapon against 'superbugs'—Silver Institute
Recent advances in biotechnology have brought a renewed focus on silver's centuries old history as an important medical weapon. In a news release issued Wednesday, the Silver Institute observed that the medical use of silver has helped reduce the growing threat of antibiotic-resistant germs spreading through a hospital. "Today, advances in coatings technology has enabled medical equipment producers to introduce silver-coated instruments and hospital equipment for use in treating patients—eliminating, on contract, almost every bacterial or fungal exposure," said Michael DiRienzo, executive director of the Silver Institute. Because silver breaks down cell walls and interferes with respiration and reproduction, bacteria have great difficulty in developing immunity to the metal, The Silver Institute noted.
June 19
Gold Buying Part of Indian Psyche
June 19
ALERT: JP MORGAN INCREASES SLV HOLDINGS BY 500%!
The past few years of silver smashing has been all about letting JP Morgan extract themselves from that Silver short hot potato. That's why the CFTC has not filed charges against them (yet) for silver manipulation. That's why the banking cabal has sat on the price of silver this whole time. That's why Citibank added $7.5B in OTC silver shorts. That's why sentiment in the silver market has never been worse. It's all about extricating JP Morgan from the silver short position they were likely REQUIRED to take on by the US Treasury after the collapse of Bear Stearns. So knowing what is happening it might not be surprising to you that during the 1st Quarter of 2013 JP Morgan has INCREASED their physical silver holdings in SLV for their own account by 500%! The numbers are clear in the reported data on SLV which must be recorded quarterly by the major institutional holders. Here's the latest report showing JP Morgan holding 6,042,752 shares (ounces) increasing their holdings in SLV by 4,819,640 shares or 500%.This report is cut off as of the end of the 1st quarter so when the second quarter is posted you can bet that this number has increased substantially. On a side note I'd like to point out that two other major cabal members shed massive amounts of shares in the same quarter: UBS selling (or transferring to JPM) 7,477,363 and Morgan Stanley shedding 1,186,347. Both are playing the opposite side of the trade to control the price as the cabal trades back and forth to each other. I'm not saying that JP Morgan is completely out of their silver short but they may now be very, very close when you put all their various silver holdings together and net them out.
June 19
Up to 145 500 platinum jobs at risk: bank
Up to 145 500 jobs and 60 percent of South Africa's platinum output could be a risk in coming years amid unrest and upheavals in the sector, Economists at Nomura bank warned. Analysts at the Japanese bank said that rising mining costs -- because of wage increases, regulation, increased electricity prices and a need to drill deeper -- as well as political risks, would force mines to cut their losses.They paint a bleak picture of the economically vital sector, in the wake of violence in Marikana last August which claimed 36 lives on one day."There are around 24,000 jobs at risk next year... the number rises to 121 500 in 2015. This is a huge number, both in absolute and political terms."This potential impact on jobs extends way beyond current plans from leading global producer, Anglo American Platinum, to cut around 6 000 jobs in the country. Next year Nomura forecasts that 14 percent of South African output could be at risk because of labour problems and 59 percent the following year.
June 18
U.S. Mint Sales of Silver Coins Reach Record in First Half
Sales of silver coins by the U.S. Mint are heading for the best start to a year since at least 1986 as prices slumped.Sales in 2013 have reached 24.03 million ounces, according to data on the mint's website. That's the highest for the first six months of a year since records begin. Demand reached a monthly all-time high of 7.5 million ounces in January.
June 18
Trade deficit at seven-month high as gold imports surge
(Reuters) - India's trade deficit widened to a seven-month high in May as gold imports surged, provisional data showed on Monday, but economists expect newly announced measures to dampen demand for the precious metal in coming months and narrow the shortfall. A nearly 90 percent annual jump in gold and silver imports saw the trade deficit rise to $20.14 billion last month from $17.8 billion in April. A combination of sliding global prices and regional festivals in India that traditionally increase demand for gold as gifts prompted frenzied buying in April and May. A similar pattern was seen in the world's other major bullion buyer, China.
June 18
Fitch says China credit bubble unprecedented in modern world history
China's shadow banking system is out of control and under mounting stress as borrowers struggle to roll over short-term debts, Fitch Ratings has warned.
June 17
Gold imports to India set for record
"Gold has been rapidly flowing into the major gold markets in order to meet this intense demand. In India, a market that represents 28 per cent of consumer demand, imports of gold are headed towards record levels in the second quarter of 2013. We anticipate about 300 to 400 tonnes of imports in the second quarter, as much as a 200 per cent year-on-year increase and almost half of total imports last year."
June 13
On This Day in 1933
Thursday, June 13th, 2013 You were considered a hoarder and a slacker if you still resisted turning over your gold to the government. From the New York Times, June 13, 1933: Roosevelt had only been in office for 101 days and while there was broad bipartisan support for inflationary policies in Congress, it's safe to say that most of those who voted for FDR never expected him to confiscate private holdings of gold coins, bullion, and certificates. Roosevelt called the measure a temporary one (it wasn't), and he followed it up by invalidating gold clauses in private contracts that obligated payment in gold dollars, which had the effect of devaluing the assets of bond and contract holders. Many of these hoarders and slackers purchased gold as a hedge against the (Fed-fueled) inflationary boom of the 1920s and then hung on to it during the Hoover years when his crazed and unprecedented interventions in wages and prices caused a normal market correction to devolve into a depression. Why would they trust Roosevelt any more?
June 17
Platinum market likely to hit record deficit in 2013
The platinum market is likely to hit a record deficit of 844,000 ounces in 2013, HSBC says, as supply shrinks and demand, especially from ETFs picks up.But, despite this favourable fundamental picture, the bank has cut its average price forecasts for this year and next to $1,580/oz and $1,725/oz from $1,710/oz and $1,800/oz respectively.The reason for this, the bank writes, is that "Platinum has been more influenced than we had anticipated by the sharp swings in the gold price and this will pull average prices lower for this year and next."Nonetheless, the fundamental picture for platinum remains engaging. On the supply side, HSBC is forecasting total global production of c5.646moz for 2013, with South Africa by far the biggest producer.
June 17
Workers At Anglo Platinum Disrupt Operations
JOHANNESBURG--Some 2,400 workers occupied an Anglo American Platinum (AMS.JO) mine in South Africa on Friday, disrupting operations even as union leaders held negotiations with government and company officials on how to end such wildcat strikes.A worker representing the miners said the strike at the Thembelani shaft at the mine in Rustenburg northwest of Johannesburg began when workers showed up for their shift around 4 a.m. They descended into the mine, but once underground, refused to work.
June 14
John Embry: 'everyone should look at Zero Hedge, Sinclair and KWN'
June 14
Bernanke's Tapering Talk Backfires Amid Bond Yield Surge
Federal Reserve Chairman Ben S. Bernanke has repeatedly said a reduction in the Fed's $85 billion in monthly bond purchases wouldn't mean an end to record easing. Investors are behaving as if they don't believe him.The yield on the 10-year Treasury note has risen to 2.15 percent, an almost 14-month high, from 1.63 percent on May 2 as investors bet the Fed will begin trimming bond buying. The surge is undermining Bernanke's unprecedented effort to hold down borrowing costs and combat 7.6 percent unemployment.The Fed chairman needs to persuade markets that tapering monthly purchases wouldn't bea prelude to aggressive policy tightening and ensure rising interest rates don't choke off the weak U.S. economic expansion, said Michael Gapen, a former section chief at the Fed Board's Division of Monetary Affairs."They are playing with fire when they want to talk about tapering but don't explain how it fits in with the rest of the exit strategy clearly," said Gapen, a senior U.S. economist at Barclays Plc. "You risk the premature tightening that you want to avoid."
June 14
South African platinum fund now holds 20 pct of world total
The NewGold Platinum exchange-traded fund launched by Absa Capital in late April already accounts for around 20 percent of total global platinum ETF holdings, data from the fund showed on Thursday.
June 13
Is Gold at a Turning Point?
There's no way to sugarcoat the dismal performance of the precious metals in recent months. But a revisitation of the reasons for owning them reveals no cracks in the underlying thesis for doing so. In fact, there are a number of new compelling developments arguing that the long heartbreak for gold and silver holders will soon be over.
June 13
Japan to become more like Cyprus – bail-ins for Japan banks
Japan's Financial Services Agency will enact new rules that will forced failed bank losses on investors, if needed, via a mechanism known as a "bail-in," according to The Nikkei. Mitsubishi UFJ (MTU), Mizuho Financial (MFG) and Sumitomo Mitsui (SMFG) are among those proposing amendments to allow them to issue the types of preferred shares or subordinated bonds that would be used in such cases, the report noted.
June 13
Can Bernanke Avoid a Meltdown in the Bond Market?
The past few weeks have given us a hint of what might happen when the Federal Reserve starts to reverse its super-easy monetary policy. Expect turbulence in financial markets, especially for assets that have moved far above normal or reasonable valuations. A return to normality eventually implies a benchmark 10-year Treasury yield of 4 percent or more. It won't happen all at once, but that's where we're heading. With yields at roughly 2.2 percent, there's a long way to go. This transition will mark a recovery of the equity culture and the cooling of investors' protracted love affair with bonds. To those of us who were paying attention back in 1994, it all seems quite familiar. Chairman Alan Greenspan had made it reasonably clear that the Fed was about to start raising rates. Even so, the news seemed to come as a shock. I remember being on a trip to Australia after the Fed made its move. From the scale of the sell-off in Australian bonds, you'd have thought an inflation panic was breaking out, or that the Fed had lost all credibility -- but no, it was simply that many people had invested heavily in Australian (and European and other developed-market) bonds to take advantage of the yield spread over U.S. Treasuries.In recent years, the search for yield has gone wider and deeper. The resulting deviation from normal valuations has been amplified by the shift of pension funds and insurance companies out of equities into fashionable bonds, and by the lingering effects of the great financial crisis of 2008 and 2009. It seems inevitable that some version of the shock of 1994 is going to happen again.
June 13
FM to Indians: Please, Don't Buy Gold
The government plans to announce a review of the foreign direct investment limits as also coal pricing and allocation to power plants and gas pricing by the end of June, finance minister Palaniappan Chidambaram told reporters on Thursday. The finance minister made an appeal to Indians to stop buying gold.
June 12
Inside Story: Gold, Trust, And The Federal Reserve - The Video Documentary
From the inside of the Federal Reserve's gold vault (where we are told one quarter of the world's bullion resides) to NYC's diamond district and the gold-dealers on the streets, this NatGeo documentary is a fascinating walk through the reality of trust, money, and gold. As the narrator notes, "the Fed's discretion is so trusted that few depositors have ever asked to see if their gold is still here," except of course Germany now that is, adding (from the exact opposite perspective to the man that runs the building) that, "for thousands of years people used gold as money... it's the perfect recyclable money...." The must-watch video then progresses to the reality of our financial world where he explains, the trillions in money that is transacted every day "used to be backed gold, but is now supported by the promise of our government... The fact that it all works based on trust alone is simply taken for granted," leaving the ominous question of "who is in charge" of that 'trust'? Cue Ben Bernanke - who answers the question of what the world would look like without a Fed... bank runs, stock market crashes, and financial chaos.
June 12
JP Morgan's Customer Gold Inventory Falls 61% Overnight!
EmptyVaultJP Morgan's Eligible (Customer) gold inventory fell a whopping 61% today. That's 6.7 metric tonnes of gold taken off of JP Morgan's inventory. As you can see in the chart below, there are only 136,380 oz of gold left in Morgan's Customer inventory. Basically, JP Morgan has a little more than 4 metric tonnes of gold left in its Eligible or Customer inventory. Furthermore, that 217,844 oz withdraw from JP Morgan's vault accounted for 28% of its total inventory….meaning JP Morgan only has approximately 555,000 oz left in its total inventory.
June 11
Charles Oliver on BNN Market Call
June 11
Kinross Cancels Plan to Develop Ecuadorean Gold Mine
Kinross Gold Corp. (K), Canada's third-largest producer by revenue, decided to stop developing the Fruta del Norte mining project in Ecuador after it couldn't agree with the government on economic and legal terms.Kinross will take a charge of about $720 million in the second quarter, the Toronto-based company said yesterday in a statement. The company informed the government of its decision ahead of the expiry of the exploration concession on Aug. 1, Chief Executive Officer J. Paul Rollinson said in a phone interview."We've been at the negotiating table for two years," Rollinson said yesterday. "Sometimes the best deal is the one you don't sign, and we believe that's the case here."
June 10
Deutsche Bank opens 200-tonne gold storage facility in Singapore
In a bid to capture part of the surging demand globally for physical bullion, Deutsche Bank has launched its second-biggest gold storage vault in Singapore. Deutsche Bank has launched its second-biggest gold-storage vault in Singapore that can hold up to 200 tonnes of the metal as it looks to capture surging global demand for physical bullion.
June 10
China Approves Gold-Backed ETPs as Domestic Buyers Chase Bullion
China approved two domestic exchange-traded products backed by gold as global holdings of the precious metal in ETPs dropped to a two-year low.Huaan Asset Management Co. and Guotai Asset Management Co. received the China Securities Regulatory Commission's permission to start the funds, which will be denominated in yuan, said Liu Jianqiang and Li Yebin, spokesmen for Huaan and Guotai. They will be traded like stocks on the Shanghai Stock Exchange (SHCOMP), tracking movements of spot gold on the Shanghai Gold Exchange, Liu and Li said separately by telephone from Shanghai.
June 10
China Leaders Tested on Growth Resolve After Slowdown: Economy
China's new leaders face a test of their resolve to forgo short-term stimulus for slower, more-sustainable growth after May trade, inflation and lending data trailed estimates, signaling weaker global and domestic demand. Industrial production rose a less-than-forecast 9.2 percent from a year earlier and factory-gate prices fell for a 15th month, National Bureau of Statistics data showed yesterday in Beijing. Export gains were at a 10-month low and imports dropped after a crackdown on fake trade invoices while fixed-asset investment growth moderated and new yuan loans declined. "The May data will force China's leadership and the central bank to rethink growth and inflation -- it seems they were too optimistic about growth and too concerned about inflation," said Shen Jianguang, chief Asia economist at Mizuho Securities Asia Ltd. in Hong Kong. "It's a test for China's leadership to see whether they are determined to reform."
June 7
Palladium, Platinum Rally on Potential Supply Disruptions
Palladium settled at a two-month high and platinum rallied to an eight-week high Thursday an concerns about a potential strike at a platinum mine in South Africa. Meanwhile, gold prices rallied on a sharp drop in the dollar, which retreated to a one-month low against the euro and the yen. Palladium for September delivery, the most active contract, rallied $5.85, or 0.8%, to settle at $762.30 a troy ounce on the New York Mercantile Exchange. This was the highest settlement since April 2.Members of the Association of Mineworkers and Construction Union this week voted to go on strike at platinum-producer Lonmin PLC (LNMIY, LMI.LN), but the union's president has asked members for more time to negotiate with the company's management."We want to avoid a strike," AMCU president Joseph Mathunjwa said. AMCU members say they are frustrated with the union recognition process at the mine after the group recently beat out a rival union for members. Union officials at AMCU and rival National Union of Mineworkers have been shot and killed in recent weeks.Lonmin stepped up security at its Marikana mine late Thursday as the company continued discussions with unions to try to stave off further unrest. The mine was the site of a violent strike last August when police killed 34 protesters, leading to strikes spreading across South Africa's mining sector.
Source: Wall Street Journal
June 7
RBI And Government Target Gold To Lower Current Account Deficit
(Kitco News) - The Indian government continues to target gold as a way to reduce its current account deficit and has now increased the duty on gold imports to 8% from 6%.The increase comes only a day after the Reserve Bank of India announced that it was expanding restrictions on gold imports on consignment basis to all nominated agencies including premium and star trading houses.In its continued attempt to dissuade people from investing in gold, Thursday, at an event in Mumbai, Finance Minister P. Chidambaram said that the RBI has advised banks against selling gold coins to retail customers. The minister also said that banks should not advise their clients to invest in gold.
June 6
U.S. bullion coin demand still at 'unprecedented' levels : Mint
(Reuters) - Demand for U.S. gold and silver bullion coins is still at "unprecedented" high levels almost two months after an historic sell-off in gold released years of pent-up demand from retail investors, the head of the U.S. Mint said on Wednesday. His comments are likely to allay concerns among some traders that frenzied buying by mom-and-pop investors since mid-April after prices plunged to two-year lows had started to fade. Their interest has helped prices recover to above $1,400 an ounce, providing key support to prices after institutional investors fled the futures market and exchange-traded funds. "Demand right now is unprecedented. We are buying all the coin (blanks) they can make," Richard Peterson, acting director of the U.S. Mint, said in an interview referring to the Mint's suppliers.
June 6
China's Gold Imports From Hong Kong Slump on Quota Backlog
China's gold imports from Hong Kong slumped in April from a record as banks failed to get quotas fast enough to meet surging demand from mainland buyers keen to purchase bullion as prices fell into a bear market.Mainland buyers purchased 126,135 kilograms, including scrap, compared with 223,519 kilograms in March, according to Hong Kong government data today. Net imports, after deducting flows from China into Hong Kong, were 75,891 kilograms, from 130,038 kilograms a month earlier, according to Bloomberg calculations. "Some qualified banks used up their gold import quota in the first three months and weren't able to get the paperwork done fast enough to bring in bullion in April," said Tian Rui, vice president of the precious metals division at INTL FCStone Trading Co. "We might see higher imports in May because demand surged after the rout."
June 5
Silver Equities too cheap: Maria Smirnova
Maria Smirnova joined Sprott Asset Management in 2005 and currently co-manages the Sprott Silver Equities Class. I asked for her insight into the current market environment for silver and silver companies. "We must discern which companies could survive the downturn. This is not a market where junior resource companies can raise money unless they have something tangible to offer. For this reason, we are focusing on companies that are already producing metal. They should stand the highest chance of surviving the current weak environment for resource equities. "If the merits of a junior's assets are weak, they may go bankrupt and be removed from the market. Companies with solid projects become takeover targets for mid-tier and major mining firms."
June 5
Gold & Silver Soaring As Embry Hits 50 Years In The Business
Eric King: "Today celebrates half a century in the business for you. What are your thoughts at this point in the bull market because you have seen a great deal of market action in the last half a century in this business?" Embry: "Everything is so different from when I first started that it's like I'm on a different planet. What's happened with respect to high frequency trading, algorithms, just overall manipulation, these markets aren't anything like they were 20, 30, 50 years ago, and I don't think it's for the better.
June 5
Impala Platinum Shaft Halted as About 3,000 Workers Go on Strike
Impala Platinum Holdings Ltd., theworld's second-biggest producer of the metal, said about 3,000workers started an unauthorized strike after an employee wasdismissed from one of its South African mines yesterday. Workers didn't report for duty at shaft No. 14 inRustenburg, northwest of Johannesburg, Bob Gilmour, a spokesmanfor the company, said by phone. "They are protesting thedisciplinary action," he said. Spokespeople for the Association of Mineworkers andConstruction Union, which represents more than 50 percent ofemployees at Impala, didn't answer calls. The National Union of Mineworkers didn't know about the strike, spokesman LesibaSeshoka said by phone.
June 5
RBI bans gold imports with bank credit
MUMBAI: In what traders termed a near panic reaction to the sliding Indian rupee, the RBI banned import of gold by domestic consumers through bank credit and has made overseas purchase of the precious metal a cash & carry business.The move will nearly cripple retail jewellery trade and probably lead to higher smuggling into the country, putting the clock back by nearly two decades when socialistic governments restricted gold imports. A day after P Chidambaram said that"necessarily we will have to check' gold imports," the central bank barred gold importers using letter of credit from banks for gold imports.
June 5
JPM Vaulted Gold Slides To New All Time Low
Moments ago, the daily Comex update showed that yet another 15.4K ounces were withdrawn out of JPM, following the latest gold withdrawal, offset by a 49K ounces reallocation. This however is still short of the roughly 70K ounces due for delivery. Long story short, as of close of activity on June 3, the total gold held by the JPMorgan depository is now the lowest it has ever been at just 788,786 ounces and once again falling fast.
June 4
Another Strong Month for US Mint Gold and Silver Bullion Sales
American Silver EagleAlthough the United States Mint's gold and silver bullion sales receded from the exceptionally strong levels seen in April, the monthly sales for May handily exceeded year ago levels. The lower market prices for gold and silver continue to result in higher demand for physical precious metals.During May 2013, sales of the popular one ounce American Silver Eagle bullion coins reached 3,458,500. This was a decline compared to the prior month when 4,087,000 coins were sold. However, it represented an increase of 20.3% compared to the year ago period when sales were 2,875,000.The monthly sales total for Silver Eagles still may not be a reflection of total overall demand for the coins. The US Mint continues to conduct sales under their allocation program, which rations the available supplies amongst authorized purchasers. In January an initial burst of demand was strong enough to exhaust the Mint's entire inventory of coins.
June 4
Off the Charts: Sign of Excess?
The NY times notes that NYSE margin debt is at an all-time high and that margin debt to GDP ratio is above 2.25%. The other two times that margin exceeded 2.25% of GDP was in 2000 and 2007.
June 4
The American Consumer is Not Okay
The spin-doctors are hard at work talking up America's subpar economic recovery. All eyes are on households… Don't believe it…Over the 21 quarters since the beginning of 2008, real (inflation-adjusted) personal consumption has risen at an average annual rate of just 0.9%. That is by far the most protracted period of weakness in real US consumer demand since the end of World War II – and a massive slowdown from the pre-crisis pace of 3.6% annual real consumption growth from 1996 to 2007… Over most of the postwar period, this post-recession release of pent-up consumer demand has been a powerful source of support for economic recovery. In the eight recoveries since the early 1950's (excluding the brief pop following the credit-controls-induced slump in the 1980's), the stock-adjustment response lifted real consumption growth by 6.1%, on average, for five quarters following business-cycle downturns; spurts of 7-8% growth were not uncommon for a quarter or two. By contrast, the release of pent-up demand in the current cycle amounted to just 3% annualized growth in the five quarters from early 2010 to early 2011. Moreover, the strongest quarterly gain was a 4.1% increase in the fourth quarter of 2010. This is a stunning result… With the benefit of hindsight, we now know that the 12-year pre-crisis US consumer-spending binge was built on a precarious foundation of asset and credit bubbles. When those bubbles burst, consumers were left with a massive overhang of excess debt and subpar saving…
June 4
Gold Still Gleams for China's Miners
Deal activity has declined since last year, but Chinese gold miners continue to buy mines, as they count on a recovery in gold prices. On Friday, Chinese gold miner Kingwell Group Ltd. said it plans to make an offer for more than half of Brazilian Gold Corp. , a Canadian mining firm with a major project in northern Brazil, taking the value of deals launched by Chinese companies this year to $436 million, according to data provider Dealogic. The total is a fraction of last year's $2.9 billion, but it is sharply higher than the $260 million worth of deals from Canada, where some miners are seeking to sell noncore assets in response to the decline in gold prices. The nation is home to Barrick Gold, the world's biggest gold miner, as well its smaller rival Kinross Gold Corp.
Source: Wall Street Journal
June 4
Platinum Near Two-Week High on South Africa Concerns
Platinum futures rose to the highest price in almost two weeks on Monday after a South African mineworkers union official was killed in a shooting, raising worries of fresh labor strife in the top platinum-producing country.The most actively traded platinum contract, for July delivery, was recently up $23.70, or 1.6%, at $1,485.50 a troy ounce on the New York Mercantile Exchange. Futures rose as high as $1,494 an ounce, the highest intraday price since May 21.A member of South Africa's National Union of Mineworkers was killed and another wounded in a shooting at the union's office at platinum miner Lonmin PLC (LMI.LN) on Monday.Platinum prices "received some support from the news," said Peter Hug, director of trading with Kitco Metals. "The South African situation needs to be watched closely."South Africa accounted for 73% of platinum mine output last year, according to Johnson Matthey, a specialty chemicals company and major platinum user. Production in South Africa fell 15% last year as strikes rippled through the industry following clashes at Lonmin's Marikana mine.
June 4
Marc Faber: The World Is a Mess, But Junior Mining Stocks Could Double
The world's economy is in tatters and safe havens are few and far between, says legendary contrarian Marc Faber. The banking crisis in Cyprus has shown that even bank deposits are not safe. The publisher of the Doom, Boom and Gloom newsletter, surveying the world from his perch in Hong Kong, discusses the impact of unemployment in Europe, the economic slowdown in China, asset bubbles and the turnaround prospects for precious metals miners. Faber also reveals his investment strategy for these volatile times in this interview with The Gold Report.
June 3
Sprott - This Is Why There Is Such A Massive Shortage Of Gold
Decline in GLD tonnage shows gold's strength, Sprott tells King World News Interviewed today by King World News, Sprott Asset Management CEO Eric Sprott discloses that rising gold price premiums in Shanghai precede gold tonnage reductions in the exchange-traded fund GLD. While news reports and market commentaries have been portraying the decline in GLD's gold tonnage as a sign of gold's weakness, Sprott says, it is actually an indication of strength and shows the shortage of gold among bullion banks.Sprott's evidence provides support for the contention made two weeks ago in an interview with King World News by Hong Kong fund manager William Kaye, who said GLD's gold was being looted and shipped to Asia in an arbitrage scheme.
June 3
'Bazooka at a knife fight' – the April 12 gold takedown – Arensberg
However, in looking at the maths behind the transactions Arensberg notes that the 124 tonnes would have amounted to around 40,000 COMEX contracts, while the position limit at that time of the month would have been 3,000 contracts for an individual trader. So, on Arensberg's calculations he notes that "in order for the initial 124 tonne sale to have occurred "legally" it would have had to have been 14 traders, all with zero orders open, all acting simultaneously, all acting independently, in their own self-interest, without colluding with each other to "sell-for-effect" or conspiring to foment a price smash." The chances of this happening are, to say the least, infinitesimal. Yet the Commodities Futures Trading Commission (CFTC), the regulatory body supposed to oversee such dealings is seen to be making no attempt to investigate.
June 3
China's Demand For Physical Quadruples Gold Premium
The premium that gold buyers in China pay to take immediate delivery of bullion has jumped four-fold in the last six weeks following the gold price 'crash'. As Bloomberg notes, even before the mid-April drop, China's gold imports jumped to a record in the first quarter as domestic demand (776 tons) outweighed domestic supply (403 tons). Images of consumers overwhelming jewelry shops were everywhere but the following chart clarifies just what the suspected gold manipulation did for demand as China's gold premium, while admittedly noisy, jumped from a long-run average of around $7 to over $32! As one analyst notes, the gold "premium is a function of demand and supply, and right now you could interpret the high premium in Shanghai as a sweetener to entice the overseas gold supply to flow into China."
June 3
BIS records startling collapse of eurozone interbank loans
Cross-border lending is falling drastically across the western world as banks slash exposure to Europe and bend to tougher capital rules, according to data from the Bank for International Settlements. Foreign bank loans fell by $472bn (£311bn) in rich countries in the fourth quarter of last year, contracting at an 8pc annual rate. The retrenchment was led by a collapse of interbank loans in the eurozone, where lenders in the creditor states continue to pull back from periphery countries.Volumes fell by $284bn across the eurozone, a 20pc rate of contraction. Belt-tightening by banks is a key reason why the region remains stuck in recession for the seventh quarter in a row.The BIS said in its quarterly report that the markets are "under the spell of monetary easing", convinced that central banks will keep the asset boom going despite signs of "broad deceleration" in the US economy and fatigue in China.
Over the years, investors in our funds have benefited greatly from our early and ongoing investments in precious metals companies and bullion. 
Invest with a leader and authority in precious metals investing
Currently entrusted with over $5 billion in precious metals related investments
Offering a diverse suite of precious metals funds to meet your needs
Sprott's Industry Leading Line-up
of Precious Metals Products
       *Also available on corporate class
Additional Information
Gold
24 hour $US Dollar price per ounce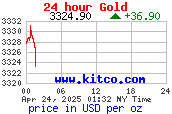 Silver
24 hour $US Dollar price per ounce