Sprott
Precious Metals Watch
SPROTT PRECIOUS METALS FEATURE 
 
July 19
Gold cuts gains on dollar strength after U.S. data
Gold cut some earlier gains on Tuesday, as the dollar hit a four-month high after data showed a surge in U.S. housing starts in June, although weaker equities provided support. 
July 18
After Brexit, ordinary Britons warm to gold as safe haven
When Britain voted to leave the European Union, the thoughts of Yorkshire teacher Grace Hall immediately turned to her family's bottom line. 
July 17
Gold, Trump and Rates: Bank That Foresaw Rally Flags $1,500
Gold is in a major bull market and may surge to more than $1,500 an ounce as low interest rates buoy demand and the U.S. presidential election looms, according to DBS Group Holdings Ltd., which foresaw this year's rally and is now advising investors to buy any declines. 
July 12
Poised for a 'gut check', gold's bull run is not over yet: Canaccord Genuity
This has been an incredible year for gold equities, with shares of most miners doubling or tripling off their lows in January. 
July 11
Japan's Gold Sales Jump Thanks to Abenomics Worries
Tetsushi Kudo, a 50-year-old office worker, bought a one-ounce gold coin this month for the first time. 
July 9
Gold has 'unlimited upside' because the Fed is 'confused' on policy: Trader
Gold just posted its longest weekly winning streak since July 2011, but if investors missed out on the recent rally, fear not. 
July 7
Gold Glimmers for Investors Seeking a Safe Haven
Global gold holdings topped 2,000 metric tons for the first time in three years as the Brexit fallout and speculation that U.S. interest rates won't rise anytime soon sent investors hunting for a haven.  
July 7
Global Precious Metals Comment: Upgrading gold expectations
Gold has likely entered the early stages of the next bull-run. 
July 7
Silver Is at a Two-Year Peak: What's Next?
Silver prices seem to be on a run over the past few days. Silver hit its two-year high of $21 per ounce on Monday, July 4, 2016. 
July 7
DoubleLine's Jeffrey Gundlach says gold is the place to be
Plus: The U.S. economic recovery that never was, millennials embrace investment caution, and financial terms you might be using incorrectly 
July 7
Top Gold Forecaster Who Changed Tack Near Bottom Sees More Gains
Gold's top forecaster, who in February abandoned her bearish outlook to correctly call bullion's surge, sees more gains in store before prices taper off by year-end. 
July 6
Gold Has Entered "A New Bull Run": UBS
As the British pound falls to a new 31-year low on expectations of rate cuts and the restart of asset purchase programs by the Bank of England, and as Japanese government bond hits new record lows, investors fearful of central bank helicopter money are seeking the cover of gold and its inferior cousin silver. 
July 6
Gold races to 28-month high, oil pressured as Brexit fears return
Gold rallied to its highest since 2014 on Wednesday and oil struggled to recover from deep losses, as renewed fears over the impact of Britain's exit from the European Union pushed investors toward safe havens. 
July 1
Gold's Shimmer Is Sign Of Dark Days Ahead
Market watchers around the world are struggling to figure out what is happening in our global economy. 
June 30
Goldman Changes Course after Brexit, Recommends Gold
Goldman Sachs has been infamous this year for its recommendations on gold.  
June 29
Gold builds on gains, heads for best first-half in more than 40 years
Gold edged higher Wednesday, trading near its highest level in more than two years amid long-term financial uncertainty following Britain's surprise vote to leave the European Union.
June 29
"You Want To Own Gold" Marc Faber Warns "Brexit Is The Excuse For QE4"
"If Brexit is used as an excuse, the central banks will print more money, QE4 in the U.S. is on the way and the depreciation in the purchasing power of currencies will continue," warned a vociferous Marc Faber said in a Bloomberg TV interview today from Hong Kong. 
June 28
Greenspan Warns A Crisis Is Imminent, Urges A Return To The Gold Standard
On Friday afternoon, after the shocking Brexit referendum, while being interviewed by CNBC Alan Greenspan stunned his hosts when he said that things are about as bad as he has ever seen. "This is the worst period, I recall since I've been in public service. There's nothing like it, including the crisis — remember October 19th, 1987, when the Dow went down by a record amount 23 percent? That I thought was the bottom of all potential problems. This has a corrosive effect that will not go away. I'd love to find something positive to say." 
June 28
There are now $11.7 trillion worth of bonds with negative yields
The total held as well as the average duration have surged in the wake of the Brexit vote. 
June 22
Why Brexit and FOMC Decisions Could Control Gold

June 20
Gold price: Hedge funds bullish bets highest since 2011
On Monday gold continued to bubble under the psychologically important $1,300 an ounce level following a volatile week where the metal briefly reached a nearly two-year high. 
June 15
Gold hits near six-week highs ahead of Fed statement, Brexit vote
Gold hit its highest in almost six weeks on Tuesday, rising on worries about a potential British exit from the European Union and expectations the U.S. Federal Reserve will not raise interest rates at its June meeting. 
June 10
Why Gold and Silver Posted Another Gain
Fear of an interest rate hike seems to have loosened its grip on the precious metals, as they have been surging over the past couple of days. 
June 9
Why big investors think it's time to hoard gold 
Fear is on the rise and so is the price of gold. 
June 8
What Is the Silver Supply and Demand Scenario?
In 2016 so far, silver has outperformed its precious metal peers. Silver has risen about 19.6% on a year-to-date basis while gold has risen 18%. 
June 6
Indian Gold Imports Said to Drop for Fourth Month on Slow Demand
Gold imports by India, which vies with China as the world's top consumer, tumbled for a fourth straight month as a 16 percent increase in domestic prices since the start of the year kept buyers away, according to a person familiar with provisional Finance Ministry
June 3
Gold jumps more than 2 pct after U.S. payrolls data
Gold surged more than 2 percent and was on track for its biggest one-day jump in more than a month on Friday after U.S. payrolls data fell well short of forecasts, boosting expectations that the Federal Reserve will stand pat on interest rates. 
May 31
Harvard, IMF economist: Emerging markets must go for gold
Led by Russia, central banks remained strong buyers of gold in the first quarter of the year purchasing 109 tonnes.  
May 26
Platinum and Palladium Markets Stay Volatile in 2016
Precious metals have been highly volatile in 2016. The unrest in the markets has buoyed precious metals as a haven investment. 
May 26
How Are Central Bank Demands Impacting Gold?
Gold has been falling, and the Markets have been taking a skeptical approach to the precious metal. But major banks such as JPMorgan Chase, Goldman Sachs, and HSBC are remaining optimistic on gold.  
May 25
Venezuela sells gold reserves as economy worsens
Venezuela's gold reserves have plunged to their lowest level on record after it sold $1.7 billion of the precious metal in the first quarter of the year to repay debts.  
May 24
Why Is JPMorgan Chase Positive on Gold?
After seeing three straight years of losses, gold (GLD) performed extremely well at the beginning of 2016. As gold's price continued to surge, many of Wall Street's largest banks (IYF) flocked to it.  
May 19
PRECIOUS-Gold slips to 3-wk low on Fed rate hike expectations, firmer dollar
Gold slipped to a three-week low on Thursday, extending overnight losses after minutes from a Federal Reserve policy meeting signalled the U.S. central bank could raise rates as soon as next month, boosting the dollar to multi-week highs. 
May 16
China to buy $90 billion gold vault in London
The Chinese state-owned ICBC Standard Bank (IDCBF), the world's biggest bank by assets, has agreed to buy Barclays precious metals storage business, including its state-of-the-art storage facility in London. 
May 16
Five Charts Show Why George Soros Is Investing in Gold Mining
Gold mining equities have become the darlings of the market, luring billionaire George Soros to buy a $264 million stake in Barrick Gold Corp. Bloomberg's index of 14 major bullion miners doubled this year after plunging 76 percent in the previous five years. 
May 16
Central Bankers' Wisdom Faulted as Gold Holdings Surge 25%
The great gold rush of 2016 is gathering pace. Holdings in exchange-traded funds have now surged by a quarter, with investors taking advantage of lower prices over the past two weeks to enlarge stakes on rising concern about central bank policy making worldwide. 
May 15
Platinum Seen Over Worst as Bulls Wager on Automaker Demand
There's a growing feeling in the platinum and palladium market that the worst is over. After dropping to the lowest in at least half a decade in January, prices since rallied back into a bull market as the outlook for continued low U.S. interest rates reignited the appeal of precious metals. The two commodities will climb about 20 percent through the end of next year, partly on higher demand from carmakers, according to 12 traders and analysts surveyed by Bloomberg. 
May 12
Gold Fund Buying Frenzy Spurs Demand to Second-Highest Ever
Gold demand surged to the second-highest level ever as investors piled into funds, doubling investment in the metal. 
May 10
What Boosted Franco-Nevada's 1Q16 Revenue?
Franco-Nevada (FNV) delivered GEO (gold equivalent ounces) of 106,621 ounces during the quarter.  
May 4
Why Is Goldman Sachs Still Bearish on Gold?
While investors worldwide have been interested in the performance of gold this year, Goldman Sachs, one of the top Wall Street banks, has remained increasingly negative on the precious metal.  
May 2
Gold Crosses $1,300 Threshold as Rates Outlook Undermines Dollar
After three years of being scorned, gold is making a powerful comeback.  
April 29
How Strongly Is the US Dollar Controlling Gold?
The US dollar and precious metals, especially gold, have been taking their price direction from each other. Moreover, gold is more dollar-dependent than the other way round.  
April 26
HSBC: Gold could explode if Britain votes for Brexit
Gold prices could explode if Britons decide to vote for leaving the European Union in the referendum on June 23 — also known as a Brexit. 
April 25
A Different Type Of Gold Miners ETF
It is not a secret that gold and silver miners exchange-traded funds are topping their physically-backed counterparts in significant fashion this year.
April 22
Why Did Precious Metals Have Another Great Day?
Precious metals have once again benefited from a fall in the US dollar.  
April 21
Gold hidden in secret vaults beneath the Bank of England worth $248bn
A fifth of the world's gold is hidden under London, worth an estimated £172 billion ($248 billion). 
April 21
BNP Sees Risk of Central Bank `Overreach' With $1,400 Gold
Gold may advance to as much as $1,400 an ounce over the next 12 months, according to BNP Paribas SA, which cited rising investor concern about the efficacy of central banks' policies to sustain growth. 
April 18
Silver Heads for a Bull Market as Prices Rally to 10-Month High
Silver is poised to enter a bull market after prices jumped to a 10-month high and as investors pile into precious metals, with top forecasters' staying positive on gold. 
April 17
Funds Are Betting the Gravity-Defying Gold Rally Isn't Over Yet
When it comes to gold, hedge funds are betting that what goes up will continue to go up. 
April 15
Apple recovered 2,204 pounds of gold from broken iPhones last year
As if Apple needed the cash, the company has discovered a way to make tens of millions of dollars off of old, broken, unwanted iPhones. 
April 14
Gold Demand Jumps in Japan as Sub-Zero Rates Spur Call for Haven
Gold sales surged in Japan through March after the country's move to set negative interest rates sent investors scurrying for a shelter, a further sign that global central bank policy of keeping borrowing costs low or below zero is stoking demand for bullion. 
April 11
Gold, the Emergent Hero in 2016: Is It All Just a Sentiment Play? 
Many analysts are comparing the current year's performance of gold and silver to their performances in 2008. 
April 11
Hedge Funds Abandoning Dollar's Biggest Bull Run in a Generation
Hedge funds are close to calling it quits on the dollar's best run in a generation. 
April 10
China goes prospecting for world's gold mines
Chinese gold miners are aggressively scouting for overseas acquisitions, encouraged by historically low gold prices that could help them scoop up assets cheaply. 
April 7
India Could Be Sitting on a Gold Mine
Gold is so popular in India that it's created an economic problem for Prime Minister Narendra Modi. 
April 6
London's $5 Trillion Gold Hub Getting Ready for a Major Overhaul
There's a competition brewing to figure out how the world's largest gold-trading hub can get bigger and better. 
April 5
Why Goldman's commodity chief wants investors to bet against gold
Gold futures have been among the best performers this year. But that hasn't stopped Goldman Sachs' head of commodities, Jeff Currie, from recommending that investors bet against the yellow metal. 
April 4
Clashing Views on Gold
In the first quarter, gold registered its strongest quarterly gain in 30 years. But what lies ahead for the metal? 
April 3
Gold Lovers Bet Party Isn't Over After 17% First-Quarter Surge
"Investment demand is there on the bullion end and obviously on the equity end as well," Maria Smirnova, a portfolio manager at Sprott Asset Management in Toronto, which oversees C$8.5 billion ($6.5 billion). "There's a sea change going on around the world with the realizations that the monetary policies have not been as effective as central banks had hoped. We don't see inflation. Rates are declining. That's positive for gold right now."
March 31
ETF Performance Report: Q1 & March
U.S. equities and stock exchange traded funds slipped on the last day of March, ending the month on a muted note after a wild quarter that pushed the markets into a correction before clawing back the losses on swift rebound. 
March 29
Gold's Rally Keeping Chinese Gold Demand Subdued
Gold imports into China from Hong Kong saw a slight boost last month, compared to its dismal start to the year. 
March 29
PRECIOUS-Dovish Yellen, softer dollar support gold near $1,240
Gold held on to sharp overnight gains on Wednesday, buoyed by a softer dollar and Federal Reserve chair Janet Yellen's remarks that the U.S. central bank should be cautious in raising interest rates. 
March 28
Chinese Investors See Golden Opportunity
Jewelry demand takes a back seat to demand for coins and bars as a haven from global economic uncertainty. 
March 24
What Are the Current Macro Indicators for Gold and Silver?
The precious metals have a long-term relationship with competing assets like equities, bonds, and other commodities.  
March 22
Sprott's Reik on Perceptions Influencing Gold Investing (Audio)
GUEST: Trey Reik, Senior Portfolio Manager, Sprott Institutional Gold & Precious Metal Strategy at Sprott Asset Management, on the flight to gold, and outlook for precious metals. 
March 22
Why Goldman is wrong about gold
Goldman Sachs has been predicting the demise of gold for the past few years.  
March 19
Indian jewellers calls off strike; gold imports to rise
Indian jewellers called off a 19-day strike late on Saturday after government assured they will not be "harassed" by the excise department in collecting a new tax, the head of a trade body told Reuters. 
March 17
Here's Why Surging Gold Miner Stocks May Still Be Bargains
Gold-mining companies that are seeing their shares surge the most in decades are still cheap, based on historic measures of their reserves. 
March 16
Gold jumps to $1,260/oz after Fed statement pressures dollar
Gold rallied 2 percent to $1,260 an ounce on Wednesday, turning higher after the Federal Reserve indicated that the United States continues to face risks from an uncertain global economy, pressuring the dollar. 
March 16
Munich Re stashes gold and cash to counter negative rates
German reinsurer Munich Re is boosting its gold and cash reserves in the face of the punishing negative interest rates from the European Central Bank, it said on Wednesday. 
March 13
Japan's Biggest Gold Retailer Says Negative Rates Boost Demand
Japan's negative interest rates are boosting demand for gold, according to the nation's biggest bullion retailer. 
March 13
Gold Believers Scoff at Goldman Warning as Wagers on Rally Rise
There seems to be almost nothing that will deter this year's newfound gold enthusiasm. 
March 11
Gold back in vogue with investors amid uncertain economic outlook
Higher demand for the precious metal is also boosting gold miners' share prices. 
March 11
Canada sale may mark a long-term bottom in gold
Many have been noting how the Bank of Canada's gold reserves have been reduced to nothing. Yes, you heard me right. 
March 10
Where Is Goldman Sachs Pointing on Gold?
The tumbling of the financial markets since the beginning of 2016 boosted the safe-haven demand for gold and also silver to an extent.  
March 9
Platinum shortfall seen for 5th straight year
TOKYO -- The platinum market will likely face a supply shortage for the fifth straight year in 2016.
March 7
PDAC 2016: Giant bifurcation underway in junior mining sector
In mining, the great bifurcation is finally underway. 
March 7
The global experiment with negative interest rates is fantastic news for gold
The longer the world's central banks continue to experiment with negative interest rates, the better the outlook for gold, according to Britain's biggest bank, HSBC. 
February 29
Gold scores for biggest monthly gain in four years
Gold futures settled higher on Monday to score their largest monthly gain in about four years, as continued skittishness around stocks fostered demand for an asset viewed as a haven. 
February 28
Gold Becomes the Biggest Winner of 2016
Gold's comeback is dominating 2016. The precious metal is the year's best-performing major asset.  
February 26
Gold Emerges Again as a Superhero while Markets Are in Turmoil
Since the start of 2016, the most crucial element playing with the price of precious metals is volatility in the Markets. Gold futures for April delivery on Wednesday, February 24, 2016, once again saw an up day as the Markets were fueled by fear. 
February 26
Deutsche Bank: It's time to buy gold
Gold is still expensive, but rising economic risks and market turmoil mean investors should buy it for insurance, Deutsche Bank said Friday. 
February 23
India's February gold imports seen at lowest since 2013, high prices drag
India's overseas gold purchases are likely to hit a more than two-year low in February, as rising prices and hopes for a cut in import taxes keep buyers away, industry sources said. 
February 22
Gold's Bull-Market Flirtation Has Investors Swooning Over ETFs
Precious-metal inflow of $4 billion is most since July 2011. As economy slows, investors chasing `anything moving higher'.
February 16
Gold rally takes a breather
Some analysts say the pullback makes more sense than the rally 
February 12
Shunned for Years, Gold Stages Comeback as Equities Melt Down
The precious metal has climbed 20 percent so far this year to $1,260.60 an ounce. 
February 11
Gundlach Sees Gold Hitting $1,400
New York (Reuters) – Jeffrey Gundlach, co-founder and chief executive officer of DoubleLine Capital, said on Thursday that gold prices are likely to reach $1,400 an ounce as investors lose faith in central banks. 
February 11
Global central banks propped up gold demand in 2015: Report
Central banks helped prop up demand for bullion, but Russian retail customers abandoned the market as the ruble collapsed, the World Gold Council's 2015 trends report revealed. 
February 10
Gold Roars to One-Year High as Turmoil Drives Safe Haven Demand
Gold climbed to the highest in a year as investors sought a haven from tumbling stock markets after Federal Reserve Chair Janet Yellen suggested the central bank may delay raising interest rates. 
February 10
Canada sells nearly half of all its gold reserves
The government of Canada sold off nearly half its gold reserves in recent weeks, continuing a pattern of moving away from the precious metal as a government asset. 
February 9
From ZIRP to NIRP: What's the Fed's next move?
Negative interest rates in the U.S. may seem like a far-fetched idea, but the Federal Reserve is telling banks to prepare, just in case.

February 8
Gold Traders Are Betting on a Bigger Comeback
Gold just reached its highest price in seven months, and investors are betting there are more gains to come by April. 
February 3
Dollar Suffers Worst Day in 7 Years as Traders Face Fed Reality
The dollar plunged by the most since the Federal Reserve announced the start of its Treasury bond-buying program seven years ago, as signs of a slowing U.S. economy helped derail bets on diverging policies between global central banks. 
February 3
The surprising new case for gold
Could low inflation — often considered a scourge on gold prices — actually be bullish for gold? 
February 2
New Indian rule backfires, boosts unofficial gold trade
Try as it might, the Indian government appears to be unable to curb the country's love for gold. 
February 2
PRECIOUS-Gold hits new three-month high as global economy concerns persist
Gold touched a new three-month high on Tuesday as concerns about the global economy and a further drop in the oil price pushed investors towards safe-haven assets. 
January 28
For Gold Miners, a Lift from the Loonie
The weak loonie is providing a powerful boost for many Canadian gold miners. 
January 27
Bundesbank Brings Home German Gold From New York, Paris: Chart
The Bundesbank transferred around 110 metric tons of gold from Paris and just under 100 tons from New York to its Frankfurt vaults last year, turning the city into the biggest storage site for Germany's reserves.  
January 26
Kazakhstan Lifts Gold Holdings in 2015 as Central Banks Buy
Kazakhstan expanded its gold reserves yet again in December to boost the country's holdings 16 percent in 2015 from a year earlier, according to figures from the International Monetary Fund. 
January 21
Russia adds 208 mt to gold reserves in 2015, up 21% on year
Russia added around 208 mt to its official gold reserves in 2015, data released by the country's central bank implied Thursday, following additions of 21.6 mt in December.  
January 11 
Global risks are chief concern for U.S. economy -Fed's Lockhart
Jan 11 Global risks including a slowdown in China and continued low oil prices are now the chief risks to what is an otherwise promising outlook for the U.S. economy, Atlanta Federal Reserve Bank President Dennis Lockhart said on Monday. 
January 11
U.S. Mint quadruples American Eagle silver coin allocation
Jan 11 The U.S. Mint said on Monday it set the first weekly allocation of 2016 for American Eagle silver coin sales at 4 million ounces, roughly four times the amount rationed in the last five months of 2015, after a surge in demand. 
January 7
China adds to gold reserves in December, buying streak to continue
China added more gold to its reserves in December, bringing its total purchases in the second half of 2015 to more than 100 tonnes, with analysts predicting the country will continue purchasing at a similar pace this year. 
January 4
Veteran Investor Rick Rule Reveals a Unique Arbitrage Opportunity
One of the hardest things for a mining executive to do may be nothing. But in a market that is not rewarding companies for pulling resources out of the ground, Sprott US Holdings Inc. CEO Rick Rule would prefer to see what he calls "optionality" rather than dilution from companies looking to justify salaries. 
December 4
Gold Mining ETFs Spike As Metal Shines
ETFs holding gold and silver miners grabbed gains Friday, as bullion bounced from oversold conditions. 
December 1
US Mint American Eagle gold coin sales surge, silver at record
The U.S. Mint's sales of American Eagle coins surged in November, with gold nearly tripling month-over-month and silver already reaching a new annual record as bullion prices fell to multi-year lows, data released on Monday showed.
November 30
UPDATE 1-China boosts gold reserves by nearly 14 tonnes in October
Nov 30 China added nearly 14 tonnes of gold to its foreign exchange reserves in October, the slowest pace of purchase since the central bank started reporting its reserves of the precious metal on a monthly basis earlier this year.
November 16
SGE Withdrawals Break Yearly Record. World Gold Council Continues To Hide Insatiable Chinese Gold Demand. 
The amount of gold withdrawn from the vaults of the Shanghai Gold Exchange (SGE), which equals Chinese wholesale gold demand, accounted for 45 tonnes in the trading week that ended on 6 November.  
November 12
Global gold demand hits more than two-year high in Q3 - WGC
Global gold demand hit its highest in more than two years in the third quarter as July's price drop boosted buying of jewellery, coins and bars, the World Gold Council said on Thursday. 
November 4
There Are Now 293 Ounces Of Paper Gold For Every Ounce Of Physical As Comex Registered Gold Hits New Low
Unlike Bitcoin, which has doubled in the past few weeks (as the predicted Chinese buying onslaught indeed materialized), it hasn't been a good week for spot gold prices which have tumbled from $1,180 to just over $1,100. 
October 29
October Was a Good Month for Gold Miners
Since the FOMC (Federal Reserve Open Market Committee) policy-setting meeting kept gold bugs on their toes, October seems to be positive for gold miners. 
October 28
India Moves Ahead of China in Gold Consumption
According to the GFMS (Gold Fields Minerals Services) report, physical gold demand witnessed a rise of almost 7% in 3Q15.  
October 27
Gold demand rises in Q3 on surge in coin, bar buying - GFMS
Surging demand for coins and bars and a rise in buying by central banks pushed physical gold demand up 7 percent in the third quarter, an industry report showed on Tuesday, though the market remained in a surplus of 51 tonnes. 
October 27
Gold Investors Are Watching This Week's FOMC Meeting
Gold entered the positive territory yesterday and scaled the high of $169.60 an ounce. Gold enthusiasts likely have their eyes set on the FOMC meeting scheduled for today and tomorrow. 
October 20
This will give gold another boost: Analyst
George Gero, RBC Capital Markets, has a play on a gold bounce. And CNBC's Bertha Coombs and the Futures Now traders watch for gold's key level. 
October 16
October Treat: Junk Bonds & Gold ETFs Pop
A new group of ETFs have bullied their way into the top 10: gold and silver miners. In fact, precious-metals-related funds now make up six of the top 10 positions for October, as can be seen from the table below.
October 15
Gold Comes Back to Life as Prices Exceed 200-Day Moving Average
Gold is starting to shed its reputation as a dead asset, and bulls can thank signs the U.S. economy is starting to sputter for the boost. 
October 14
Gold Bugs Rejoice On Key ETF Move; Miners Glow
Gold-mining ETFs surged Wednesday as gold prices hit a three-month-plus high amid receding likelihood of a rate lift-off in 2015. 
October 2
Gold Rallies After Downbeat U.S. Jobs Report
Gold is posting a solid rally in the aftermath of a big miss to the downside in today's much-anticipated U.S. jobs report.  
October 1
U.S. Mint Posts 181% Jump In Gold Coin Sales, Silver Sales Hit 29-Year Record High In Q3
Gold and silver prices remain range-bound as markets await a potential U.S. interest rate hike at some point this year, however, bullion coin sales have never been better according to the latest data released by the U.S. Mint.
Sprott's Industry Leading Line-up
of Precious Metals Products
       *Also available on corporate class
Gold
24 hour $US Dollar price per ounce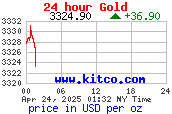 Silver
24 hour $US Dollar price per ounce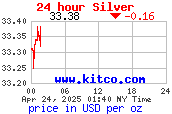 Platinum
24 hour $US Dollar price per ounce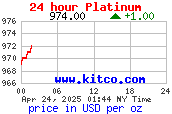 Palladium
24 hour $US Dollar price per ounce