Sprott
Precious Metals Watch
SPROTT PRECIOUS METALS FEATURE
July 17
China Gold Reserves Top Russia in First Disclosure Since '09
China increased its gold reserves 57 percent, overtaking Russia to become the country with the fifth-largest hoard in its first disclosure in six years. 
June 19
The Mysterious "Massive" Seller Who Flash Crashed Gold In 2014 Has Finally Been Revealed
Back in late 2013 and early 2014, the gold (and silver) market was stunned by a series of massive, unprecedented "stop" or "velocity logic" sales which sent the price of the precious metal crashing so furiously they halted the entire gold futures market anywhere between 10 and 20 seconds. Some examples: 
June 4
Who's Next? China Finally Starts Snapping Up Gold Miners
One (perhaps the only) bright spot in the past few year's gold market has been Chinese and Indian demand for the metal. 
June 4
Russia to Increase Its Gold Reserves – Central Bank Head
The head of Russia's Central Bank is determined to increase the country's gold reserves to its previous levels in 2012-2013, from $360.5 billion up to $500 billion. Read more: http://sputniknews.com/business/20150604/1022941140.html#ixzz3cBu5lOAb 
June 2
Is gold demand/supply balance crunch already here?
We are indebted to Nick Laird (www.sharelynx.com and www.goldchartsrus.com) for the fascinating chart reproduced below which shows the cumulative gold demand from China and India (represented by SGE withdrawals for the former and gold imports for the latter) which demonstrates in graphical form just how much gold these two Asian giants have been accumulating over the past seven years.  
June 1
China gold demand holding up well – new record ahead?
Chinese gold flows as represented by SGE withdrawals are holding up extremely well. 
May 25
Above-ground platinum stocks unlikely to reach zero
Above-ground inventories of platinum are unlikely ever to reach zero, World Platinum Investment Council CEO Paul Wilson predicted. 
May 24
China Establishes World's Largest Physical Gold Fund
While many eagerly await the day when China will finally reveal its latest official gold holdings, a number which when made public will be orders of magnitude higher than its last 2009 disclosure of just over 1,000 tons, or less even than Russia, China continues to plough ahead with agreements and arrangements to obtain even more gold in the coming years. 
May 20
PBOC Gold Purchases: Separating Facts from Speculation
As we are approaching the moment the PBOC unveils they have more physical gold in reserve than what has been disclosed since 2009, 1054 tonnes, we will again analyze everything there is to find about PBOC gold purchases.  
May 18
Platinum supply still in deficit but not as large – WPIC
The WPIC's Q1 platinum report sees platinum remaining in deficit this year, but not as much so as the recent such report from GFMS. 
May 15
Ray Dalio: "If You Don't Own Gold, You Know Neither History Nor Economics"
Bridgewater's Ray Dalio explains in under 120 seconds why everyone should allocate some of their portfolio to gold.
May 14
WGC resurrects China as world No. 1 gold consumer
The latest Gold Demand Trends analysis from the WGC sees a stable supply/demand picture. 
May 14
Germans pile into gold amid Greek eurozone default fears
Economic uncertainty in Europe and fear of a Greek default are turning people to buy gold bars and coins.
May 14
India's Q1 gold demand up 15 per cent on positive mood: WGC
The total jewellery demand for Q1 grew 22 per cent to 150.8 tonnes compared with 123.5 tonnes last year 
May 12
Why China Is Taking Control of Physical Gold Pricing
The Chinese have always been in love with gold. And this year especially China is taking several steps to rattle gold markets. 
May 12
China IMF accounts adjustment could lead to new gold reserve announcement
China's State Administration of Foreign Exchange has announced that the nation is to bring its Current Account reporting in line with International Monetary Fund standards. 
May 7
Silver's top 10s: Countries, companies and mines
GFMS's latest World Silver Survey gives analysis of silver supply and demand, but provides little indication about what may unfold in the months ahead. 
May 4
China's SGE gold flows still at high level – 51t last week
For the second week in a row, gold withdrawals from China's Shanghai Gold Exchange (SGE) have been at around 50 tonnes – a high level for the post Chinese New Year period. 
April 29
GFMS Q1 update confirms China as world No. 1 gold consumer
GFMS has published its Q1 update to its detailed Gold 2015 report with its latest views on global gold demand and price. 
April 29
India brushes off concerns over gold import spike - for now
Weak oil and commodity prices are offsetting concerns at India's central bank over the impact of a spike in gold imports on the broader economy, officials say, even as the industry forecasts another three months of strong buying. 
April 28
India's gold demand down 5.68% in March quarter
India's gold consumption declined by a marginal 5.68 per cent in the quarter ended March this year, primarily due to expectations of a cut in import duty. 
April 23
Most read: Does any nation hold the gold it says it does?
There is little or no transparency in the way central banks report national gold reserves to the IMF. 
April 20
Russia Returns to Gold With Biggest Purchases in Six Months
The nation increased foreign reserves of bullion to 39.8 million ounces, or about 1,238 metric tons, as of April 1, compared with 38.8 million ounces a month earlier, the central bank said on its website Monday.  
April 13
Gold imports hit 125 tonnes in March - TV
India's gold imports more than doubled to 125 tonnes in March from 60 tonnes in the same period a year ago, three TV channels reported on Friday. 
April 9
Platinum and palladium market future looks robust
Market turbulence is continuing into 2015 for platinum group metals, even as last year's five-month mining strike in South Africa has faded from the headlines. 
April 7
Turkish silver imports in March jump to highest on record
The figure is up 67% on the previous month's figure of 32.6 tonnes. 
April 7
SGE Q1 gold withdrawals at new record – ca. 625 tonnes
It now looks as though Q1 gold withdrawals from the Shanghai Gold Exchange (SGE) will have reached around 625 tonnes – a 10.8% increase on last year's record figure of 564 tonnes.  
March 30
China gold flows to hit Q1 record
Chinese gold flows as represented by withdrawals from the SGE will hit record levels for Q1 this year. 
March 27
US dollar influence on gold prices likely to diminish amid huge demand from emerging markets
The US dollar's inverse relationship with gold has changed dramatically over the past decades and is likely to shift further as demand moves East and the world moves to a multicurrency system, according to the World Gold Council. 
March 27
When Will China Disclose Its True Official Gold Reserves And How Much Is It?
First let's go through the latest Shanghai Gold Exchange data and then we'll continue to discuss the most recent developments regarding Chinese official gold reserves. 
March 23
China gold demand ups when price dips
Week 10 saw gold withdrawals from the Shanghai Gold Exchange at an impressive 51 tonnes bringing the total for the year to March 13 to a shade under 508 tonnes.  
March 18
South African gold mining's fall from grace
South Africa may have regained its position as the world's fifth largest gold producer in 2014 when all the figures have been tallied. 
March 12
Global platinum shortfall continues for third year running
World Platinum Investment Council report says deficit will remain in 2015. 
March 10
Silver marks record imports in 2014
Silver usually keeps its sheen even when gold prices drop. However, in the past two years, silver prices have fallen sharply compared with the yellow metal. 
March 6
Platinum prices poised for a rebound
Shrinking platinum stockpiles, growing demand from carmakers and new uses being trotted out in the energy field are stoking producers' expectations that prices are poised to rebound from a five-year low. 
March 3
Russian palladium exports to Switzerland jump
Russian exports of palladium to Switzerland in January jumped to their largest since May 2014, making for the strongest start to any year since 2010, according to Swiss trade data. 
March 2
India's Failure to Cut Import Duty on Gold Hurts Prices
India's decision to maintain an import duty on gold surprised investors, dealing a fresh blow to a metal that has been hit hard this year by a strengthening U.S. dollar and a series of policy shifts around the globe. 
February 26
China gold imports from Hong Kong rebound in January
China's gold imports from Hong Kong rose in January from the previous month, data showed on Thursday, reflecting increased demand ahead of the Lunar New Year. 
February 25
Have the big banks been manipulating gold and silver prices?
The WSJ reports that at least 10 major banks are being investigated for precious metals price rigging by U.S. authorities. 
February 24
Platinum price puzzles
If anything demonstrates the illogicality of the precious metals markets, it appears to be platinum. But is this really the case?  
February 24
Big Banks Face Scrutiny Over Pricing of Metals
U.S. officials are investigating at least 10 major banks for possible rigging of precious-metals markets, even though European regulators dropped a similar probe after finding no evidence of wrongdoing, according to people close to the inquiries. 
February 24
Major banks face U.S. probe over precious metals pricing: report
The U.S. Department of Justice (DoJ) and the Commodity Futures Trading Commission are investigating at least 10 major banks for possible rigging of precious-metals markets, the Wall Street Journal reported, citing people close to the inquiries. 
February 23
It's Clear Why Gold Should Be Better - Jim Grant
Gold Stock Analysts' keynote speaker is Jim Grant and Kitco News sits with the interest rate guru himself to see how he sees central bankers affecting gold prices this year.  
February 20
China gold demand up 17% ytd
SGE gold withdrawals have hit 374 tonnes in the first six weeks of the year – a record level in the run up to the Chinese New Year holiday. 
February 20
Platinum reaches biggest discount to gold in nearly two years
* Gold's price premium over platinum tops $50/oz
* Platinum, gold spread at highest in nearly 2 years
* Euro zone crisis underpins gold, undermines platinum 
February 18
Global silver production up 3.8% in 2014
According to Metals Focus, global silver production may have peaked last year with the low metals price likely to lead to mine cutbacks and closures. 
February 18
RBI lifts ban on import of gold coins, medallions by banks
The government and the Reserve Bank of India have given banks a free hand to import gold. 
February 13
SGE Withdrawals 59t in Week 5, YTD 315t. What is China Up To With All This Gold?
The day after the World Gold Council (WGC) released Gold Demand Trends Full Year 2014 in which they audaciously pretend Chinese gold demand last year was 814 tonnes, we can read from the Chinese SGE trade report of week 5 withdrawals from the vaults have been 59 tonnes.  
February 12
India world's largest gold 'consumer'; China has biggest total demand
The latest Gold Demand Trends report from the World Gold Council (WGC) does indeed suggest that total 'consumer' demand for the precious metal in India last year did exceed that of China after falling behind in the previous year. But the report is careful not to actually state that India's total gold demand exceeded China's due to the substantial amount of gold flowing into China's banks, which falls outside the GFMS calculated 'consumer demand' parameters. 
February 12
Central Banks Are Boosting Their Gold Reserves
Central banks purchased enough gold in 2014 to buy 75 Boeing Co. Dreamliners. 
February 11
Gold miners on the hunt for cheap assets
Gold producers with cash on hand are on the hunt for cheap mining assets as rising prices drive shares higher. 
February 7
How much gold is now going directly to mainland China? 36%?
By far the largest exporter of gold to China and to Hong Kong is Switzerland and its latest figures for 2014 suggest that 36% of Swiss gold exports are now going to mainland China directly. 
February 6
Total SGE Withdrawals 255t In January, Up 4 % y/y
In the last trading week of January another huge quantity of gold left the vaults of the Shanghai Gold Exchange (SGE). According to the latest SGE data nearly 54 tonnes were withdrawn in week 4 (January 26 – 30), down 24 % w/w. 
February 6
Where is Germany's Gold?
Peter Boehringer hates the word "conspiracy." It implies something crazy, and if you spend even a little time with the 45-year-old German, it becomes clear he's driven by a desire for order. 
February 4
Gold, Dollar Buck Trend to Shine Together
Gold's run-up so far this year has put it among the best-performing assets globally. But it is fear, not glitter, that is behind the yellow metal's appeal for investors. 
February 3
UPDATE: World top 10 gold producers – countries and miners
The last year has seen some changes in global gold production rankings, both by country and by company. 
February 3
London Gold Price mechanism to launch in March
The new London Bullion Market Association (LBMA) Gold Price, which replaces the long-used London Gold Fix, will be launched in March, New York-listed Intercontinental Exchange (ICE) and the LBMA have announced. 
January 31
China's SGE gold withdrawals already 202 tonnes in just 3 weeks
For the second week in a row Chinese gold withdrawals from the SGE have exceeded 70 tonnes – on its own well in excess of global new mined gold supply 
January 30
BOOM: SGE Withdrawals Week 3, 2015: 71 tonnes!
It's still a mystery why mainstream media are not tracking weekly SGE withdrawals. I've read all over the news that Russia's central bank has added 152 tonnes of gold in total to its reserves in 2014. In perspective, this is approximately the same amount of gold China has imported in the first three weeks of 2015.
January 30
Gold supply to continue in surplus this year – GFMS
The latest update of the annual study by GFMS of world gold supply and demand makes for some interesting reading, and correspondingly interesting interpretations of the figures by the media.
January 29
36% of October U.S. gold exports to China went direct rather than via Hong Kong
Latest statistics from the USGS make for interesting reading – not just because they show U.S. gold output has been continuing to fall – it's down 7.4% year on year to date – but for the country by country export data. We have been commenting on Mineweb.com for much of the past year that imports to mainland China via Hong Kong remain significant, but by no means as significant as in the past.  
January 29
India overtakes China as world's top gold consumer 
India overtook China as the world's biggest gold consumer in 2014 as global physical demand fell, an industry report showed on Thursday, forecasting that prices that have declined for the last two years would bottom out this year.  
January 26
India Silver Import 2014 At 7,063 Tonnes, Up 15 %
India's customs department, the Directorate General of Commercial Intelligence & Statistics (DGCIS), just released the QUICK ESTIMATES FOR SELECTED MAJOR COMMODITIES for December 2014.  
January 21
Gold discounts widest in 17 months, anticipates duty cut
Gold importers are offering a discount of up to $16 an ounce versus London prices, the widest in 17 months, as jewellers curtail purchases ahead of a possible cut in the import duty. 
January 19
Germany Repatriated 120 Tonnes Of Gold In 2014
The central bank of Germany, BuBa, has just released the numbers of their gold repatriation activities in 2014.  
January 16
China's very strong gold demand start to 2015
The SGE has reported a very strong, but not exceptional, start to Chinese gold demand in 2014 with 61 tonnes withdrawn from the Exchange in the year's first trading week. 
January 9
The Turkish Gold Standard, Part 1
One the most interesting gold markets around, but least talked about, is the Turkish gold market. The Turkish people have a strong tradition that goes back thousands of years to save in physical gold and it's estimated 5,000 tonnes of gold are owned privately. 
January 8
The Price of Gold and the Art of War, Part IV
After the 1999 gold crisis, bankers could no longer force the price of gold lower by loaning central bank gold and selling it in the open market. 
January 8
Gold price predictions: Will gold rise or fall in 2015?
Top fund manager Evy Hambro, who runs one of the most popular funds focused on gold and gold mining shares, is predicting the precious metal will recover from its three-year slump in 2015. 
January 6
Where will gold end 2015 – $1,000, $1,325 or maybe $2,500?
A look at the prospects for gold and silver prices in 2015 – and predictions of end year price levels for the two key precious metals. 
January 5
Gold Outlook 2015: Analysts Anticipate a Break from Turmoil
This time last year, the gold market was in a sorry state. Market participants were still reeling from the yellow metal's fall from grace, and were hoping against hope that it would bounce back in 2014. Unfortunately, it's fair to say that didn't happen. 
January 2
Yearly Shanghai Silver Volume Transcends COMEX Again, SGE Withdrawals Nearly 2,100t
In 2014 silver futures traded on the Shanghai Futures Exchange (SHFE) accounted for 2,908,168 tonnes. On the COMEX 2,123,387 tonnes were traded, 37 % less than in Shanghai.
December 30
Stop Worrying and Love the Gold
Bullion Baron had an excellent post out last Monday on how cash is not some bedrock asset without risk, based on a Barry Ritholtz statement that it is a huge investment mistake to hold an asset which you can never envisage selling.  
December 29
Federal Reserve Bank New York Lost 47t Of Gold In November
The number we all have been waiting for; The Federal Reserve Bank of New York (FRBNY), which is the custodian for parts of the official gold reserves of 36 nations and the IMF, e.g. The Netherlands and Germany, saw its inventory of foreign gold deposits drop by 47 tonnes in November 2014. Year to date the FRBNY has lost 166 tonnes.  
December 21
Will Chinese Gold Demand End 2014 With A Boom?
Shanghai Gold Exchange (SGE) withdrawals in week 50 (December 8 – 12) accounted for 50 tonnes, year to date 1,955 tonnes have been withdrawn. 
December 20
Indian summer for gold and silver. Can it go on?
According to the latest official figures out of India, gold and silver imports during November were enormous – right back to the kinds of levels seen when India, not China, was the world's largest gold importer. 
December 20
Russia's Central Bank Purchases 600,000 Troy Ounces of Gold in November
The slight bump above the $1,200 spot price shortly after 3 p.m. Hong Kong time turned out to be the high tick of the day on Friday.  
December 18
SEC charges two in $3.9m gold mining scheme
The Securities and Exchange Commission has filed charges against two officers of Aurum Mining LLC and their companies in connection for a $3.9 million gold mining investment scheme based in Miami. 
December 17
Have gold and silver really bottomed this time?
At the recent Mines & Money conference and exhibition In London there was a perhaps surprisingly upbeat feel given the poor performance of metals prices over the preceding two to three years.

December 17
U.S. Gold Output Down By 7 Percent Year-to-Date 
The gold price began to rally the moment that trading began in New York on their Monday evening, but barely got a sniff of the $1,200 spot before getting capped---and then chopped sideways within a five dollar price range until about 8:30 a.m. GMT in London.  
December 17
Guest Post: Is Russia Selling Oil For Gold?
Very few people understand what Putin is doing at the moment. And almost no one understands what he will do in the future. 
December 17
Have gold and silver really bottomed this time?
At the recent Mines & Money conference and exhibition In London there was a perhaps surprisingly upbeat feel given the poor performance of metals prices over the preceding two to three years. 
December 16
Royal Canadian Mint ends 2014 with sold-out Bald Eagle silver bullion coin and security-enhanced Gold Maple Leaf
As it continues to experience robust demand for its silver bullion products, the Royal Canadian Mint is pleased to announce the sell-out of all one million of the Royal Canadian Mint's Bald Eagle coins, from the new Canadian Birds of Prey 99.99% pure silver bullion coin series.  
December 16
Gold smugglers to appear in court
Six suspects are expected to appear in the Pretoria North Magistrate's Court on Thursday for smuggling gold worth millions. 
December 15
A Bull Market in Bear Market Gold Demand
A glance at any gold price chart reveals the severity of the bear mauling it has endured over the last three years, writes Jeff Clark at Casey Research's Big Gold letter. 
December 13
Why Austria Is Likely To Repatriate Its Gold From London
Yesterday, December 12, we learned the next European county in line – after Germany, Switzerland, The Netherlands and Belgium – to openly talk about repatriating its gold reserves is Austria. This came to me as no surprise. 
December 11
What Do They Know? CME Implements Gold, Precious Metals Circuit Breakers Up To $400 Wide
With memorandum S-7258, titled "Implementation of New NYMEX/COMEX Rule Regarding Special Price Fluctuation Limits for Certain NYMEX and COMEX Metals Futures and Options Contracts" released moments ago by the CME Group, and set to become effective on December 21, 2014, and which seeks a 5 minute trading halt when "price movements in lead-month primary futures contracts result in triggering events". 
December 10
Industrial silver use will jump 27% by 2018 - CRU
More and more applications for silver are being invented, discovered, and, importantly, commercialized, said a new report from the Silver Institute and CRU Consulting, stoking the growth potential from several of the most important industrial silver applications. 
December 10
Chinese and Indian gold demand boost fundamentals further
Apologies for returning to Chinese and Indian gold demand again – but we do feel these two nations are so important for the future of the gold price given the huge amounts of gold they continue to absorb. 
December 8
China Net Gold Import 1,212t Jan – Nov
Withdrawals from the Shanghai Gold Exchange (SGE) – currently the best indicator of Chinese wholesale demand – keep up a strong pace. 
December 8
7 Questions Gold Bears Must Answer
As the year draws to a close, and Tax-Loss Season brings us what may be the best bargains of the year in our sector, it's natural to ask if the bear is here to stay.  
December 5
Is Indian gold turnaround a game changer for prices?
There has been a surprise move in India reducing its gold import restrictions and an intimation from the RBI governor that further relaxation may be on the cards. 
December 5
Indians have $1 trillion worth of gold!
'India has about 22,000 tonnes of private gold, held by individuals and temples.' 'Much of this is locked up in safes and vaults as a dead investment. If we can put the vast reserves of gold to use, it would boost the economy,' says V P Nandakumar, executive chairman, Manappuram Finance, India's first listed gold loan company. 
December 4
World Gold Council Rectifies 2013 Chinese Gold Demand
The WGC has revised its estimate of China's 2013 consumer demand to 1,275 tonnes, up from their initial estimate of 1,066 tonnes. 
December 3
Secret platinum stocks declining – World Platinum Investment Council
volume of vaulted platinum holdings held confidentially is declining, the recently launched World Platinum Investment Council said on Wednesday. 
December 3
Platinum market deficit seen at 885,000 oz in 2014 - WPIC
The platinum market is expected to see a shortfall of 885,000 ounces this year, a report by the World Platinum Investment Council (WPIC) estimated on Wednesday, as a strike in major producer South Africa reduced supply. 
December 2
Gold imports at 41-month high in Nov 
The bullion business continues to be on high as the state recorded the highest gold imports in 41 months of more than 39 metric tonnes (MT) in November with the festive and marriage season fuelling the demand for otherwise dull market a few months ago. 
Sprott's Industry Leading Line-up
of Precious Metals Products
       *Also available on corporate class
Gold
24 hour $US Dollar price per ounce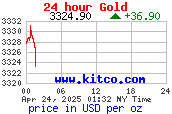 Silver
24 hour $US Dollar price per ounce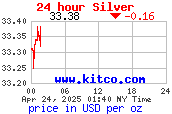 Platinum
24 hour $US Dollar price per ounce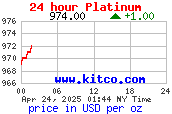 Palladium
24 hour $US Dollar price per ounce