Sprott
Precious Metals Watch
April 13
Gold imports hit 125 tonnes in March - TV
India's gold imports more than doubled to 125 tonnes in March from 60 tonnes in the same period a year ago, three TV channels reported on Friday. 
April 9
Platinum and palladium market future looks robust
Market turbulence is continuing into 2015 for platinum group metals, even as last year's five-month mining strike in South Africa has faded from the headlines. 
April 7
Turkish silver imports in March jump to highest on record
The figure is up 67% on the previous month's figure of 32.6 tonnes. 
April 7
SGE Q1 gold withdrawals at new record – ca. 625 tonnes
It now looks as though Q1 gold withdrawals from the Shanghai Gold Exchange (SGE) will have reached around 625 tonnes – a 10.8% increase on last year's record figure of 564 tonnes.  
March 30
China gold flows to hit Q1 record
Chinese gold flows as represented by withdrawals from the SGE will hit record levels for Q1 this year. 
March 27
US dollar influence on gold prices likely to diminish amid huge demand from emerging markets
The US dollar's inverse relationship with gold has changed dramatically over the past decades and is likely to shift further as demand moves East and the world moves to a multicurrency system, according to the World Gold Council. 
March 27
When Will China Disclose Its True Official Gold Reserves And How Much Is It?
First let's go through the latest Shanghai Gold Exchange data and then we'll continue to discuss the most recent developments regarding Chinese official gold reserves. 
March 23
China gold demand ups when price dips
Week 10 saw gold withdrawals from the Shanghai Gold Exchange at an impressive 51 tonnes bringing the total for the year to March 13 to a shade under 508 tonnes.  
March 18
South African gold mining's fall from grace
South Africa may have regained its position as the world's fifth largest gold producer in 2014 when all the figures have been tallied. 
March 12
Global platinum shortfall continues for third year running
World Platinum Investment Council report says deficit will remain in 2015. 
March 10
Silver marks record imports in 2014
Silver usually keeps its sheen even when gold prices drop. However, in the past two years, silver prices have fallen sharply compared with the yellow metal. 
March 6
Platinum prices poised for a rebound
Shrinking platinum stockpiles, growing demand from carmakers and new uses being trotted out in the energy field are stoking producers' expectations that prices are poised to rebound from a five-year low. 
March 3
Russian palladium exports to Switzerland jump
Russian exports of palladium to Switzerland in January jumped to their largest since May 2014, making for the strongest start to any year since 2010, according to Swiss trade data. 
March 2
India's Failure to Cut Import Duty on Gold Hurts Prices
India's decision to maintain an import duty on gold surprised investors, dealing a fresh blow to a metal that has been hit hard this year by a strengthening U.S. dollar and a series of policy shifts around the globe. 
February 26
China gold imports from Hong Kong rebound in January
China's gold imports from Hong Kong rose in January from the previous month, data showed on Thursday, reflecting increased demand ahead of the Lunar New Year. 
February 25
Have the big banks been manipulating gold and silver prices?
The WSJ reports that at least 10 major banks are being investigated for precious metals price rigging by U.S. authorities. 
February 24
Platinum price puzzles
If anything demonstrates the illogicality of the precious metals markets, it appears to be platinum. But is this really the case?  
February 24
Big Banks Face Scrutiny Over Pricing of Metals
U.S. officials are investigating at least 10 major banks for possible rigging of precious-metals markets, even though European regulators dropped a similar probe after finding no evidence of wrongdoing, according to people close to the inquiries. 
February 24
Major banks face U.S. probe over precious metals pricing: report
The U.S. Department of Justice (DoJ) and the Commodity Futures Trading Commission are investigating at least 10 major banks for possible rigging of precious-metals markets, the Wall Street Journal reported, citing people close to the inquiries. 
February 23
It's Clear Why Gold Should Be Better - Jim Grant
Gold Stock Analysts' keynote speaker is Jim Grant and Kitco News sits with the interest rate guru himself to see how he sees central bankers affecting gold prices this year.  
February 20
China gold demand up 17% ytd
SGE gold withdrawals have hit 374 tonnes in the first six weeks of the year – a record level in the run up to the Chinese New Year holiday. 
February 20
Platinum reaches biggest discount to gold in nearly two years
* Gold's price premium over platinum tops $50/oz
* Platinum, gold spread at highest in nearly 2 years
* Euro zone crisis underpins gold, undermines platinum 
February 18
Global silver production up 3.8% in 2014
According to Metals Focus, global silver production may have peaked last year with the low metals price likely to lead to mine cutbacks and closures. 
February 18
RBI lifts ban on import of gold coins, medallions by banks
The government and the Reserve Bank of India have given banks a free hand to import gold. 
February 13
SGE Withdrawals 59t in Week 5, YTD 315t. What is China Up To With All This Gold?
The day after the World Gold Council (WGC) released Gold Demand Trends Full Year 2014 in which they audaciously pretend Chinese gold demand last year was 814 tonnes, we can read from the Chinese SGE trade report of week 5 withdrawals from the vaults have been 59 tonnes.  
February 12
India world's largest gold 'consumer'; China has biggest total demand
The latest Gold Demand Trends report from the World Gold Council (WGC) does indeed suggest that total 'consumer' demand for the precious metal in India last year did exceed that of China after falling behind in the previous year. But the report is careful not to actually state that India's total gold demand exceeded China's due to the substantial amount of gold flowing into China's banks, which falls outside the GFMS calculated 'consumer demand' parameters. 
February 12
Central Banks Are Boosting Their Gold Reserves
Central banks purchased enough gold in 2014 to buy 75 Boeing Co. Dreamliners. 
February 11
Gold miners on the hunt for cheap assets
Gold producers with cash on hand are on the hunt for cheap mining assets as rising prices drive shares higher. 
February 7
How much gold is now going directly to mainland China? 36%?
By far the largest exporter of gold to China and to Hong Kong is Switzerland and its latest figures for 2014 suggest that 36% of Swiss gold exports are now going to mainland China directly. 
February 6
Total SGE Withdrawals 255t In January, Up 4 % y/y
In the last trading week of January another huge quantity of gold left the vaults of the Shanghai Gold Exchange (SGE). According to the latest SGE data nearly 54 tonnes were withdrawn in week 4 (January 26 – 30), down 24 % w/w. 
February 6
Where is Germany's Gold?
Peter Boehringer hates the word "conspiracy." It implies something crazy, and if you spend even a little time with the 45-year-old German, it becomes clear he's driven by a desire for order. 
February 4
Gold, Dollar Buck Trend to Shine Together
Gold's run-up so far this year has put it among the best-performing assets globally. But it is fear, not glitter, that is behind the yellow metal's appeal for investors. 
February 3
UPDATE: World top 10 gold producers – countries and miners
The last year has seen some changes in global gold production rankings, both by country and by company. 
February 3
London Gold Price mechanism to launch in March
The new London Bullion Market Association (LBMA) Gold Price, which replaces the long-used London Gold Fix, will be launched in March, New York-listed Intercontinental Exchange (ICE) and the LBMA have announced. 
January 31
China's SGE gold withdrawals already 202 tonnes in just 3 weeks
For the second week in a row Chinese gold withdrawals from the SGE have exceeded 70 tonnes – on its own well in excess of global new mined gold supply 
January 30
BOOM: SGE Withdrawals Week 3, 2015: 71 tonnes!
It's still a mystery why mainstream media are not tracking weekly SGE withdrawals. I've read all over the news that Russia's central bank has added 152 tonnes of gold in total to its reserves in 2014. In perspective, this is approximately the same amount of gold China has imported in the first three weeks of 2015.
January 30
Gold supply to continue in surplus this year – GFMS
The latest update of the annual study by GFMS of world gold supply and demand makes for some interesting reading, and correspondingly interesting interpretations of the figures by the media.
January 29
36% of October U.S. gold exports to China went direct rather than via Hong Kong
Latest statistics from the USGS make for interesting reading – not just because they show U.S. gold output has been continuing to fall – it's down 7.4% year on year to date – but for the country by country export data. We have been commenting on Mineweb.com for much of the past year that imports to mainland China via Hong Kong remain significant, but by no means as significant as in the past.  
January 29
India overtakes China as world's top gold consumer 
India overtook China as the world's biggest gold consumer in 2014 as global physical demand fell, an industry report showed on Thursday, forecasting that prices that have declined for the last two years would bottom out this year.  
January 26
India Silver Import 2014 At 7,063 Tonnes, Up 15 %
India's customs department, the Directorate General of Commercial Intelligence & Statistics (DGCIS), just released the QUICK ESTIMATES FOR SELECTED MAJOR COMMODITIES for December 2014.  
January 21
Gold discounts widest in 17 months, anticipates duty cut
Gold importers are offering a discount of up to $16 an ounce versus London prices, the widest in 17 months, as jewellers curtail purchases ahead of a possible cut in the import duty. 
January 19
Germany Repatriated 120 Tonnes Of Gold In 2014
The central bank of Germany, BuBa, has just released the numbers of their gold repatriation activities in 2014.  
January 16
China's very strong gold demand start to 2015
The SGE has reported a very strong, but not exceptional, start to Chinese gold demand in 2014 with 61 tonnes withdrawn from the Exchange in the year's first trading week. 
January 9
The Turkish Gold Standard, Part 1
One the most interesting gold markets around, but least talked about, is the Turkish gold market. The Turkish people have a strong tradition that goes back thousands of years to save in physical gold and it's estimated 5,000 tonnes of gold are owned privately. 
January 8
The Price of Gold and the Art of War, Part IV
After the 1999 gold crisis, bankers could no longer force the price of gold lower by loaning central bank gold and selling it in the open market. 
January 8
Gold price predictions: Will gold rise or fall in 2015?
Top fund manager Evy Hambro, who runs one of the most popular funds focused on gold and gold mining shares, is predicting the precious metal will recover from its three-year slump in 2015. 
January 6
Where will gold end 2015 – $1,000, $1,325 or maybe $2,500?
A look at the prospects for gold and silver prices in 2015 – and predictions of end year price levels for the two key precious metals. 
January 5
Gold Outlook 2015: Analysts Anticipate a Break from Turmoil
This time last year, the gold market was in a sorry state. Market participants were still reeling from the yellow metal's fall from grace, and were hoping against hope that it would bounce back in 2014. Unfortunately, it's fair to say that didn't happen. 
January 2
Yearly Shanghai Silver Volume Transcends COMEX Again, SGE Withdrawals Nearly 2,100t
In 2014 silver futures traded on the Shanghai Futures Exchange (SHFE) accounted for 2,908,168 tonnes. On the COMEX 2,123,387 tonnes were traded, 37 % less than in Shanghai.
December 30
Stop Worrying and Love the Gold
Bullion Baron had an excellent post out last Monday on how cash is not some bedrock asset without risk, based on a Barry Ritholtz statement that it is a huge investment mistake to hold an asset which you can never envisage selling.  
December 29
Federal Reserve Bank New York Lost 47t Of Gold In November
The number we all have been waiting for; The Federal Reserve Bank of New York (FRBNY), which is the custodian for parts of the official gold reserves of 36 nations and the IMF, e.g. The Netherlands and Germany, saw its inventory of foreign gold deposits drop by 47 tonnes in November 2014. Year to date the FRBNY has lost 166 tonnes.  
December 21
Will Chinese Gold Demand End 2014 With A Boom?
Shanghai Gold Exchange (SGE) withdrawals in week 50 (December 8 – 12) accounted for 50 tonnes, year to date 1,955 tonnes have been withdrawn. 
December 20
Indian summer for gold and silver. Can it go on?
According to the latest official figures out of India, gold and silver imports during November were enormous – right back to the kinds of levels seen when India, not China, was the world's largest gold importer. 
December 20
Russia's Central Bank Purchases 600,000 Troy Ounces of Gold in November
The slight bump above the $1,200 spot price shortly after 3 p.m. Hong Kong time turned out to be the high tick of the day on Friday.  
December 18
SEC charges two in $3.9m gold mining scheme
The Securities and Exchange Commission has filed charges against two officers of Aurum Mining LLC and their companies in connection for a $3.9 million gold mining investment scheme based in Miami. 
December 17
Have gold and silver really bottomed this time?
At the recent Mines & Money conference and exhibition In London there was a perhaps surprisingly upbeat feel given the poor performance of metals prices over the preceding two to three years.

December 17
U.S. Gold Output Down By 7 Percent Year-to-Date 
The gold price began to rally the moment that trading began in New York on their Monday evening, but barely got a sniff of the $1,200 spot before getting capped---and then chopped sideways within a five dollar price range until about 8:30 a.m. GMT in London.  
December 17
Guest Post: Is Russia Selling Oil For Gold?
Very few people understand what Putin is doing at the moment. And almost no one understands what he will do in the future. 
December 17
Have gold and silver really bottomed this time?
At the recent Mines & Money conference and exhibition In London there was a perhaps surprisingly upbeat feel given the poor performance of metals prices over the preceding two to three years. 
December 16
Royal Canadian Mint ends 2014 with sold-out Bald Eagle silver bullion coin and security-enhanced Gold Maple Leaf
As it continues to experience robust demand for its silver bullion products, the Royal Canadian Mint is pleased to announce the sell-out of all one million of the Royal Canadian Mint's Bald Eagle coins, from the new Canadian Birds of Prey 99.99% pure silver bullion coin series.  
December 16
Gold smugglers to appear in court
Six suspects are expected to appear in the Pretoria North Magistrate's Court on Thursday for smuggling gold worth millions. 
December 15
A Bull Market in Bear Market Gold Demand
A glance at any gold price chart reveals the severity of the bear mauling it has endured over the last three years, writes Jeff Clark at Casey Research's Big Gold letter. 
December 13
Why Austria Is Likely To Repatriate Its Gold From London
Yesterday, December 12, we learned the next European county in line – after Germany, Switzerland, The Netherlands and Belgium – to openly talk about repatriating its gold reserves is Austria. This came to me as no surprise. 
December 11
What Do They Know? CME Implements Gold, Precious Metals Circuit Breakers Up To $400 Wide
With memorandum S-7258, titled "Implementation of New NYMEX/COMEX Rule Regarding Special Price Fluctuation Limits for Certain NYMEX and COMEX Metals Futures and Options Contracts" released moments ago by the CME Group, and set to become effective on December 21, 2014, and which seeks a 5 minute trading halt when "price movements in lead-month primary futures contracts result in triggering events". 
December 10
Industrial silver use will jump 27% by 2018 - CRU
More and more applications for silver are being invented, discovered, and, importantly, commercialized, said a new report from the Silver Institute and CRU Consulting, stoking the growth potential from several of the most important industrial silver applications. 
December 10
Chinese and Indian gold demand boost fundamentals further
Apologies for returning to Chinese and Indian gold demand again – but we do feel these two nations are so important for the future of the gold price given the huge amounts of gold they continue to absorb. 
December 8
China Net Gold Import 1,212t Jan – Nov
Withdrawals from the Shanghai Gold Exchange (SGE) – currently the best indicator of Chinese wholesale demand – keep up a strong pace. 
December 8
7 Questions Gold Bears Must Answer
As the year draws to a close, and Tax-Loss Season brings us what may be the best bargains of the year in our sector, it's natural to ask if the bear is here to stay.  
December 5
Is Indian gold turnaround a game changer for prices?
There has been a surprise move in India reducing its gold import restrictions and an intimation from the RBI governor that further relaxation may be on the cards. 
December 5
Indians have $1 trillion worth of gold!
'India has about 22,000 tonnes of private gold, held by individuals and temples.' 'Much of this is locked up in safes and vaults as a dead investment. If we can put the vast reserves of gold to use, it would boost the economy,' says V P Nandakumar, executive chairman, Manappuram Finance, India's first listed gold loan company. 
December 4
World Gold Council Rectifies 2013 Chinese Gold Demand
The WGC has revised its estimate of China's 2013 consumer demand to 1,275 tonnes, up from their initial estimate of 1,066 tonnes. 
December 3
Secret platinum stocks declining – World Platinum Investment Council
volume of vaulted platinum holdings held confidentially is declining, the recently launched World Platinum Investment Council said on Wednesday. 
December 3
Platinum market deficit seen at 885,000 oz in 2014 - WPIC
The platinum market is expected to see a shortfall of 885,000 ounces this year, a report by the World Platinum Investment Council (WPIC) estimated on Wednesday, as a strike in major producer South Africa reduced supply. 
December 2
Gold imports at 41-month high in Nov 
The bullion business continues to be on high as the state recorded the highest gold imports in 41 months of more than 39 metric tonnes (MT) in November with the festive and marriage season fuelling the demand for otherwise dull market a few months ago. 
November 30
Swiss reject plan to hoard gold, limit immigration
Swiss voters overwhelmingly rejected three citizen-backed proposals to protect the country's wealth by investing in gold, drastically limit immigration and eliminate a special tax that draws rich foreigners. 
November 28
Central bankers' love-hate gold relationship
One senses a bit of a momentum growing in the precious metals sector. Is this just wishful thinking from someone who is something of a long-term believer in gold and silver, or is there some substance behind the feeling? After all gold is having trouble making any kind of decisive move above $1,200, being knocked back every time it sticks its head above the 1,200 parapet. 
November 28
India eases gold import rule in surprise move
India has scrapped a rule mandating traders to export 20 percent of all gold imported into the country, in a surprise move that could cut smuggling and raise legal shipments into the world's second-biggest consumer of the metal after China. 
November 26
HSBC, Goldman Rigged Metals' Prices for Years, Suit Says
Goldman Sachs Group Inc. (GS) and HSBC Holdings Plc (HSBA) were sued in New York over claims they conspired for eight years to manipulate prices for the precious metals platinum and palladium in what plaintiffs' lawyers say is the first class-action lawsuit of its kind in the U.S. 
November 25
6 reasons to be bullish on gold
Despite gold prices rising as high as US$1,380 in mid-March, the precious metal hasn't exactly been a good place to be in 2014. After starting the year around US$1,200, spot prices are essentially flat. 
November 25
Global gold supply in deficit this year, even more so next
In a previous article we have already shown that Indian and Chinese gold demand between them currently account for annual gold consumption levels of perhaps as much as 3,100 tonnes, roughly equivalent to global new mined gold production as recorded by the World Gold Council (3,115 tonnes over the 12 months to end September). 
November 25
China's Gold Imports Rise for a Third Month on Jewelry Sales
China's gold imports from Hong Kong rose for a third month as increasing jewelry sales countered weakening demand for the metal as an investment amid falling prices. 
November 24
Platinum to palladium shortages seen persisting
Platinum and palladium supply probably will fall short of demand for a fourth year in 2015 as more usage in vehicles helps compensate for rebounding South African mine output, according to Johnson Matthey Plc. 
November 23
Senate report shows how easily banks can rig gold, copper, and other markets
The heavy involvement of investment banks in commodity trading creates the potential for market manipulation and conflicts of interest in the gold market, and exchange-traded gold funds may be mechanisms of market manipulation contrary to the basics of supply and demand, according to the 396-page report published last week by the Permanent Subcommittee on Investigations of the U.S. Senate's Committee on Homeland Security and Governmental Affairs. 
November 21
Draghi throws ECB door open to money printing as global prospects dim
European Central Bank President Mario Draghi threw the door wide open on Friday for more drastic measures to prevent the euro zone from sliding into deflation, promising to use whatever means necessary as China also acted to boost its sagging economic growth. 
November 21
Dutch bring 120 tonnes of gold back to Amsterdam from New York
The Dutch central bank has secretly brought a large part of the national gold reserves being held in a secure depot in New York back to Amsterdam. 
November 19
Gold Rises After Unusual Russian Central Bank Gold Buying Announcement
Russia's central bank bought about 150 metric tons of the metal this year, announced Governor Elvira Nabiullina yesterday. The pronouncement immediately created buying in the market, prompting gold to rise to a two week high at $1,200 an ounce. 
November 19
Senate Report Criticizes Goldman and JPMorgan Over Their Influence in Commodities Market
A two-year Senate-led investigation is throwing back the curtain on the outsize and sometimes hidden sway that Wall Street banks have gained over the markets for essential commodities like oil, aluminum and coal. 
November 18
Platinum industry launches the World Platinum Investment Council to stimulate platinum investment 
November 18
Gold bounces back above $1 200 – will it jump higher?
Gold bounced back above $1 200 this morning in London, but before one can be sure that this is the start of the long-expected recovery there could yet be teeth in the bear.  
November 18
Council to lobby central banks to adopt platinum
SOUTH Africa's platinum producers Anglo American Platinum, Lonmin and Impala Platinum have formed a council that will seek to boost investment demand for the metal including lobbying governments to have it installed as a reserve asset. 
November 18
Why is Putin buying gold?
Russian President Vladimir Putin is developing a taste for gold. With all of its income from selling oil, Russia is diversifying its reserves by buying massive amounts of gold, said William Rhind, CEO of the World Gold Trust Services. 
November 17
India Precious Metals Import Explodes In October
Despite all efforts from the Indian government to curtail India's demand for precious metals – for example a 10 % import duty on both gold and silver, the Indian people continue to put their savings in a store of value they consider being prudent; precious metals. 
November 17
ECB could buy gold to revive economy
Gold, shares, and exchange-traded funds (ETFs) - the European Central Bank (ECB) may turn to buying any or all of these in an attempt to boost inflation in the currency bloc. 
November 14
Deutsche Bank Says "Yes" Vote Has "Narrow But Clear Lead" In Swiss Gold Referendum As 1M GOFO Hits Most Negative Since 2001
As we explained over the weekend, should the Swiss gold referendum pass successfully, the price of gold will surge. It was none other than JPM who warned that the "markets under appreciate this event", explaing that "If the referendum is passed, the Swiss National Bank (SNB) will be forced to increase reserves by around 1,500 tonnes over five years, i.e. 300 tonnes per year. 
November 14
Putin stockpiles gold as Russia prepares for economic war
Russia has taken advantage of lower gold prices to pack the vaults of its central bank with bullion as it prepares for the possibility of a long, drawn-out economic war with the West. 
November 13
India back to being world's top gold consumer
India reclaimed its world's top gold consumer crown from China as demand for jewellery surged almost 60% in the third quarter of the year, fresh data from the World Gold Council (WGC) shows. 
November 13
Marc Faber on Gold, the US Dollar, China and the Swiss Gold Referendum
- Is the US dollar coming out of a major bear market started in 1995?
- Is it possible for gold to go under $1,000?
- Could Russia and other emerging market central banks sell gold? 
November 12
UBS Precious Metals Misconduct Found by Finma in FX Probe
Switzerland's regulator found "serious misconduct" by UBS AG (UBSN) employees in precious metals trading, particularly with silver, as part of its review of the bank's foreign-exchange business. 
November 10
Gold demand still running high, so where's the turning point?
As can be seen from Nick Laird's (www.sharelynx.com) excellent ongoing chart of gold withdrawals from the Shanghai Gold Exchange (SGE), a further 47.5 tonnes were withdrawn during the week ended October 31.  
November 10
Swiss Franc Cap Tested as Gold Bugs Push Referendum
The word "Switzerland" sits stamped on the side of a newly manufactured 400 ounce gold bar at a precious metal refinery near Mendrisio. A "Save Our Swiss Gold" victory means Switzerland would face buying the metal at prices that quadrupled since it began selling more than half its reserves in 2000. Switzerland's referendum on boosting gold reserves is already increasing pressure on the franc's cap against the euro, even as polls show voters remain undecided. 
November 9
UBS to settle allegations over precious metals trading
UBS is to settle allegations of misconduct at its precious metals trading business alongside a planned agreement between UK and US authorities and seven banks over accusations of foreign exchange market rigging. 
November 7
Greenspan's Stunning Admission: "Gold Is Currency; No Fiat Currency, Including the Dollar, Can Match It"
For some reason, the Council of Foreign Relations, where ex-Fed-Chief Alan Greenspan spoke last week, decided the following discussion should be left out of the official transcript. We can perhaps understand why... as Gillian Tett concludes, "comments like that will be turning you into a rock star amongst the gold bug community." 
November 7
China Gold Buying Means Price Floor to Standard Chartered
The cheapest gold in four years is proving irresistible for shoppers in China and India, where rebounding demand may signal an end to the longest price slump in more than a decade. 
November 6
Gold and silver: will they get worse before they get better?
It's easy to say 'don't panic' but gold's fundamentals still look good. By well-researched data, Chinese demand is soaring again – the latest Shanghai Gold Exchange figures have had weekly gold withdrawals from the exchange running at the 50-60 tonne levels for almost a month now, which equates closely to global new mined gold supply on its own. Indian demand has been picking up so much that it has the government concerned again.  
November 5
Because Nothing Says "Best Execution" Like Dumping $1.5 Billion In Gold Futures At 0030ET
For the 5th day in a row, "someone" has decided that 0030ET would be an appropriate time (assuming the 'seller' is an investor who prefers best execution rather than the standard non-economically-rational share-repurchaser in America) to be dumping large amounts of precious metals positions via the futures market.  
November 3
German Precious Metal Dealers Report Huge Run on Silver Coins
Precious metal dealers in Germany have literally been run down after the latest slump in gold and silver. Wholesalers already expect deferred deliveries. 
November 2
Insatiable Chinese Gold Demand Continues Unabated
Friday the latest update was published on withdrawals of the Shanghai Gold Exchange (SGE) and Shanghai International Gold Exchange (SGEI). As I've written last week this number does not exactly equal Chinese gold demand anymore, but for the time being it's a very accurate benchmark. 
October 31
Gold and silver dive yet Chinese demand keeps rising
Gold and silver prices have been on a sharp downwards path since the US Fed went ahead and announced the end of QE – helped by some big sales on the futures (paper gold) markets. Kick the gold bugs while they are down seems to be the mantra of the day. 
October 31
Gold Miners Plunge to 12-Year Low as Metal Drops
Gold producers including industry leader Barrick Gold Corp. (ABX) declined to multiyear lows as the precious metal plunged. The 40-company Standard & Poor's/TSX Global Gold Sector Index fell 4 percent to its lowest level since December 2001. Barrick, the world's largest producer by sales, dropped 2.6 percent to C$13.39, the lowest closing price since October 1991 in Toronto, where the company is based. 
October 31
U.S. Mint Silver-Coin Sales Jump to 21-Month High
Sales of American Eagle silver coins by the U.S. Mint jumped 40 percent in October to the highest in 21 months, defying a slump in New York futures to the lowest in more than four years. Sales surged to 5.79 million ounces, the most since January 2013, the month that set an all-time high at 7.5 million. Today, sales jumped 33 percent in one of the busiest times this year, Tom Jurkowsky, a spokesman at the Washington-based mint, said in an interview. Last month's total was 4.14 million. 
October 30
Alan Greenspan, Former Fed Chair, Goes for the Gold
The world has no shortage of doom-saying economists ready to advise investors to stock up on gold against a coming financial catastrophe. Until recently, none of them could claim to be a former Chairman of the Federal Reserve Board 
October 30
Chinese Gold Demand 1541t YTD
First things first, Chinese gold demand is still very strong and it's in a uptrend since July. Apologies for my late reporting on the latest SGE withdrawals numbers – which are the best benchmark for Chinese gold demand. I was trying to figure out some details on gold trade rules between the mainland and the Shanghai Free Trade Zone. I still haven't got confirmation, so will get back to it. 
October 28
Hong Kong gold exports to China pick up strongly but...
We have just seen a report from Bloomberg entitled: China gold imports rise to 5-month high before holiday sales, with the headline thus suggesting that the wire service has at last got a handle on the Chinese gold import situation. But the report only covers net mainland China imports from Hong Kong which only gives us a part of the picture, and in our view an increasingly small one. 
October 27
New London gold benchmark to go live in early Q1 2015 -LBMA
A new electronic gold price mechanism is expected to be in operation early in the first quarter of 2015, replacing the century-old gold benchmark, the London Bullion Market Association said on Monday. The gold industry group said it has launched a survey to request further feedback from market participants on the proposed solutions. Participants will be asked to confirm which solution they will be willing to participate in, the LBMA said. 
October 27
Futures markets keep precious metals prices depressed 
I am indebted to Mineweb reader Dr. Fraser Murrell from Melbourne for some thought provoking comments on how the world's futures markets – notably COMEX and NYMEX – are instrumental in keeping commodity prices down to the advantage of first world nations at the expense of their poorer brethren who provide most of the world's supplies.  
October 27
As gold smuggling rises, DRI calls for lower import duty
Seizures of smuggled gold by the directorate of revenue intelligence has risen by an unprecedented 330 per cent during the April-September period as compared to last year, prompting the directorate to call on the finance ministry to bring down the import duty on the yellow metal and make smuggling less lucrative. - See more at: http://indianexpress.com/article/business/business-others/as-gold-smuggling-rises-dri-calls-for-lower-import-duty/#sthash.2CI84FOs.dpuf 
October 26
The Scariest Number Revealed Today: $1.114 Trillion In Eurozone Bad Debt
As we previously reported, the ECB's latest stress test was once again patently flawed from the start. Why? Because as we noted earlier, in its most draconian, "adverse" scenario, the ECB simply refused to contemplate the possibility of deflation. And here's why. Buried deep in the report, on page 75 of 178, is the following revelation which contains in it the scariest number presented to the public today. 
October 24
Platinum and palladium price Fixing settled - now for gold
It was announced a week ago by the London Platinum and Palladium Fixing Company Limited (LPPFCL) that the responsibility for administering a new electronic Fixing process for the two metals has been awarded to the now Hong Kong-owned London Metal Exchange (LME).  
October 24
Blood in the Streets to Create the Opportunity of the Decade
Gold stocks staged spring and summer rallies this year, but haven't able to sustain the momentum. Many have sold off sharply in recent weeks, along with gold. That makes this a good time to examine the book value of gold equities; are they objectively cheap now, or not? 
October 23
Time to get back into gold miners
There is nothing quite so satisfying as coming upon an over-turned beer truck on a hot day. In the same spirit, today we gawk at the wreck of the gold miners. They are 70% cheaper than they were three years ago. And they are 25% cheaper than they were just two months ago. What a delight!  
October 21
Barclays: Swiss Trade Data Suggests Palladium Market Remains Tight
Trade data for Switzerland suggests that the palladium market remained tight in the third quarter, says Barclays. Exports more than doubled while imports fell more than 50% month-on-month in September, the bank says. Meanwhile, Russian shipments into Switzerland, through which much of the world's platinum group metals pass, were around 6,560 ounces, near the trend of the past few years. 

October 21
Chinese and Indian gold buyers back in market in a big way
What has been particularly strange about the gold market over the past two years is that the stronger the physical demand appearing for gold, the weaker the gold price has tended to get. In the past few months, the gold price has fallen back from around $1,340 down at one time to $1,190 and now hovering back seemingly trying to breach $1,250 on the upside again, yet by all accounts demand in the two biggest consuming nations has been soaring and they are, between them, taking in virtually everything the world's gold mines can produce. 
October 21
Russia's Central Bank Purchases 1.2 Million Ounces of Gold in September
The gold price got sold down a few dollars in the first two hours of trading after the market opened at 6 p.m. EDT on Sunday evening---and then traded flat until noon Hong Kong time on their Monday. From that point, gold had three tiny rallies, with the last one ending in a vertical spike just a few minutes before the Comex opened in New York. And just minutes after the Comex open, that spike got dealt with in the usual manner. The New York low came shortly before 11:30 a.m.---and from there the price rallied quietly higher into the close. The low and high ticks were recorded by the CME Group as $1,234.90 and $1,249.30 in the December contract. 
October 16
LME to take over London platinum, palladium fixes
The London Metal Exchange, owned by Hong Kong Exchanges and Clearing Ltd, will take charge of London's platinum and palladium pricing, also known as "fixes", from Dec. 1, replacing a teleconference with an electronic platform. The unexpected move marks a stunning comeback for the LME, which failed to secure administration of the century-old London silver price benchmark - the first to go electronic in a wave of reform for precious metals pricing procedures. It also puts the world's biggest metals marketplace back in contention to take over the much larger gold benchmark. 
October 16
Singapore Exchange meets demand for physical gold
The big news of the week, which went unnoticed by the mainstream media, was the launch of the new gold kilogram bar contract by the Singapore Exchange. The new Singapore Kilobar Gold contract is for 25kg of 99.99% pure gold and began trading on the Singapore Exchange on Monday, introducing centralised trading and clearing of a physically delivered gold contract in Singapore. The contract is the result of collaboration between International Enterprise Singapore, the Singapore Bullion Market Association, the Singapore Exchange and the World Gold Council. 
October 15
Gold imports soar 450% in India
The Indian government has been proved right once again in not lifting its curbs on gold. Trade deficit has widened the most in 18 months, as imports of the precious metal have surged. Gold imports jumped about 450% to a new high of $3.75 billion in September (versus $682.5 million y/y). In August 2014, gold imports stood at $2.04 billion. This as the trade deficit widened to $14.25 billion in September, from $10.84 billion a month before. 
October 14
BIS warns on 'violent' reversal of global markets
The global financial markets are dangerously stretched and may unwind with shock force as liquidity dries up, the Bank of International Settlements has warned. Guy Debelle, head of the BIS's market committee, said investors have become far too complacent, wrongly believing that central banks can protect them, many staking bets that are bound to "blow up" as the first sign of stress. In a speech in Sydney, Mr Debelle said: "The sell-off, particularly in fixed income, could be relatively violent when it comes. There are a number of investors buying assets on the presumption of a level of liquidity which is not there. This is not evident when positions are being put on, but will become readily apparent when investors attempt to exit their positions. "The exits tend to get jammed unexpectedly and rapidly." 
October 14
Expect big silver price surge if gold stays positive
What a difference 10 days makes. A little over a week ago the gold market was all doom and gloom with the yellow metal crashing back below $1200 an ounce. But with a few extraneous geopolitical and global health factors positively impacting the market, and the possibility of a general stock market crash in the minds of investors, gold has seen positive action on the price front in something of a safe haven turnaround. But silver, on the other hand, has hardly moved at all. Compare the 30-day kitco gold and silver charts below – courtesy kitco.com and kitcosilver.com.
October 14
Labour strife, safety concerns push S.Africa platinum mechanisation
For decades, production in South Africa's platinum mines has rested on the muscular shoulders of men risking life and limb to drill into the rock face with jackhammers. Three years of labour upheaval and a political push to make the shafts safer and transform the low-wage workforce have set in motion a drive to replace such rock drillers with machines. "Labour militancy is dictating our push to mechanization and boardrooms will rubber stamp this stuff," said Peter Major, a fund manager at Cadiz Corporate Solutions. The costly change is happening despite the obstacles thrown by geology, low platinum prices and capital constraints. 
October 8
South Africa Union Says Mining Recovery Needs Years
South Africa's largest mining union said the industry and its workforce will take three years to recover from this year's strike in the country's platinum mines that was led by a rival labor group. "When we started we projected that we think 18 months things should be back to normality, we are looking now about over a three year period," Frans Baleni, secretary-general of the National Union of Mineworkers, or NUM, said in an interview in Johannesburg. The mining workforce divided in 2012 when the the dominant NUM lost members to the Association of Mineworkers and Construction Union, or AMCU, after a strike and the killing by police of 34 workers on one day at Lonmin Plc's Marikana operations. AMCU became the majority union at Anglo American Platinum Ltd., Impala Platinum Holdings Ltd. and Lonmin, and this year embarked on the longest strike in South Africa's mining history.

October 7
Russia, South Africa Seek to Support Platinum Price in Talks
Russia and South Africa, together holding about 80 percent of the earth's platinum-group metal reserves, will meet to discuss ways to buoy slumping prices. Officials from Russia's central bank and OAO GMK Norilsk Nickel (GMKN), the world's biggest producer of palladium, which is part of the precious-metal group, will attend the meeting next month, according to Natural Resources Minister Sergei Donskoi. 
October 7
SNB Gold Initiative Would Hamper Policy, Government Says
Asking the Swiss National Bank to hold a fixed portion of its assets in gold would hinder monetary policy, the government said today. Switzerland will vote on the initiative "Save Our Swiss Gold" on Nov. 30 that would force the central bank to hold at least twenty percent of its assets in gold. It would also forbid the sale of any such holdings and require all the gold be held in Switzerland.
October 2
Gold imports at 16-month high
The festive season rejuvenated the otherwise dull business of the Pitrupaksh period last month as the state saw its highest gold imports in the last 16 months in September - over 20 metric tonnes (MT).
October 2
Gold Sales at Perth Mint Reach 11-Month High as Prices Retreat
Gold sales from Australia's Perth Mint, which refines all the bullion output in the world's second-biggest producer, climbed 89 percent in September to the highest level in almost a year as prices declined.
October 1
U.S. Mint gold coin sales double in September
Sales rose to 58,000 ounces last month, the highest since January, compared with 25,000 ounces in August.
September 30
U.S. gold output declines on back of Newmont, Barrick
Canada was the leading exporter of gold to the United States for the first half of this year, according to the U.S. Geological Survey
September 29
Why Beijing Is Buying
If China were to convert a relatively modest part of its $4 trillion foreign exchange reserves into gold, the country's currency could take on unexpected strength in today's international financial system.
September 29
China gold demand surging again
Latest weekly withdrawal figures from the Shanghai Gold Exchange suggest Chinese demand is near 2013 levels.
September 25
Currency Wars Deepen - Russia, Kazakhstan Buy 30 Tons Of Gold In August
Russia and ex Soviet States Kazakhstan, Kyrgyz Republic and Azerbaijan continued to accumulate significant gold reserves in August in a trend that we highlighted last month.
September 22
Russia CB buys more gold and builds bilateral trade with China
As Russian central bank buys more gold in August, ever-closer trade ties will make them strong players in any future global currency realignment.
September 20
Chinese Gold Demand Continues
On wednesday the Shanghai Gold Exchange (SGE) released multiple rule books written in English describing every detail on the workings of the SGE and its brand new subsidiary the Shanghai International Gold Exchange (SGEI). Finally the world can read everything about the Chinese exchange that is strongest force in the physical gold market, but was widely misunderstood because of the language barrier. Though having channeled unprecedented amounts of physical gold into China mainland the SGE has been enjoying little coverage in the mainstream media
September 18
The future for gold is physical
Watch closely as Shanghai launches what is set to be the world's largest physical gold exchange.
September 17
CNBC - Scots load up on gold as vote gets underway
With uncertainties surrounding the independence referendum, anxious investors in Scotland have been busy adding to their holdings of gold. 
September 14
Why The Rigging Of The Gold Market Matters
Manipulating the price of gold ultimately destabilises the financial system because it is the highest form of money. This is why nearly all central banks retain a holding. The fact we don't use it as money in our daily business does not invalidate its status. Rather, gold is subject to Gresham's Law, which famously states bad money drives out the good. We would rather pay for things in government-issue paper currency and hang on to gold for a rainy day. 
September 12
China gold group, WGC ink co-operative agreement
The World Gold Council and the China Gold Association look to unlock insight on one of the most poorly understood gold markets in the world - also the most important one. 
September 10
Platinum Fixing Under The Microscope
Is it honest or is there fraudulent manipulation? First fines have been imposed for manipulation of the gold fixing, the silver fixing is even discontinued entirely. But is everything in order with the platinum fixing? Have there been manipulations – and are they part of a larger manipulation campaign? 
September 8
China gold demand picking up again?
The latest gold withdrawal figures from the SGE suggest that wholesale Chinese gold demand may be picking up again well after a run of several poor months. 
September 5
LME confirms cancellation of gold, silver forward curves from Sept 22
Following discussions between the LBMA and the LME, the LBMA has notified the LME that the majority of market makers are no longer in a position to continue contributing data for the purpose of calculating forward curves.
September 4
ECB Unexpectedly Cuts Interest Rates as Outlook Darkens
The European Central Bank unexpectedly cut interest rates to spur economic growth and stave off the threat of deflation. 
September 4
Gold monetisation scheme aims to treat gold as currency in India
Some 20kt gold lie idle in India and gold accounts aim to draw it back into the market. 
September 4
Marc Faber: Gold and Silver Stocks are Absolutely Undervalued
September 2
India unlikely to relax gold import restrictions yet
With a Q2 current account deficit of $7.8 billion, India looks unlikely to significantly reduce its gold import taxes for some time to come.
September 1
Palladium Climbs to 13-Year High as Gold Little Changed
Palladium rose to the highest level in more than 13 years as prospects of further sanctions against Russia increased concern that supplies from the largest producer may be disrupted. Gold was little changed.
August 26
Is Asian gold demand really slipping so much?
Indian and Chinese gold demand may not be quite as lacklustre as the mainstream media would have you believe, while geopolitical events continue to churn. 
August 25
China's Hong Kong gold imports drop - fifth month in a row
China's gold imports from Hong Kong in July fell by 42 percent from a month earlier as an anti- corruption campaign and price declines deterred Chinese consumers.
August 25
No rush of investors at gold exchange
Although business is transacted, there are no records and the government can't levy taxes. This is the character of the underground economy in Korea, where gold is the commodity of choice. Transactions are made through a direct exchange of bullion or by cash, and the total value not subject to taxation is estimated at 300 billion won ($294.8 million) a year.
August 22
Russia leading central bank gold buyer, but China - who knows?
Despite the lower gold price – or perhaps because of it – it is apparent that Central Banks outside Western Europe and North America are continuing to increase their gold holdings. Is this perhaps some kind of prelude to a re-evaluation of the world's monetary system with gold holding an important role in some kind of new world economic order?
August 21
Why Aren't Gold Prices Rising?
In the second quarter of 2014, world central banks bought 117.8 tonnes of gold bullion compared to 92.1 tonnes a year earlier—a jump of 28%. Central banks have been net purchasers of gold bullion for 14 consecutive quarters! According to the World Gold Council, "Economic and geopolitical events throughout the world are sources of ongoing instability and uncertainty. Such events reinforce the requirement for appropriate risk management by central banks through holding gold reserves for asset diversification."
August 20
Is the LBMA Silver Price more transparent than the Fix? Not yet!
The new LBMA Silver Price benchmark setting has commenced to replace the old London Silver Fixing, but it doesn't seem to be any more open and transparent than the old system.
August 19
China Grants Gold Import Licences to Three More Banks
Three more banks have been permitted to import gold to China, as the country's redoubles its efforts to attain pricing power of the commodity. The news, reported first by Reuters, comes as Shanghai's international bullion exchange is on the verge of launching – a flagship initiative in China's attempts to wrest gold pricing power away from London.
August 14
Silver Price Going Electronic in Quest for Transparency
An electronic, auction-based mechanism will replace a ritualized negotiation among a few traders that's been in place for 117 years. Silver becomes the first of the precious-metals markets to ditch a daily "fixing" procedure where dealers agree to a price over the telephone. Revamps also are planned this year for fixings in gold, platinum and palladium.
August 14
GATA: Central banks are manipulating gold prices
Chris Powell, Secretary of Gold Anti-Trust Action Committee, says the rigging of gold markets by the U.S. and international central banks has worsened over the years.
August 13
UPDATE 1-London gold fix lawsuits to be consolidated in New York
A federal judicial panel on Wednesday ordered that 18 lawsuits alleging a conspiracy to manipulate gold prices be consolidated into one proceeding in New York. The cases will be sent to U.S. District Judge Valerie Caproni in Manhattan, who has already been overseeing more than two dozen cases.
August 12
Banks wait on sidelines of new silver benchmark
Build it and they will come. Or that is what participants in London's $1.6 trillion-a-year silver market will be hoping.There are just three trading days before the new, electronic replacement for the 117-year old silver fix goes live and there is still considerable uncertainty over who will be participating on Friday.
August 12
Foodflation - Since QE3, Breakfast Is Up Over 24%
Having pointed out the 'surges' in the cost of your 4th of July burger at the behest of Greenspan and Bernanke, we thought a reflection on the soaring costs of 'the most important meal of the day' were in order. As the following chart illustrates in words and pictures even a PhD Fed economist or CNBC pretend-economist could understand - food-flation is here from breakfast through dinner (no matter how many iPads we try and eat).
August 12
U.S. gold production continued its decline in May - USGS
U.S. gold production dropped 9% year-over-year from 19,100 kilograms (614,079 troy ounces) in May 2013 to 17,300 kg (556,207 oz), the U.S. Geological Survey reported Monday.
August 12
India's Gujarat gold traders see easy availability of smuggled metal
Despite some minor relaxation in government curbs in May this year, gold imports into Gujarat state have fallen to a record low in July. Data showed that just 3.06 metric tonnes of gold was imported in July 2014, which has been termed the lowest figure for July in the last six years, and as compared to 8.9 metric tonnes in July 2013 – down around 60% year on year. This parallels somewhat similar figures elsewhere in India.
August 8
BLOG: Mounting evidence of gold price manipulation tarnishes industry
Mainstream media continue to ignore mounting evidence that gold prices have been and are being manipulated. In recent years one financial market scandal after another about market manipulation has surfaced.
August 7
Draghi Says Geopolitical Risks to Economy Increasing
Mario Draghi said risks to the euro area's economic recovery are increasing because of conflicts such as the Ukraine crisis. "Heightened geopolitical risks, as well as developments in emerging-market economies and global financial markets, may have the potential to affect economic conditions negatively," he said.
August 7
Gold: Been down so long it looks like up to me!
Gold has been down from its peak of 2011 for just about 3 years now and despite all kinds of attacks in the futures markets by big money it has still just managed to claw its way back above $1300 yet again, and silver back over $20. This is becoming something of a pattern and certainly looks like the potential for a forthcoming major 'up' to me given some of the dire predictions on price by the bankers' analysts who may well have a not-so hidden agenda to keep the price depressed.
August 6
3 Reasons Why Silver Miners Should Be in Every Investor's Portfolio
Precious metal prices remain volatile and this has seen the precious metals mining sector fall out of favour with investors. But there are signs that a sustained rally in precious metal prices is imminent.
August 5
Gold Investment Sentiment Rises 1st Time Since Feb
Based solely on investor activity, rather than surveyed intentions, BullionVault's Gold Investor Index – calculated from the world's largest pool of real-time physical gold investing decisions online – peaked at 71.7 when the metal hit $1900 per ounce in September 2011. A reading of 50.0 would indicate an equal number of buyers and sellers across the month.
August 5
Central banks continuing to boost gold reserves
Given the crisis in Ukraine and deteriorating ties with the West, Russia has been aggressively accumulating gold reserves.
August 4
Gold Industry Takeovers Climb to Highest in Three Years
There's no sign of a let up in gold industry takeovers as a surge in acquisitions by producers, led by Agnico Eagle Mines Ltd. (AEM) and Yamana Gold Inc. (YRI), has pushed deals to a three-year high.
July 31
Anti-Dollar Alliance Prepares Launch Of BRICS Bank
Three months ago we discussed in detail the growing anti-dollar hegemony alliances that were building across the BRICS countries (Brazil, Russia, India, China and South Africa). Their efforts at the time, to create a structure that would serve as an alternative to the IMF and the World Bank (which are dominated by the U.S. and the EU), appear to be nearing completion.
July 31
Platinum to Palladium Fixings Join Precious Metals Revamp
The company that runs platinum and palladium fixings in London is seeking a new administrator for the price-setting process after similar changes were proposed for rituals in gold and silver.
July 30
Giants of mining converge at Sprott Symposium
VANCOUVER – The Sprott Natural Resource Symposium in Vancouver in late July gathered together a remarkable group of industry success stories. Robert Friedland, the highly successful founder and chairman of Ivanhoe Mines (TSX: IVN), opened the conference. Sprott U.S. Holdings chairman Rick Rule, another serially successful investor, spoke several times. And a selection of the sector's best fund managers, newsletter writers, resource explorers, and corporate leaders took turns at the podium. - See more at: http://www.northernminer.com/news/exploration-and-investment-answers-from-the-giants-of-mining/1003180564/w03r7403WrusvqqM2vx/?#sthash.lda4EtkK.dpuf 
July 29
Jim Grant: "Gold Is The Ultimate Inoculation Against Harebrained Central Bankers"
"The central bank imposed interest rates are the source of global financial instability now and in the future," warns Grant's Interest Rate Observer's Jim Grant, adding that "The Fed... has manipulated us into a period of quite eerie stability and measured volatility."
July 29
Gold miners: Buy juniors now, act later
Cowen analyst Adam Graf urged gold miners to buy juniors with high-quality assets now, given a window of opportunity punctuated by still un-moving valuations despite progress on flagship projects.
July 29
Moody's cuts bank outlook to 'negative' on Ottawa's bail-in rule
Investor ratings service Moody's has changed its outlook for Canada's biggest banks to negative from stable, citing concerns over the Canadian government's plan to implement a "bail-in" system in the event of a bank failure.
July 27
"London Fix" Gold Rigging By Bullion Bank Exposed In Class Action Lawsuit: The Complete Charts
We uncovered something that was missed several few weeks earlier: a far more informative and detailed class action lawsuit filed by Edward Derksen on July 9, 2014 against the London gold fix member banks: Bank of Nova Scotia, Barclays, Deutsche, HSBC and SocGen.
July 26
China's Hong Kong gold imports continue to dive
The conundrum that is the gold price continues to confound. Last year the gold price dropped dramatically despite an enormous level of ongoing gold flows from West to East – particularly into China. Yet yesterday the reports of the lowest monthly level of net gold imports from Hong Kong into mainland China since January 2013 was followed by the gold price putting on something of a surge – it having been driven down to around the $1290 level during the week, but then shooting up to comfortably above $1300 in late trading Friday.
July 26
Deutsche Bank, HSBC Accused of Silver Fix Manipulation
Deutsche Bank AG (DBK), HSBC Holdings Plc (HSBA) and Bank of Nova Scotia were accused in a lawsuit of rigging the price of billions of dollars in silver, an allegation similar to earlier suits involving the London gold fix.
July 25
Gold Lockdown Until Options Expiry Monday - New Singapore Gold Contract Threatens Manipulation
Gold fell $12.50 or 0.96% yesterday to $1,292.40/oz and silver slid $0.55 or 2.63% to $20.37/oz.Gold was badly impacted by what appears to be high frequency trading (HFT) or programme trading again yesterday with another bout of concentrated selling on two occasions. First, when Asian markets commenced trading and then just as U.S. stock markets started the trading day.
July 25
The Gold Series: The Most Sought After Metal on Earth 

July 22
Escalating Ukraine crisis could blow gold sky high
Far from coming to an end the Ukraine crisis could be far from over and as the West and Russia are embroiled in accusation and counter-accusation over the downing of Malaysia Airlines Flight MH17, the potential for escalation is perhaps getting more serious by the day. It has brought a safe-haven focus back into the gold market which is probably likely to remain given Ukraine is not the only major flashpoint of worry with Syrian, Iraqi and Israeli/Gaza (Hamas) conflicts all raging and building up deep-rooted concerns and polarisation amongst those affected.
July 22
3 reasons why every investor should own gold
With Forbes reporting that Sprott now has 90% of his personal wealth invested in gold and silver, the wealthy Canadian certainly has put his money where his mouth is! In one of his recent notes to clients titled: The Ongoing Rot in the Economy, Sprott outlined why he is still so bullish on gold.
July 22
Middle East Seen Gaining Gold Share as Trading Expands
The Middle East will take a bigger share of gold demand as buyers from Kuwait to Saudi Arabia to the United Arab Emirates diversify investments and Dubai nears offering a contract for immediate delivery bullion.
July 22
Metal ETFs lure investors at fastest pace since '09
Investors are buying metals from zinc to aluminum at the fastest pace since 2009, betting demand gains will tighten supply, just as Citigroup Inc. and Macquarie Group Ltd. predict this year's rallies will end.
July 21
Hedge Funds Cut Bullish Gold Wagers: Commodities
Money managers trimmed their net-long position by 8.5 percent in the week through July 15, U.S. government data show. Prices dropped 2 percent last week, the first loss since May and helping to erase $1.38 billion from the value of exchange-traded products backed by the metal.
July 21
Farmers flock to gold-backed loans in India
Farmers in Andhra Pradesh appear to have taken more loans by pledging gold bars and ornaments, than loans from banks for purely agricultural purposes. Some have even diverted the agri loan and bought gold.
July 18
BULLION LATEST – Geopolitical risk mounts; safe haven buying resumes for gold
Gold surged more than 1.8 percent on the day as investors sought out gold in further news of political turmoil in different parts of the world.
July 17
Strong Investor Interest and Industrial Usage Lead to Sturdy Silver Demand in 2014
Investor and industrial consumption of silver has advanced at a healthy pace in 2014, reflected in the silver price increasing 5 percent as of July 15 from the beginning of the year.
July 17
Third party sought to run London gold fix
London Gold Market Fixing Ltd, the company operating the century-old global price benchmark known as the "fix", said it is seeking a third party to take over administration of the process, possibly signalling a move to an electronic platform.
July 16
Gold Imports by India Surging 65% in June Widens Trade Deficit
Gold imports by India, the world's second-largest user, jumped 65 percent in June after the central bank allowed more banks and traders to buy bullion overseas, widening the nation's trade deficit to an 11-month high.
July 16
Bulls might take heart from latest gold smashdown failure
The second phase of the gold price smashdown took place yesterday with, apparently, a sell order for another $2.3 billion hitting the gold futures market. It knocked the gold price back all of $15!
July 14
Yellen says Fed easy money needed even after recovery -report
The Federal Reserve will still need to deliver "unusually accommodative" monetary policy even once the U.S. economy returns to "where we want it to be," Fed Chair Janet Yellen was quoted as saying in a magazine article.
July 13
BIS chief fears fresh Lehman from worldwide debt surge
The world economy is just as vulnerable to a financial crisis as it was in 2007, with the added danger that debt ratios are now far higher and emerging markets have been drawn into the fire as well, the Bank for International Settlements has warned.
July 11
South Africa's platinum output falls record 49% due to strike
South African output of platinum-group metals sank the most on record in May after a strike halted production at the world's three biggest producers.
July 11
UPDATE 2-CME, Thomson Reuters win battle to replace century-old silver benchmark
CME Group and Thomson Reuters will operate an electronic silver benchmark when the 117-year-old "fix" is disbanded in August, in a move widely seen preceding sweeping reforms of precious metals price-setting.
July 10
Budget 2014: Gold import duty retained at 10 per cent; bullion markets surprised 
India surprised bullion markets by keeping the import duty on gold and silver unchanged at 10 per cent in its fiscal budget, a move likely to limit overseas purchases by the second-biggest bullion consumer and further encourage smuggling.
July 10
India's gold imports plummet 34% YOY 
India's gold imports declined nearly 34% to 670.4 tonnes in the year ended March 2014, from the April 2012 to March 2013 fiscal period of 1,013.9 tonnes, following the stringent curbs imposed by the government and the Reserve Bank of India on overseas purchases of the precious metal.
July 9
Survey: Does the London Gold Fix Need to Go?
When the London Silver Market Fixing announced in May that it will stop administering the London silver fix at the end of the day this August 14, the question for many market participants was: "is the gold fix next?"
July 9
Gold Bullion Supply Down, Demand Up
The precious metal has increased 10.2% in price between January and June, while the Dow Jones Industrial Average(NYSEARCA:DIA) climbed by just three percent. Going forward, it will not be surprising to see the precious metal outperform the stock market in the second half of the year as well. 
July8
Time for change in the London bullion market
The London bullion market is an over-the-counter unregulated market and has had this status since the mid-1980s. The disadvantage of an OTC market being unregulated is that change often ends up being driven by a cartel of members promoting their own vested interests. Sadly, this has meant London has not kept pace with developments in market standards elsewhere.
July 8
Gold Shines Again as Hedge Funds Boost Wagers on Advance
Gold has rebounded from last year's 28 percent plunge that was triggered by muted inflation and as investors shunned the metal in favor of equities.
July 8
Chinese Gold Demand 947 MT YTD
Chinese gold demand, as measured by SGE withdrawals, accounted for 27 metric tonnes in week 26 (June 23 – 27), year to date the counter stands at 947 tonnes. A quick calculation tells us 639 tonnes (SGE withdrawals – scrap – mining) had to be imported for this, annualized 1278 tonnes. 
July 7
Palladium price soars to 13-year high
The price of palladium, hitting $865 an ounce on Friday, made a notable record. It hasn't, as Reuters notes, traded so high since February 2001. What's more, it also surged by highs it hit back in 2011 when it traded in the mid-$800s an ounce. 
July 7
The Stunner From Today's Round Table Debate To "Fix" The London Gold Fix
As those following the saga of the rigged for decades and soon to be history (in its curent incarnation) London gold fix know, today was the date when the World Gold Council held its "Modernising the London Gold Fix: IOSCO and beyond" round table session. 
July 7
World Gold Council gold fix consultation begins
The way the daily London gold fix – an industry reference price – is set is under scrutiny, with industry experts meeting at the offices of the World Gold Council to discuss its reform or replacement. According to the World Gold Council, the meeting, which has started at their offices near St Pauls in London, will take the form of a round-table debate on the reform of the London Gold Fix and the modernisation of the London gold market. 
July 4
Now is the time to buy gold – Nichols
Not a 'gold bug', but nevertheless 'super-bullish' on gold, precious metals analyst Jeff Nichols sees a recovery in the gold price ahead. 
July 4
The Complete Annotation Of SocGen's Latest Hit Piece On Gold
Gold has held firmly above $1300 for over two weeks, confounding those who said it would never see that key level again, but as the constantly-bearish SocGen explains in this 'astounding' report, gold's downturn is set to return... except their reasoning has a fatal flaw - it's entirely factually incorrect. 
July 2
Australia's Perth Mint gold sales hit four-month high
Gold sales from Australia's Perth Mint, which refines all the output in the world's second-biggest producer of the precious metal, hit the highest level in four months last month, driven by a rally in prices that stimulated demand. 
July 1
India looking at ways to monetise its citizens' gold
With India's gold imports having pressured its current account deficit (CAD), two large Indian public sector banks have suggested that there is a greater need to make use of gold available in the country, and that the precious metal should be made more liquid. A government official has seconded the move, laying bare some aspects of the government's intention to monetise the gold stores held in most households across the country. 
Sprott's Industry Leading Line-up
of Precious Metals Products
       *Also available on corporate class
Additional Information
Gold
24 hour $US Dollar price per ounce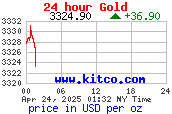 Silver
24 hour $US Dollar price per ounce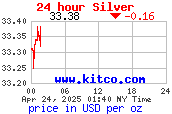 Platinum
24 hour $US Dollar price per ounce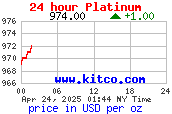 Palladium
24 hour $US Dollar price per ounce