Sprott Inc. Begins Trading on the NYSE: SII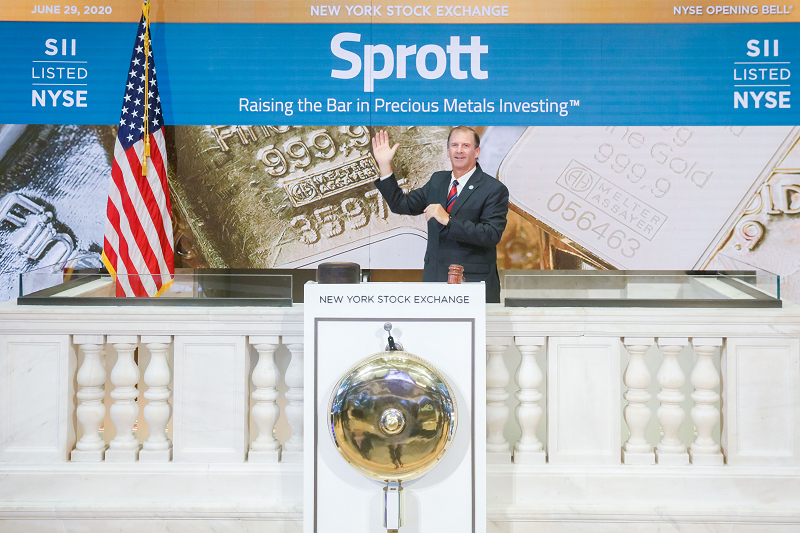 June 29, 2020: Today, Sprott Inc.'s common shares will begin trading on the New York Stock Exchange under the ticker symbol "SII." This is a significant milestone for Sprott and a natural next step in the evolution of the company. A significant portion of our shareholders and clients are residents of the United States, and the majority of Sprott's revenues are earned in U.S. dollars. We are pleased that our shareholders will have the ability to trade our shares in U.S. dollars, as well as benefiting from the anticipated increase in liquidity and access that should come with the NYSE listing.  
As an alternative asset manager specializing in precious metals investments, we believe Sprott currently offers our shareholders a compelling value proposition. Through our Exchange Listed Products business, we generate growing revenues based on gold assets, which positions Sprott with similar attributes to a precious metals royalty company. Our Managed Equities platform has recently been bolstered with the acquisition of the Tocqueville Gold Strategies and the addition of John Hathaway and Douglas Groh to our investment team. We believe we now have the broadest and most experienced gold investment team in the sector. In addition, we offer institutional investors access to highly-specialized private resource investment strategies.
Sprott is committed to being the global leader in precious metals investing, and with the global surge of interest in precious metals, we believe this is an excellent time for the NYSE listing. We remain committed to providing our clients with the highest levels of service and access to innovative investment strategies.
We thank you for your support and look forward to continued success together.
Sprott Physical Bullion Trusts
Raising the bar in precious metals investing
Sprott Physical Bullion Trusts trade on NYSE Arca
Sign-Up Now: 
Insights from Sprott
More Insights from Sprott